On tuition fees, we ain't seen nothing yet
In a vindication for those behind the last two rises, more people from poor families are going to university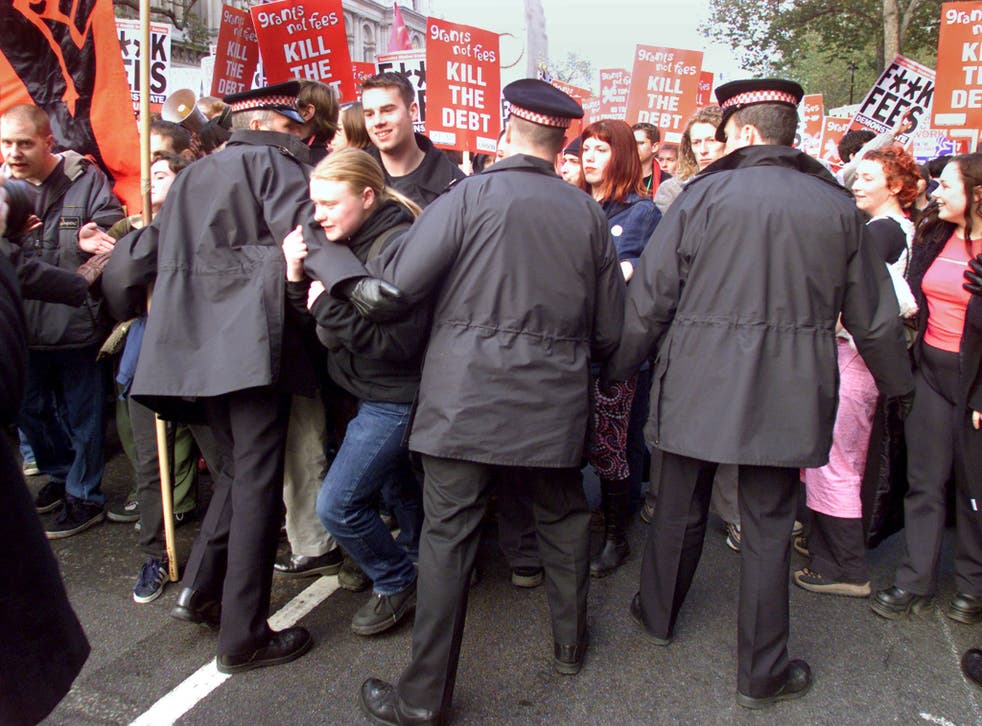 I am so old that I can remember when students hated the Labour Party because it broke a promise not to raise tuition fees. That was in 2001, when David Blunkett, the Education Secretary, persuaded Tony Blair – against his better judgement, Blair suggests in his memoir – to put the promise in the Labour manifesto.
As soon as the election was over, Blair appointed Charles Clarke in Blunkett's place with a view to breaking the promise. Clarke thought this was a bad idea, and tried to find other ways to pay for university expansion. But when he looked at the main alternative, a graduate tax – an extra income tax on new graduates – he thought it was worse. The arguments against a graduate tax are technical, but they are worth rehearsing because last week's record university applications explain why Blair was right to break his promise, and why Nick Clegg was right in his more recent, and more spectacular betrayal.
The Labour government was much mocked, it should be remembered, for setting a target of getting 50 per cent of each cohort of sixth-formers into university. This would devalue degrees, we were told, and, worse, it was "arbitrary". It was a target plucked out of a speechwriter's desperation because it sounded good. But this year it looks as if 50 per cent of school-leavers will go to university, and they will choose to do so, in most cases paying the cost of those degrees themselves, because they think they are worth it.
That is not a devaluation, it is a vindication of the late Ron Dearing, who designed today's system of fees payable after graduation. That system has allowed more students than ever to go to university, and a greater proportion of them from poorer families.
The main argument against a graduate tax may sound like one in its favour, which is that it is an obstacle to a market in university places. That may seem like a good thing to people worried about universities offering free laptops to students with three E-grades. But the alternative to putting purchasing power in the hands of students and making universities compete for them is to let the Government decide which courses should be funded. In the end, most people who look at this question decide to trust students, rather than a government board, to make the least-worst decisions about which courses are worthwhile.
Another argument that weighed heavily with Clegg and Vince Cable, when they decided to keep the Blair-Clarke model and to triple fees to £9,000, was that a graduate tax could not be levied on graduates living overseas. Had they opted for it, English and Welsh universities would have been required to offer free places to all EU students with no way of paying for them. Admittedly, recovering student loans from abroad is hard, but at least you get some of it back.
What is so striking about the story of student finance over the past two decades, though, is that the fees-and-loans model has been so consistently unpopular, yet the politicians have always been forced back to it.
The subject was already radioactive before the 1997 election, which was why Dearing, Chancellor of the University of Nottingham, was drafted in to set up a cross-party review. Labour's manifesto for that election was honest by later standards. It said that the expansion of universities was "necessary", but "cannot be funded out of general taxation". It was left to Dearing, after the election, to say how to pay for it. But it was not until 2004 that his proposal, of tuition fees repayable when graduates were earning, was fully implemented. First Clarke, then Gordon Brown (who used it as part of his campaign to oust Blair) and finally Clegg tried to make a graduate tax work. Each of them had to give up.
The graduate tax was revived by Ed Miliband when he became Labour leader but has not been heard of recently. I can reveal that this is because he, too, has accepted that it cannot be made to work. If Labour wins next year, tuition fees will stay, possibly in slightly reduced form. The problem of switching now is that the Government would have to fund universities until the revenue from a graduate tax started to come in. "We cannot afford a graduate tax," I am told.
Student finance is a fascinating case study in democratic policy-making. Politicians who try to give the public what it thinks it wants are forced to accept that the unpopular option is more sensible. Clegg and Cable hoped their broken pledge would be forgotten if student numbers continued to rise and poorer students were undeterred. It came to pass, but they will get no credit. If anyone deserves the credit it is Lord Dearing, who died in 2009.
Soon enough, fees above £9,000 a year will arrive and it would be a foolish politician who is tempted to promise to stop them. That is why I don't think any of the three main parties will promise next year to block higher tuition fees.
Join our new commenting forum
Join thought-provoking conversations, follow other Independent readers and see their replies