Voices in Danger: In Pakistan, state brutality makes journalism a dangerous business
Umar Cheema was abducted and attacked - but he was determined to tell his story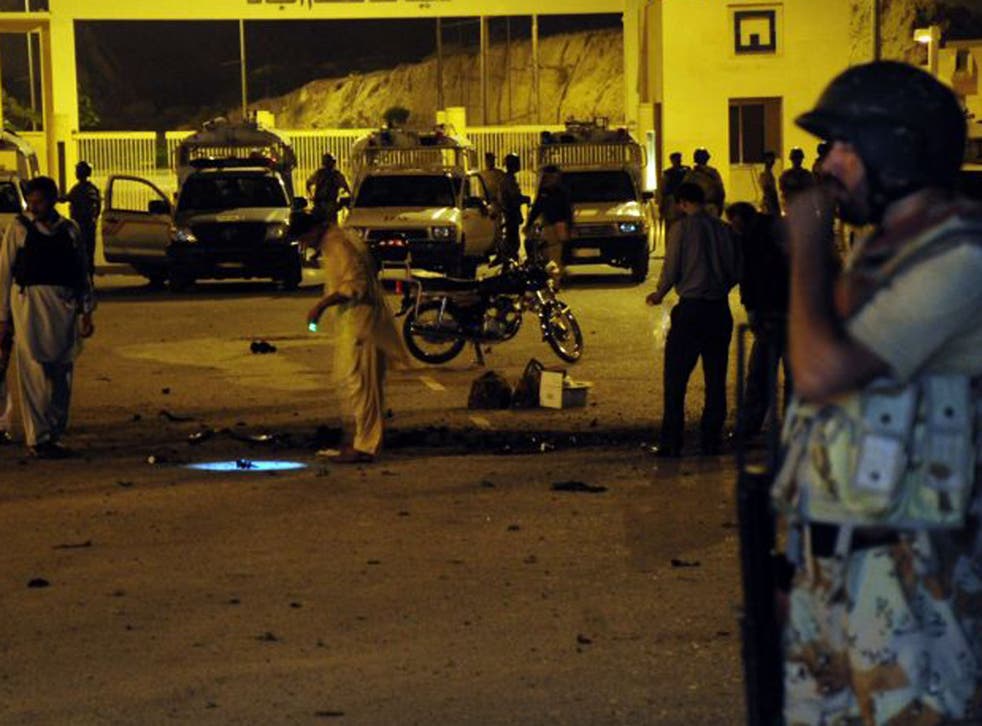 When Umar Cheema was being dragged off to be tortured after investigating Pakistan's ISI secret services, it was his son and unborn child that he worried about most.
Umar, a 32-year-old reporter for the Pakistani paper The News, had been on his way home in Islamabad at 3am during Ramadan in September 2010 when two unmarked cars nearly drove him off the road. A dozen men in commando fatigues grabbed him, accused him of running over a pedestrian and forced him into one of the vehicles. They covered his face, handcuffed him and drove him around for an hour.
"I thought of my son," he says. "My son was two years old then. And just thinking about my son – it started weakening me. I didn't have any idea who picked me up, who these people were, or their intentions. In such a case, you realize you are being killed. What would happen to my son? Would he grow up an orphan?"
They dragged him into a building that was clearly not a police station. He could barely breathe because his face was covered so tightly. They started to beat him with objects – a leather strap and metal rods – and they sexually humiliated him on camera. "If you can't avoid rape, then enjoy it," one interrogator said as they tortured him. They photographed him naked in increasingly humiliating positions.
"This is the consequence of writing against the government," one of them said. Another said: "You are being punished for your reporting."Umar covered stories that many journalists shied away from – especially concerning the military and the ISI. He wrote stories showing how their agents were effectively above the law: they could detain people arbitrarily for long periods of time, and their law-breaking and corruption were almost never punished."I firmly believed nobody is above the law," he says. "Everybody has to be held accountable."
The ISI repeatedly told his colleagues that they were 'unhappy' with his work – a warning that would be enough to intimidate most journalists. But he continued, diligently always putting his allegations to the ISI and the military and waiting a week so he could have their response in full. He believed responsible journalism was its own defence.
Umar was held captive that night for more than six hours before being dragged into a car and two hours later thrown out in a village more than a hundred miles from the city. His torturers told him: "If you tell the media about this, you'll be abducted again—and won't ever be returned. And your nude pictures will be put on YouTube."
He immediately faced a dilemma. He says: "Once they dumped me one hundred miles outside the city, when I was heading home – it was in my mind that they issued me a warning at the time of my release. The warning was - do not speak out… I was wondering – what should I do? Should I speak or not?"
"If I speak up – they will come again after me… I was told, if I speak out, I will face consequences worse than that. The worst case scenario was I could be killed. For example – if I am driving home, two anonymous guys on motorbikes [could] chase me and shoot me point blank."
But "the counter-argument was – I have to do journalism. I cannot do it differently from what I was doing. Staying silent would mean I should quit journalism. If I can't discharge my duties diligently and bravely, I should quit the profession."
He says he thought to himself: "These crises, they come to test your fortitude and how brave you are and how you stand in the face of adversity. I had been put to the test… I know there are risks involved and the path is full of dangers. I know I can be hit again. I know I can be eliminated. But I cannot change the path."
"I realized," he continues, "that it's up to me whether I become a horrible example or they become a horrible example. Had I been silent, they might have been warning other journalists, quoting my example, [saying] look at Umar Cheema – he has become an obedient guy. Now he doesn't do anything against us, so you should also fall in line."I didn't want to become a reference point in that way…. I realized that my action, my behaviour, my conduct, will determine how future generations of journalists will behave in that situation, and I didn't want to set a bad example."
So he went straight to the TV studios and detailed everything that had happened to him. Nothing like this had ever happened before in the history of Pakistan. Before, attacks on journalists – with the sole exception of US journalist Daniel Pearl, notoriously beheaded in 2002 – had passed without comment. Now it was a massive news story, and the government was forced to set up an official inquiry.
For a man to come forward and talk about being effectively raped and sexually humiliated was deeply shocking and brave.
Many journalists understandably leave their countries after undergoing such an experience, but Umar decided to stay, despite being offered foreign postings.
It was not the first time he had been attacked: in December 2004, he was run over twice, and was bed-ridden for six months.
Umar now talks about the longer term effects of his torture, describing it as post-traumatic stress.
"You are haunted by fear all the time. I would wake up at midnight [thinking] somebody was beating at my back. Sometimes if there is a dog barking outside I would be thinking somebody was scaling up the wall to get into my home and pick me up."
He realized his car was being followed soon after, but there was no attack."You don't want to trust anybody. You feel suspicious of everybody. Anybody staring at you – you realize he may be after you. I experienced it for a year. You feel such loneliness... When I came home, I would realize my family is already scared. How could I share these things with them? When I sat alone, I was thinking about my crisis and how dear it could cost – if something happened to me, what would be the consequences for my family?"
He concludes: "There was only one thing that got me through it, and this was the power of the truth. The worst case scenario is my killing. If that happens, if I am killed, I am not being killed for doing some robbery or for my own gains. I have done nothing wrong. What I did was right."
PAKISTAN: Attacks on journalists go unpunished
The Committee to Protect Journalists says Pakistan is the tenth most dangerous place in the world to be a journalist. Famous cases like those of Umar and Syed Saleem Shahzad, who was killed shortly after claiming the ISI had been hiding Osama Bin Laden, have made news headlines. But many more cases of harassment and intimidation do not.
Attacks and threats on journalists go unpunished, as Umar says: "These things happen in a culture of impunity. I am lucky to return alive. Other journalists have been killed and there is not a single case in which the perpetrators have been punished."
Nobody has been arrested or charged over the attack and torture of Umar. The results of the official report into his abduction were never published, and he has not been shown them.
"The crime against journalists and journalism continues," he says. "Every journalist who has just started steps into the profession mindful of the fact this could also happen with him. This violence has become such an open secret that no journalist can say 'I never thought about it.'… They keep themselves safe by distancing themselves from the assignments that could cause them trouble."
Foreign journalists are also harassed. Before the elections earlier this month, New York Times bureau chief Declan Walsh was expelled from the country because of "undesirable activities." He had been based in Pakistan since 2004, reporting first for the Guardian.
Many journalists have given up their careers in the face of violence and threats, or they self-censor. Others, like Umar, continue. As he explains: "I cannot just stop – if I get any story about anybody, I can't resist the temptation to do that story. I will try my level best to put up authentic contents. I will try my level best that there is no propaganda involved. This is the best I can do. But I can't hide the information."
Umar says the UK government should tie its aid payments to Pakistan to a demand that journalists are protected and not abused.
He has set up the Center for Investigative Reporting in Pakistan, which is producing some of the most brave and ground-breaking work in the country. Its research showed 75 percent of Pakistan's parliamentarians don't file tax returns, which became a huge story.
You can donate to Umar Cheema's Center for Investigative Journalism at www.cirp.pk/Donate.htm
This article is part of our series Voices in Danger, which aims to draw attention to journalists working in difficult conditions around the world. Read more here.
Join our new commenting forum
Join thought-provoking conversations, follow other Independent readers and see their replies