Want to know what Iraq is like now? Check out 'Henry VI', parts I, II and III
World View: Ten years after the invasion, Shakespeare's depiction of the War of the Roses echoes the fight for supremacy in Baghdad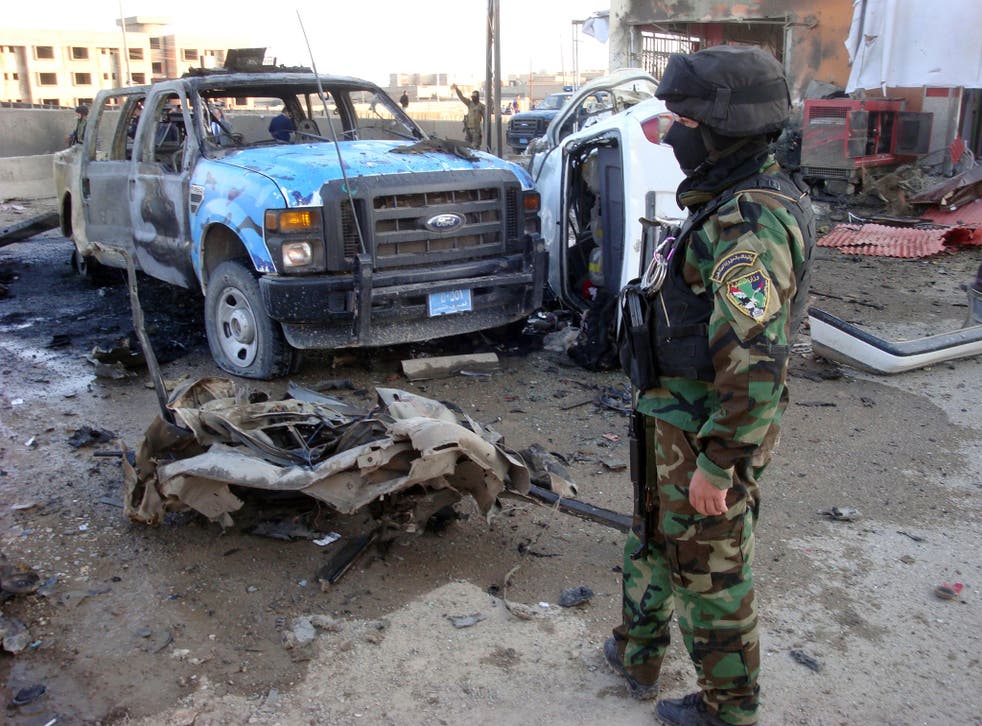 Iraq has largely disappeared from the media map over the past five years. Hotels in Baghdad once full of journalists are empty as correspondents depart to fresher stories of civil war and revolutionary change in Syria, Libya and Egypt. Extreme violence still goes on but the outside world has come to accept it as a natural feature of the Iraqi landscape, like snow in Siberia. Massacres, such as the killing by al-Qa'ida last week of 48 unarmed Syrian soldiers and nine Iraqi guards in western Iraq, create few ripples of interest. The 10th anniversary of the US and British invasion, on 19 March 2003, is briefly attracting international attention to Iraq, but reports and comments often carry a sense of the Iraq war being an event in history like the Suez crisis, an episode with decreasing contemporary relevance.
The Western media decided in about 2008 that the war was coming to a close or, at least, nothing very new was happening. American and British military casualties were falling sharply from their peak in 2006-07. General David Petraeus and the Bush administration persuaded Americans that "the surge" – the offensive made possible by the switch of Sunni insurgents to the American side – meant that the US had skirted defeat and was coming out of Iraq with something close to a victory. The right could not believe the US had failed in its original war aims, and the left suspected American withdrawal was a cunning tactic masking continuing rule from Washington.
US correspondents in Baghdad had a good idea of the real situation but tended to be overruled by their editors in New York and Washington. One journalist complained to me that "the problem is that newsrooms back home have two mindsets – "war rages" or "peace dawns" – and there is not a lot in between." Ahmed Chalabi, the Iraqi politician once feted and later denigrated by the Americans, astutely observed: "The problem in Iraq is that the agenda is driven not by what is really happening, but by the perception in America of what is happening."
I stayed for much of the five years after the invasion in the al-Hamra Hotel which stands in a loop in the Tigris river in the Jadriyah district of Baghdad. It was never a homely place. The owners appeared to have taken a pledge early on not to spend a dollar of their substantial revenues from guests – mostly journalists but a few businessmen – on refurbishing the hotel. It was made up of two buildings separated by a swimming pool. One block became uninhabitable in 2005 after two suicide bombers driving vehicles packed with explosives blew themselves up trying to penetrate the perimeter wall. They killed 11 people, mostly hotel staff or their relatives. I moved to the other building which was served by two lifts, one of which had ceased to work before I arrived, and a second which crawled up and down with extreme slowness and stopped only on the floor above mine.
I went back to the al-Hamra last month to find it closed. It never recovered from a second bomb attack in 2010 when a vehicle was detonated in the entrance gateway. Shattered buildings near by are still in ruins along with a mangled car that nobody has bothered to remove. I used to like the security men who had the highly dangerous job of checking vehicles entering the hotel compound. Once, I asked them why three of them always searched my car. "It's because we know you are not a bomber," they said cheerfully. "If we think a car looks suspicious, just one of us searches it, so we don't all get killed at the same time." One of the guards added that in such cases he kept his drawn pistol by his side so he could shoot the driver in the head if his suspicions were confirmed. He thought he might have half a second before a bomber realised he had been detected and detonated the explosives.
Just beyond the gateway was a row of trees that were once filled with hundreds of small twittering birds, but they seem to have gone. The door of the hotel was open and inside the hallway were three people huddled around a desk. They were running a courier agency and sitting in the semi-darkness because the electricity had failed. There was only one member of the old hotel staff present who said he recognised me. He explained that he was waiting for a visa to go to the US. "I want to leave as soon as possible," he added. "I am sick of waiting." Outside, the swimming pool was empty aside from a few inches of stagnant green water at one end.
I have fond memories of the al-Hamra and the journalists who lived there. There used to be regular denunciations of "hotel journalism" in Baghdad, the implication being that petrified correspondents never left wherever they were staying. This was never true for the obvious reason that journalists who found Iraq too dangerous to work in took the simple precaution of staying out of the country. That said, our movements had to be cautious and circumscribed because strangers were generally regarded with hostility and suspicion.
I had two cars, in the first of which I travelled sitting in the back while the driver in the second car would follow behind to see if we were being followed. To make it more difficult for people to identify me as a foreigner, but without giving the idea that we were trying to hide anything, we hung shirts inside the window, effectively hiding my face, but looking, so we hoped, as if we had just come from a laundry or dry-cleaners.
Would somebody reading the best reporting on Iraq at that time have had an accurate picture of what was happening? On the whole, I think they would, if they identified the right reporters and read up background material. Iraqi politics are truly Shakespearean in their drama, violence and complexity. Alissa Rubin of The New York Times, one of the best of the correspondents, told me that she had just returned from London where she had seen Henry VI Parts I, II and III one after the other. She explained that she found Shakespeare's portrayal of the Wars of the Roses identical in many ways with the struggle for power in present-day Iraq.
The danger of being murdered or kidnapped constrained movement, but embedding with the US or British armies had its own risks in terms of producing partial and upbeat reporting. It was not evident to me at the time, but reporters in Iraq benefited from the fact that neither the Iraqi government nor insurgents cultivated foreign journalists. This was in marked contrast to the situation a few years later in Libya and Syria where rebels became highly skilled in dealing with the media, establishing their own agenda as the only one, publicising dubious atrocity stories and suppressing anything negative about their own side. Insurgents in Iraq were very dangerous people but sophisticated propaganda ploys were beyond them.
Join our new commenting forum
Join thought-provoking conversations, follow other Independent readers and see their replies