For Wayne Rooney, unlike Daniel Sturridge, it's not easy being a Christian footballer
The Manchester United striker has been harried into hiding his faith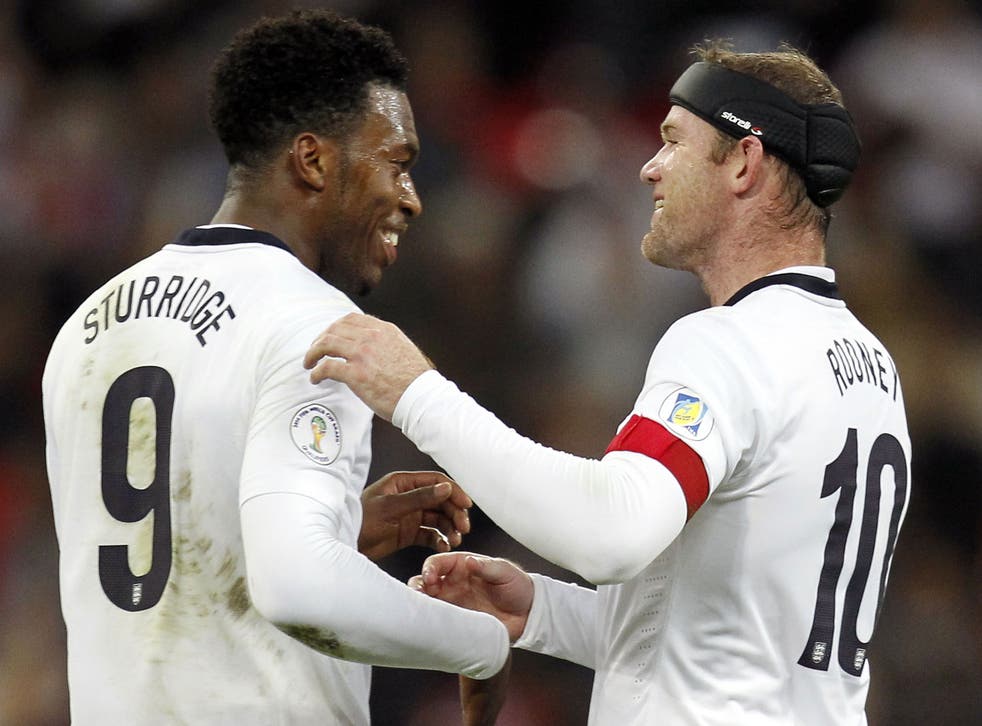 Whether it be the hand of the Almighty, or merely the gods of football, good fortune has smiled upon Daniel Sturridge this season.
With 19 goals already, Sturridge has been blessed with greater consistency than his England teammate Wayne Rooney, who remains stuck on eleven.
The Liverpool forward is also enjoying an easier time expressing his religious convictions than his Manchester United counterpart.
Both England strikers avow the Christian faith. Both have talked and tweeted about the importance of their personal relationship with God. But while Sturridge salutes the Big Guy Upstairs in carefree exultation, Rooney is harried into hiding his light under a bushel.
It's common to find Sturridge using the hashtags #godislove and #godisgood after a Liverpool victory. When he reached a half-century of top flight goals at the beginning of February, the striker tweeted: "Thanks to God for allowing me to score 50 prem goals." And after winning a Barclays Player of the Month award back in September: "I do all trough (sic) Christ who strengthens me."
Rooney, meanwhile, makes heavy work of his public pronouncements. After Manchester United's recent 2-1 defeat to Stoke City, in the wee small hours of the Sabbath, Rooney tweeted the evangelical Christian channel God TV: "@godtv I'm watching and feel you. Much love." It was quickly removed (not before a slew of jokes), as was another tweet sent last year to US preacher Todd Bentley, whose work Rooney described as "Very powerful and touching".
World Cup 2014: Match-by-match results

Show all 62
It follows a pattern. When the England hero was asked about at his faith at the last World Cup, one of the FA's PR handlers stepped in and shut down discussion with Alastair Campbell's famous line: "We don't do God".
The Rooney case is curious, if only because it's not unusual to find famous footballers tweeting about God, fuss-free. Social media offers an idea outlet for the devout to share spiritual thoughts without having to answer awkward questions. Everton's Steven Pienaar, Manchester United's Javier Hernandez and ex-QPR Anton Ferdinand (now playing in Turkey) can be found tweeting or re-tweeting Bible verses and prayer messages.
A previous generation of Christian footballers were not so fortunate. Graham Daniels, director of Christians in Sport (and a former team mate of David Moyes), remembers the stick he received Cambridge United in the mid-eighties after telling a newspaper about his faith. "The culture in football was very macho: hard-drinking, hard-living hard men," he says. "It was difficult. You would be perceived as weak, or a bit simple."
"A lot has changed in thirty years," Daniels adds. "For the overseas player in the Premier League, there is far less fuss because they may have come from a culture where expressions of faith are the norm. For the British player there remains a residue of the stiff upper lip thing where you don't tend to talk about anything in your emotional life outside of football."
It seems there are double standards at play. Now that the established Church has slid off to the side of national life, Britain now only nominally a Christian nation, professions of faith from major public figures are subject to scorn, ridicule or pity. But coming from those who grew up in African, African-Caribbean or South American church traditions, religiosity is subject to shrugs of respectful indifference. At the risk of sounding naive, is respectful indifference across the board too much to ask for?
Rooney, an English Catholic with twice as many Twitter followers as Pope Francis, is under greater scrutiny than most. No doubt his advisors fear constant jokes about miracles and membership of the God Squad. But it's not really fair to stifle a grown man. Let Rooney be Rooney. The detractors be damned.
Join our new commenting forum
Join thought-provoking conversations, follow other Independent readers and see their replies