We have known asbestos causes cancer for more than 100 years. So why are people still dying?
David Crookes' father died of mesothelioma last week. To mark Action Mesothelioma Day this Friday, he urges more action to combat the use of asbestos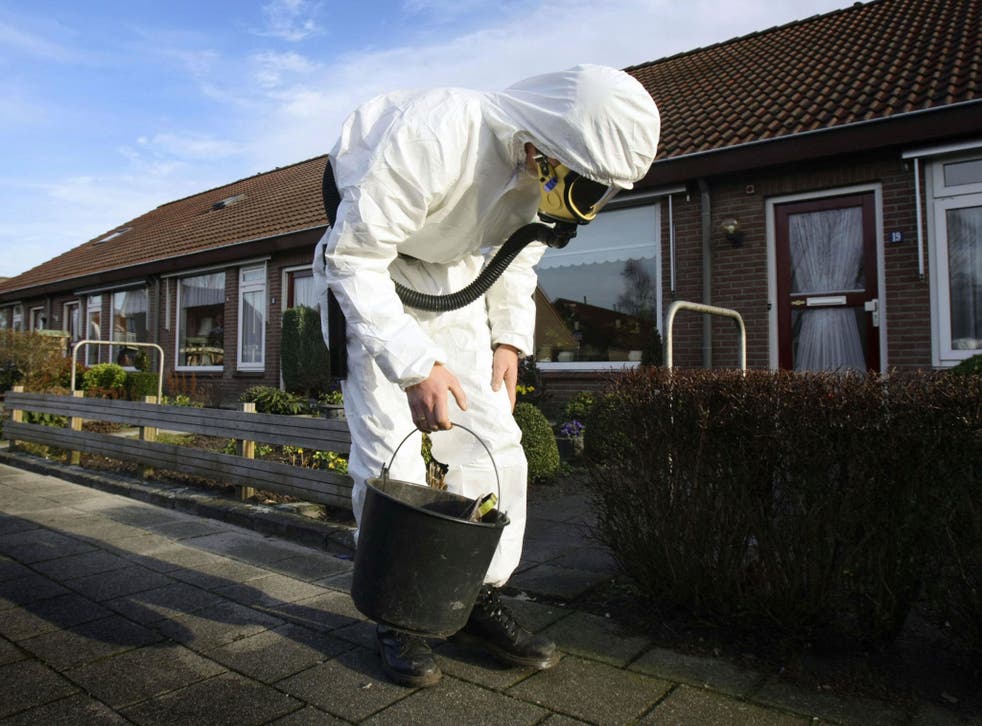 If you would like to find out more about Mesothelioma or make a donation, please visit Mesothelioma UK or call them on 0800 169 2409
We had an external garage. It looked inconspicuous enough, if not a little shabby. Although it's hard to pinpoint when it was built, a good guess would be in the 1970s. It certainly was not constructed after 1999 because this garage contained a not-so-hidden danger that was banned in the UK in that year. It had, on top, something that could considerably shorten a human life by some years. The roof was made of asbestos.
When I bought my first house, a decent-sized terrace north of Manchester some eight years ago, the survey said there may be asbestos in the ceiling tiles. It was something I didn't really think about. Neither did my wife when she bought what is now our nice little semi-detached marital home four years ago with the asbestos-containing garage to the right-hand side. We knew asbestos was not a good thing. We just did not realise how bad it could potentially be.
That changed last October. My father went into hospital with a pleural effusion. This is a build up of excess fluid between the space that surrounds the lungs. He had struggled to breathe for around a week and had got to the point where he would gasp when walking to the bathroom. The cause, depending on the type of pleural effusion, could be anything ranging from infection to heart failure. In my father's case it was mesothelioma.
Until the word was mentioned to us, we had never heard of it. It took us a while to work out how it was pronounced. What we knew, because the consultant told us, was that it was terminal. We also knew that it should be taken seriously. A consultant – rather carelessly, we felt - asked if my father would be happy to have a post-mortem examination before his chemotherapy had even started. His morale dropped from that moment on.
It took us aback and so began months of heartache, of hopes built up and dashed. Mesothelioma eventually led to his death, aged 68, some eight months later. His final weeks were spent in a wheelchair on oxygen unable to move and gasping for air. Before his breathlessness, he had been incredibly fit and healthy. Three months before he went to hospital on an emergency admission, he had walked up Snowdon.
Each year, according to the Health and Safety Executive (HSE), around 2,300 people are diagnosed with mesothelioma. It has risen from 153 in 1968. More than 80 per cent of deaths are among men and, like my father who cannot ever recall coming into contact with asbestos outside of work, it is mainly due to asbestos exposure in the workplace.
Mesothelioma will peak in 2016. It has affected builders. It has killed the wives of husbands who have come home from work with asbestos fibres on their clothing. By inhaling just a few fibres of asbestos no matter whether it is blue or brown (the import of which were banned in the UK in 1985) or white (banned outright in 1999 following a partial ban in 1992), there is a risk of being struck by a cancer that offers an average prognosis of just eight months.
Death is not immediate. The fibres remain in the body for years. The median latency is 32 years and it is never less than 15. HSE calls it the hidden killer. People who worked in power stations and on factory floors as apprentices were put at risk by a substance that even first century Greeks and Romans were said to have noticed causing disease of the lungs and which, in the early 1900s, was spotted by a London doctor, H Montague Murray, and suspected of being harmful. Hundreds of legal cases are mounted against negligent companies which exposed their workers to it.
Teachers who have been exposed to asbestos in schools riddled with the stuff have also died. So have nurses. Colleges, hospitals and other public buildings have contained asbestos and continue to do so. This is why the European Parliament wants it removed from such places by 2028. That would go some way to help combat this terrible and sad statistic: more than 35,000 people died by mesothelioma between 1997 and 2007.
There is no cure. There have been battles. Alimta is the standard chemotherapy drug used for mesothelioma but the National Institute for Clinical Excellence (NICE) could not recommend it for years. It was finally approved in 2008.
There is little research and scant funding. Lord Alton of Liverpool moved on June 5, 2013, to plea for research funding to fight a disease that he said would claim 56,000 more British lives. He said the British Lung Foundation invested £1 million in research in 2011 but that the Government invested nothing. He found it shocking that not a penny of state funding was given and he referred to a Sunday Times report which said research would be conducted to examine causes and find cures. That was 50 years ago.
We are no nearer to a cure. There are trials, there is work being carried out in Frankfurt and Australia and America lead the way in international research. But there is still much to be done. It is time to stop talking and allow victims to recapture their breath. We need to professionally remove as much asbestos as possible and help find a cure or a way of prolonging the life of those effected.
Action Mesothelioma Day 2013 is on Friday, July 5. If you would like to find out more about Mesothelioma or make a donation, please visit Mesothelioma UK or call them on 0800 169 2409.
Join our new commenting forum
Join thought-provoking conversations, follow other Independent readers and see their replies