We must help the children of war
Four years after meeting former child soldiers in northern Uganda, actor Ewan McGregor is still haunted by their horrific stories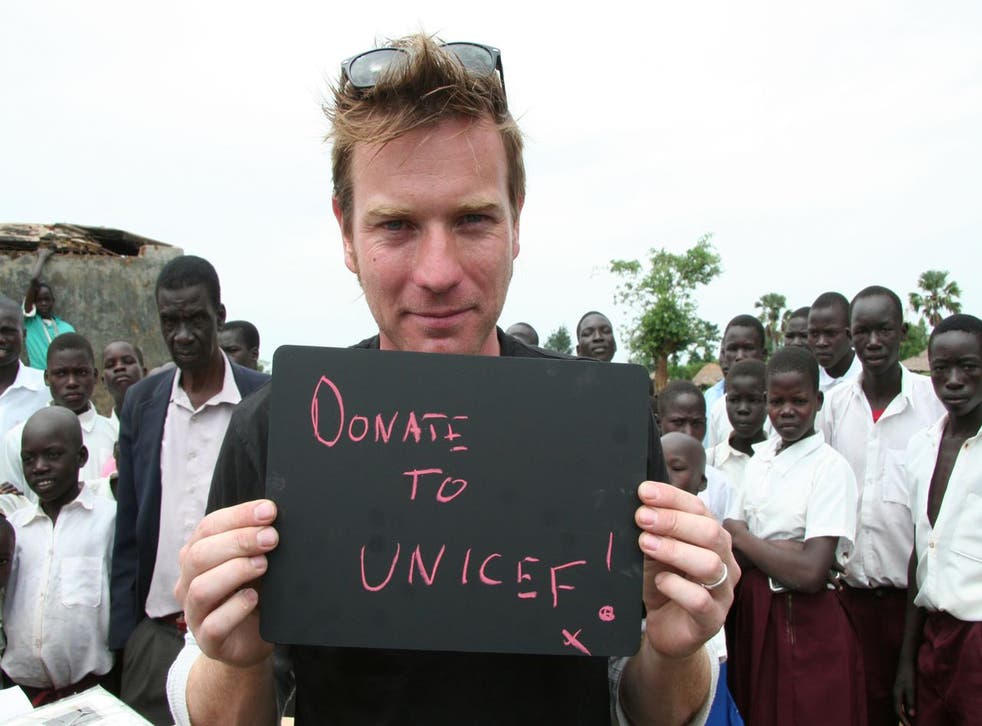 Please donate to our appeal for child soldiers here.
During a motorbike journey across Africa with Charley Boorman, I travelled to a place called Gulu in Northern Uganda. Charley and I had the opportunity to talk to children who had been forced into the Lords Resistance Army and with Unicef's help, were trying to rebuild their lives.
Over four years have gone by since that meeting. A lot has happened since then, but these memories remain absolutely vivid in my mind. Even now, it's difficult for me to accept or to get into my head what those children told me – because even after four years it's almost too awful to comprehend.
We visited a place called Amuru camp which housed around 50,000 people who had been displaced by the hostilities in northern Uganda. The hostilities between the government forces and the rebel army called the Lord's Resistance Army (LRA) came to a halt in 2005, but in the 18 years leading up to then 10,000 children, many as young as seven or eight, were snatched from their families every year and forced to go into the LRA.
These children were raped, brainwashed and forced to maim, torture and kill. The girl I met – who I will call Sarah – was 15 or 16 (her papers have been lost and she couldn't be sure of her age). She was abducted from her home with her brother at the age of seven. They were forced to march barefoot, carrying heavy loads on their backs, over the border into Sudan, a journey that takes four days by car. On the way her foot became infected but she was not allowed to slow down and by the time they got to Sudan she was crawling on the ground with the load still on her back.
When two children are abducted from the same household they are often separated, and as a result Sarah was soon parted from his brother, and never saw him again. Like many girls in this situation she was forced to be a wife to a commander who had many young girls as sexual partners. These children are systematically raped and in Sarah's case, she became pregnant at the age of fifteen. Being pregnant actually saved her life. Being too slow to march with the others Sarah was released with another girl and they somehow found their way back to Uganda.
Sarah's first stop once she was free was a Unicef supported reception centre, similar to the ones The Independent Christmas appeal is funding for Unicef in the Central African Republic. There, Sarah, like many other children in this situation, received medical care and counselling. Her parents were traced and she was given shelter and food. Sarah's parents welcomed her back into their home but – tragically – a week after she got back home her father was killed in a car accident. When I met her she lived with her uncle and her mother. Her eyes told as much as her words about what she had been through.
(Watch our playlist of videos from the Christmas Appeal here)
For a child to be in any military situation is wrong. I think about my own children. Then I think about these children and as a father I imagine what it's like for their parents; suddenly their child disappears, they've no idea where they are and they're lucky if they see them alive again. They're just left to imagine the horrors that they might be going through.
There is no doubt in my mind that this is humanity at its absolute worse and while these stories are often too sickening to have to read on our way to work or in our homes miles away from the scene of the crime, I applaud The Independent's Child Soldier appeal for reminding us, for waking us up, for stopping us in the tracks of our busy lives and encouraging us to remember the truth for these children, and this Christmas, to do what we can to help.
All Unicef's work with child soldiers in the CAR is funded by donations. Please be as generous as you can. Click here to donate. Text CHILD to 70030 to donate five pounds.
• £6 provides life-saving treatment for one child from fatal diarrhoea, pneumonia, or malaria, all diseases that the children are vulnerable to in the Central African Republic
• £15 pays for schooling for a child who has been rescued from an armed group – including providing all the books and stationary they need.
• £25 provides a child with all the essentials they need when they are first rescued. This 'welcome kit' includes clothes, underwear, toothbrush and toothpaste, soap, a blanket, mattress, and mosquito net.
• £62 provides vocational training to a child released from armed groups, providing them with a sustainable future
• £103 trains a teacher to help former child soldiers continue their education
• £150 pays for psychological support for one child who has been rescued
• £300 can buy enough toys for a centre for 50 rescued children to play with, to help them regain their childhood by having fun again
• £516 can support one child for a whole month. This covers the cost of everything they need at the rehabilitation centre, including care from dedicated and experienced staff, food, counselling, education, vocational training, and the costs for family reunification
Click here to bid in our charity auction
Join our new commenting forum
Join thought-provoking conversations, follow other Independent readers and see their replies