What it feels like to be savaged by a LOLcat
"I is Seriuz Art Critik. This is serius bizniz": When I wrote an unfavourable review of 'Lolcat - Teh Exhibishun' for this paper last week, little did I anticipate the backlash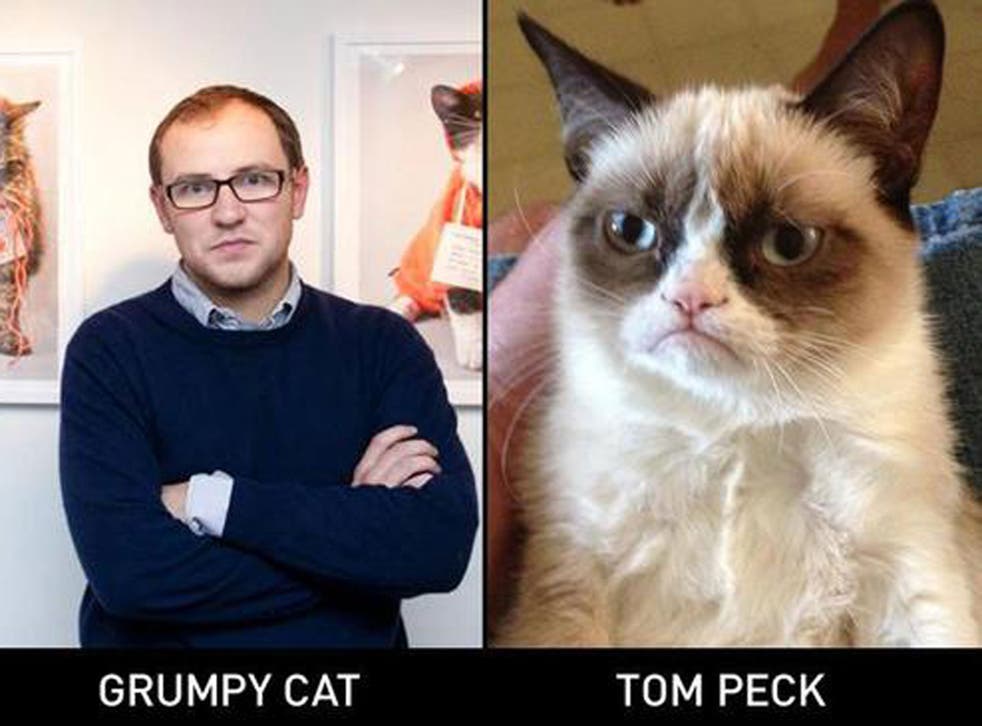 It's not quite being savaged by a dead sheep, as Labour's Denis Healey famously once claimed to have been, more gently micturated upon on by an angry tomcat.
In a case of art imitating art then disappearing whiskers first into a vortex of absurdity entirely of its own making, this reporter has been set upon by the Photoshop-happy lolcat lobby.
It is a week since this newspaper carried my rather unfavourable report on "Lolcat - Teh Exhibishun", a show of 49 works on a theme of lolcat, the odd but massive internet phenomenon anthropomorphising cats by adding misspelt words to pictures of them.
Now said exhibitors have responded in odd, terrifying, but decidedly flattering kind. The exhibition's website carries a whole series of lolcat style pictures of 'the new Grumpy Cat', namely, me.
"Since the article online and in the paper, we've been receiving a stream of Tom Peck memes created by fans of the show! So, in terms of keeping the conversation interesting and going, we thank you Tom," claims the Teh Exhibishun's curator Jenny Theolin.
"I is Seriuz Art Critik. This is serius bizniz," is probably my favourite (I am not, and it isn't). Though the replacement of my sadly sizeable nose with a little pointy whiskered job is arguably an improvement, so that comes close a second.
To be called "humourless" was a little cutting, especially as it comes from those who idle away their afternoons annotating pictures of cats, but such is the path we tread.
But I did omit to mention first time round that the exhibition at the Framers Gallery near Soho is all in aid of Battersea Cats and Dogs Home, an unforgivable error. Many of the 49 art works have already been sold. Some of them are quite good, particularly Anthony Smith's cartoons, and Manuel Archain's, "The Smallest Cat In The World" - which is a steal at £2,100. If you like lolcats, well, you're mad, but you'll certainly like Lolcat - Teh Exhibishun.
Join our new commenting forum
Join thought-provoking conversations, follow other Independent readers and see their replies