While we fixate on Calais, the Home Office is quietly deporting dozens of migrants on 'ghost flights'
The Home Office's merciless approach is breaking up families and driving some to the brink of suicide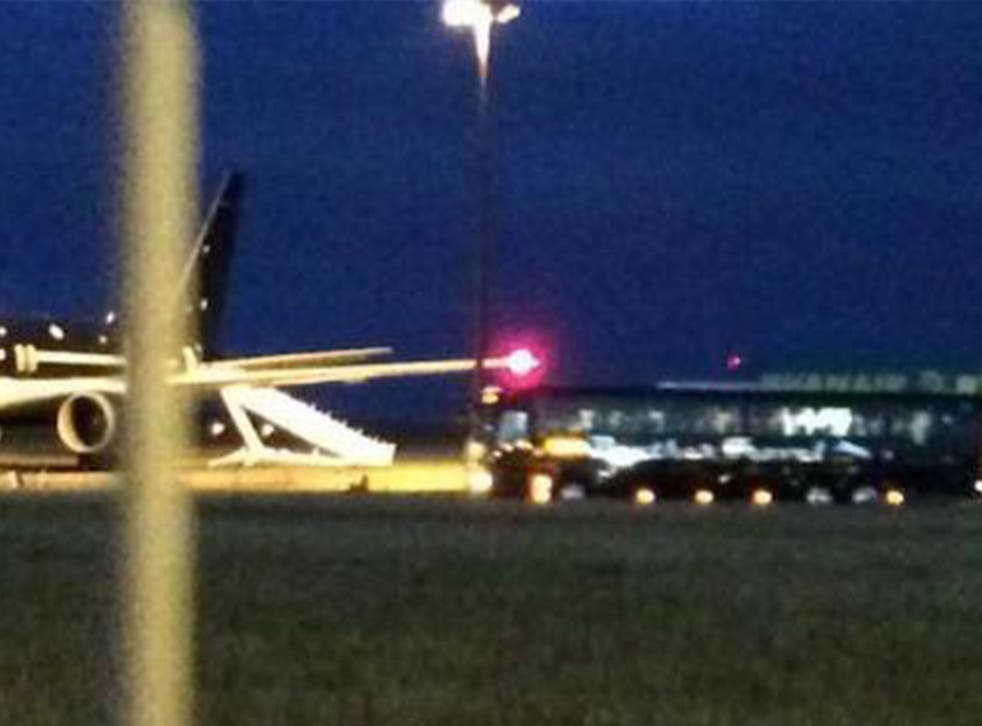 As thousands of refugees tried to enter the channel tunnel on Tuesday night, the Home Office had another crisis on its hands. Fred*, 24, climbed on to the roof of a London detention centre and threatened to jump. He was about to be deported to Sierra Leone, a country he left when he was 11, and somewhere that our Foreign Office advises against all but essential travel "except for those involved in the direct response to the Ebola outbreak". Fred is reported to have said, "I am 24 years old and I have never been this scared in my life."
With all the focus on Calais, the distressing way that people are expelled from the UK is going unnoticed. Fred was among dozens of others who the Home Office planned to put on a specially chartered aircraft (or "ghost flights") to Nigeria, Ghana, Liberia, Sierra Leone and Gabon.
Hiring jets like this costs over £5,000 per deportee. The flight left Stansted in the middle of the night and coincided with Theresa May's announcement of a deal with France to send more people back to west Africa. She hopes that this will somehow deter the refugees in Calais. The fact that most of them fled from Eritrea or Sudan (ie east Africa) does not seem to have crossed her mind. The Home Office started removing migrants by charter flights from secret locations in 2001. Up until March last year, almost 30,000 people had been removed by 800 such flights. They continued for a decade before independent inspectors were allowed on board, in 2011.
Theresa May under fire for threatening to deport EU migrants after Brexit
Many of the men the Home Secretary has sent to west Africa are now separated from pregnant partners and young children, according to volunteers at the Unity Centre. It appears that the Home Office has been breaking homes. I put this to the Government department, and am awaiting their reply. Here is the reality: Anthony left behind a wife and two-year-old child who both have the right to remain in the UK. "We lost a baby in 2008, we visit the burial site regularly," Anthony told the Unity Centre. "Every time I call my wife my son is crying. How can you split me from my family?" The Home Office claims Anthony poses a risk to society, after he was arrested for working without permission in 2010. Anthony said he was just trying to support his family.
Another man on the flight, George, said: "I have been here for 11 years and I just don't know what to do. I have nowhere else to go and I am not leaving my fiancée." His partner is three months pregnant. David was also separated from his pregnant partner, who is British. David told the Unity Centre, "I can't believe that they won't even let me see my daughter being born. I haven't committed any crime in the UK."
By the time Fred came down off the roof, he had missed the flight and was put in solitary. But his desperate act is not the first. On a charter flight to Nigeria in 2013, which the Home Office curiously named Operation Majestic, there was a mentally ill woman called Ms D. According to an official report by the Inspector of Prisons, when Ms D heard she was going to be deported, she told officers that she "had nothing in Nigeria" and threatened to kill herself if sent back. This was not a empty threat.
In pictures: Calais crisis intensifies

Show all 20
As the report details, to get her out of the country Home Office contractors placed her in "leg restraints for 10 hours 5 minutes and in handcuffs for 14 hours 30 minutes, continuously in each case." Her head was also restrained for over 45 minutes. The report also detailed instances where staff escorting Ms D acted unprofessionally. "While staff generally showed the same calm confidence in managing this situation [...] Some of them also fell short of a professional standard of behaviour by discussing the situation in the hearing of this and other detainees, and in some cases making inappropriate remarks," it says.
For example, while resisting her deportation, one of Ms D's escorts responded to her spitting by saying "We should wear burqas – not being funny". Staff also discussed "the woman and her situation in front of her in a way which could have increased distress, and after reading a reference to [her] mental health issues [...] an officer pointed to her head and said 'she's a bit...'".
When the plane landed in Lagos, Ms D sat on the tarmac, ripped off all her clothes and overdosed on anti-psychotic medication. Up to 30 Nigerian officials tried to push her back on the plane. British staff blocked the entrance to the plane and eventually an ambulance took her to hospital, where she was treated and discharged. As shocking as this was, an internal email shows that the Home Office felt its handling of Ms D was "as good as it could be".
But the distressing reality of the Home Office's decisions seems to suggest otherwise. People are threatening to take their lives, and families are being torn apart, all because of their uncompromising stance. Is that, as well as Britain's response to those in Calais, really as "good as it could be"?
*Names have been changed
Phil Miller is a researcher for Corporate Watch and co-author of the report 'Collective Expulsion: The Case Against Britain's Mass deportation Charter Flights'
Join our new commenting forum
Join thought-provoking conversations, follow other Independent readers and see their replies