Why the Lib Dems are doomed to be unpopular – and also powerful
Clegg and his party still have cause for hope, but it has little to do with the polls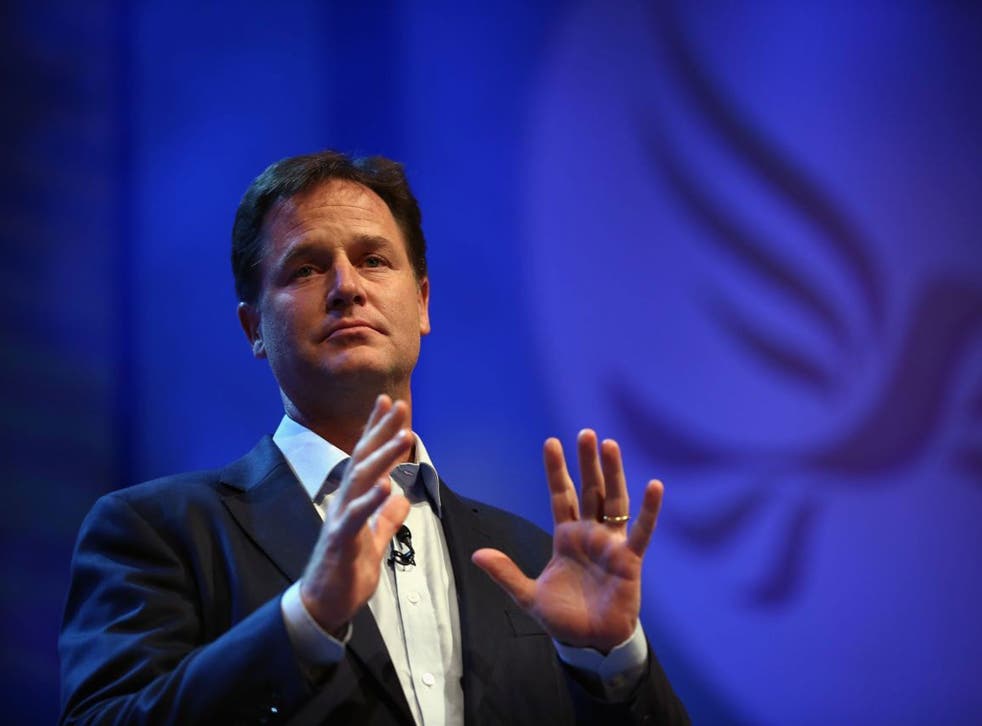 Hope is an essential component in politics and there is quite a lot of it at the Liberal Democrats' conference. They hope, and in some cases assume, that their abysmal poll ratings will rise to a respectable figure by the time of the next election, that more voters will hail their new role as a moderating force in government. Almost certainly they hope in vain. Their poll ratings have been awful for a very long time and I cannot see what changes between now and the election could improve them.
They make speeches and hold some good debates. Nick Clegg is by some considerable margin the best interviewee of the three party leaders. In his conference media interviews he is authentic, gracious and humorous, more fully formed as a public voice than David Cameron or Ed Miliband. In a different political context he would be a substantial electoral asset to the Liberal Democrats, as he was famously during the 2010 election. Speeches, interviews, announcements can make a difference to a party's fate, but not at this particular time for this particular party.
The context overwhelms the hopes of the leader and his party, a dark background that was formed in the early months of the Coalition. In the darkness Clegg has framed a coherent message this week that is superficially compelling. He argues that the Liberal Democrats can play a moderating role in a coalition with either of the two bigger parties. According to Clegg, when the Liberal Democrats govern with the Conservatives they ensure social justice plays a part alongside economic competence. If they were to form a coalition with Labour they would be the guarantors of economic competence as well as sharing Miliband's party's commitment to social justice. Clegg is making precisely the same appeal as Tony Blair at the height of his popularity when he argued persistently that New Labour stood for economic competence and social justice. Blair won landslides with the message.
Leave aside the slight problem that all parties claim to be socially just and economically competent, yesterday's debates on the economy at the Liberal Democrats' conference highlight the particular difficulties for Clegg in claiming Blair's formula. Even his own party cannot agree what form economic competence should take. In his speech, Vince Cable not only repeated his concerns about the fragility of the recovery, but also repudiated Clegg's entire electoral strategy. Cable declared that the Liberal Democrats were "not a nicer version of the Tories" and went on to argue that the task ahead "was not a matter of splitting the difference between the other parties". Obviously Clegg would not phrase his strategic ambitions in such terms, but Cable's implicit call for more distinctive depth was aimed at a very clear target, his leader. Cable also made a bigger leap than usual from so-called "equidistance" between the other parties, tearing into the Conservatives while speaking of a need for responsible capitalism that had some echoes of Miliband.
Cable's contribution is a challenge of substance rather than a threat to Clegg's leadership. Clegg is as secure as he has been since the 2010 election. Most of those that remain in his party respect and like their leader. Presumably a lot of those who despaired of him have left. But, as Cable implies, there is a worrying question for Clegg: where are these new voters that Clegg hopes to collect between now and the election? In 2010 quite a lot of Lib Dem support came from voters who felt that New Labour was not left wing enough. Obviously they are lost to the Lib Dems. But I would be surprised if many other left-of-centre voters will switch to the Liberal Democrats out of gratitude for preventing the Conservatives from being even more right wing. After all the Liberal Democrats have given quite a lot of space to some Tory ministers seeking to be more right wing than Margaret Thatcher ever dared to be. They have stopped them from being even more right wing on several occasions, but again I doubt if that reassertion will win over more voters. Perhaps there are some moderate Conservative voters who are grateful to Clegg for ensuring a greater focus on social justice, but there are few indications such gratitude will lead to a substantial switch of support from Tory to Lib Dem.
Blair made his pitch for social justice and economic competence when the economy was booming and when the government was greatly increasing spending. Clegg makes his at the start of fragile recovery and when spending continues to fall.
In truth, the Liberal Democrats' course was set long ago. The outcome of the last election meant famously that a majority in the House of Commons was more easily formed in partnership with the Conservatives. But in forming the fateful Coalition the politically inexperienced Clegg made errors from which there is no recovery this side of the election. Had he been more astute he would have made winning the referendum on electoral reform the key objective. That would have meant maintaining at least civil links with the Labour leadership. Instead, partly in order to show that a coalition could work, Clegg went out of his way to demonstrate in public how close he was to Cameron and the Conservatives, echoing with angry passion the George Osborne narrative that the global economic crisis was the fault of the last government alone. During an early Deputy Prime Minister's Question Time session in the Commons he went as far as to defend the previous Conservative government's economic record compared with Labour's.
Obviously some policies alienated Lib Dem voters, but the whole picture would have changed had Clegg won the referendum on electoral reform. Instead, even Miliband, who was almost a supporter of electoral reform, could not find the energy to campaign extensively after Clegg's early demeanour. The campaign, which had many potentially populist messages, was a disaster.
From that point on I suspect there was no escape for the Lib Dems in terms of poll ratings. A victory in the referendum would have symbolised Clegg's strength in the Coalition, defeating the mighty Cameron and Osborne. More importantly it would have opened the door to new forms of pluralist politics that would have benefited the Lib Dems more than the other two parties.
Clegg and his party still have cause for hope, but it has little to do with their national poll ratings. One of their gloomier MPs, privately critical of Clegg, tells me he expects his party to keep two thirds of their seats, in which case they will still be a formidable force in the next parliament. They may well hold the balance of power once more. What follows from that is much more complicated than last time, and it was nightmarishly frenzied in 2010. I doubt if Clegg will get his party to support another coalition with the Tories, even if Cameron wins more seats.
Still such speculation shows the centrality of the Liberal Democrats. Clegg and his party are significant players. Perhaps that significance shelters them from their poll ratings. There is no sign that the ratings will rise very much, or that the significance will diminish.
Join our new commenting forum
Join thought-provoking conversations, follow other Independent readers and see their replies