A winter World Cup in Qatar? In football nothing is beyond belief - or money
Sepp Blatter has run Fifa like a fiefdom for years. He'll probably carry on until he's 120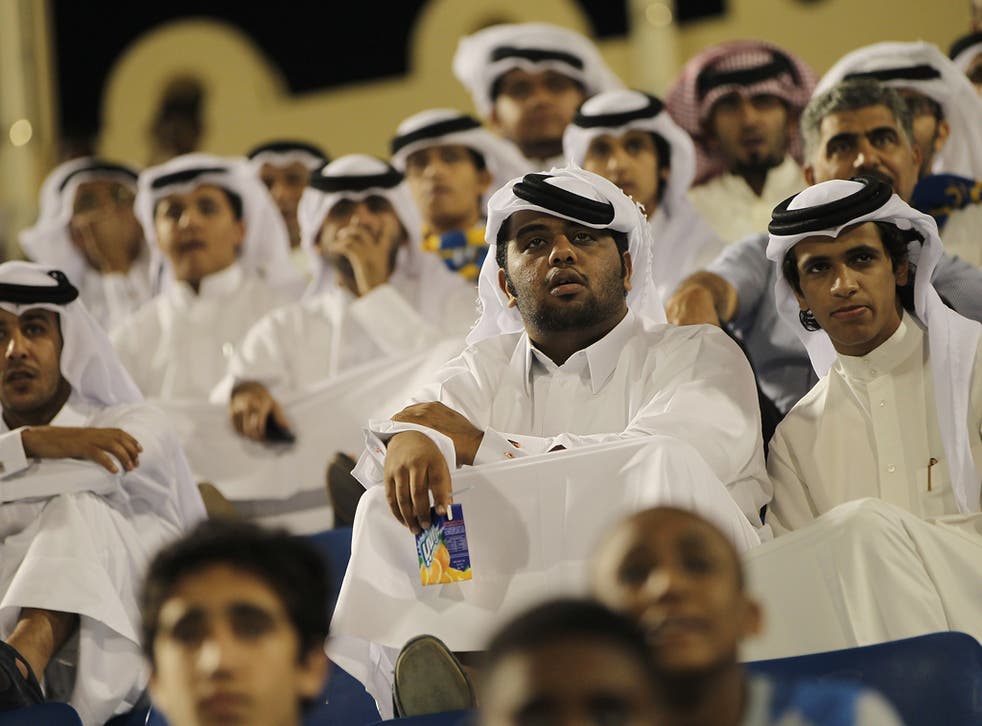 Funny old game, football, unbelievable things happen which you wouldn't – er – believe, so you laugh at them – then blow me, it turns out to be believable. I remember clearly that day in February 1905. I'd just been playing for my college team at Durham and bought the Newcastle Journal on the way back to my rooms on the Norman Gallery. Imagine my surprise to read that Alf Common, a tubby little Geordie person, had been transferred from Sunderland to Middlesbrough for £1,000. It was the first four-figure transfer in the history of football. Must be a misprint, was our first reaction. Then we thought that's it, the end of football as we know it, money has become the master, everything is ruined. How we roared and laughed, because really you have to, at the stupidity, for surely transfers will never ever be more than £1,000, will they?
In 1928, when something called Fifa was planning something to be called the World Cup, involving football nations from all round the globe, our own dear FA was not frightfully keen. I was a cub reporter and was there with my little notebook at the vital FA meeting. I clearly heard one of the FA members, Mr Charles Sutcliffe, ridiculing the idea. "The Fifa does not appeal to me. An organisation where such football associations as those of Uruguay and Paraguay, Brazil and Egypt, Bohemia and Pan Russia are the co-equal with England, Scotland, Wales and Ireland seems to me to be a case of magnifying the midgets..."
Quite right, sir, we all thought. The idea of England, who invented the game, having to play with these jumped up foreign johnnies was ludicrous, how could anyone possibly believe that such a wild notion could ever possibly happen.
Now, where was I on December 2, 2010? That was when I heard about the venue for the 2022 World Cup. Must consult my diary. I see I had a swim at Kentish Town pool and waitin for the C2 bus on the way home bought the Evening Standard and there was the news – the 2020 World Cup was going to be in Qatar. You what? That titchy little country about the size of Hampstead Heath where in the summer it's like living in a pizza oven? Mistake, surely, not possible, so I just scoffed.
Then not long later, did I not laugh and roar when I read that Qatar is so rich, it is going to air-condition all the stadiums, the streets, the buses, and every spectator's underpants, so there will be no problem, squire. Unbelievable, but it turned out to be true.
In fact, I have grown quite used to the idea of a summer World Cup in Qatar, mad and potty and crazy though it first sounded, just as I got used to £10,000 transfers, then £100,000, then £1m and now £85m transfers. And also to acceptance of the World Cup itself, now the biggest sporting event in the calendar, at which poor old snobby, superior, pathetic old England gets regularly stuffed by South Bohemia or Pan Macedonia. In football, one should never scoff.
And it has been a useful learning process. I now know you don't spell it Quatar, with a "u", silly me. But how do you pronounce it? Like that bad cold and mucus in the throat or like that music instrument which Eric Clapton plays very well? Neither. I think. Anyway, I pronounce it Ka-Ta to rhyme with Ta-Ta.
I also know that Qatar is London's landlord, so we better get used to it owning everything, from Harrods and the Shard to Docklands and Canary Wharf. The Qataris have trillions every minute coming in from their oil and natural gas so they have to spend it somewhere. Lucky us, being recipients.
I have been to the Gulf, on a cruise, and popped into various Arab countries, but I can't recall what Qatar was like. They all seemed the same, boring desert, and then some high rise, hideous skyscrapers, except in Iran, yes went there as well, and that was fascinating. In a fish market I saw some lads wearing football tops with Emirates on the front and Lampard on the back. I took loads of photos, until I was stopped. (For non-footer types, the point of taking the pix was that Lampard plays for Chelsea who are not sponsored by the Emirates, that's Arsenal, so it was a good example of Iranian rip-off merchandising getting it all wrong, har har).
The heat on the Gulf, by the way, was appalling. No sun, no blue sky, just grey, oppressive, heavy, horrible, furnace hot, so every breath in the open air is a struggle. But of course not to worry, come 2022, all footer fans will be able to swan around all nice and cool showing off their beer bellies. Hmm, will there be beer? Not sure about that.
Now, almost three years later, there could be a slight change of plan, just when all footer fans across the world had grown used to the mad notion of playing in the summer in Qatar.We were quite looking forward to seeing the whole German team collapse as they did their fiendish drills in the warm-up, or Big Fat Phil Scolari, manager of Brazil, slowly melt before our eyes, the sweat pouring from him so he ends up as a puddle on the bench. Gosh, that could have been fun. This week, they have suddenly started to see sense. Or a bit of sense. Qatar is still expected to host the 2020 World Cup, but not in the summer. It looks like being moved to their winter, where it will only be 99 degrees. Uefa – which represents the European football nations – has backed the switch to winter and next month Fifa is expected to agree. Only taken three years.
There will doubtless be total chaos with the football and TV schedules in almost every country as the traditional football seasons get mucked around and huge payments will have to made, or suitable bribes handed over, but it can all be done. Personally, I quite fancy a winter World Cup for a change, early January can be so boring with nothing open and nobody back at work – as long as it means the league season will be extended right throughout the summer. Yippee, football all the year round. It's awful having to put up with those dreaded five or six days every year when there is just no football on the telly.
So why did it happen? Why did it get this far, this totally dopey notion? Money of course, pressure exerted by people with money, stampeding the Fifa placemen into making a quick decision back in 2010 which they didn't need to make, not then.
And of course the power of Sepp Blatter, the Fifa president. He denies it was his decision – says it was due to political pressure exerted on certain members, such as Michel Platini, the president of Uefa, his deadly rival to take over at the world body. Blatter has been running Fifa since 1998 like a fiefdom, securing for himself four terms and now looks like being in charge till he is 80. Probably till he is a 120.Don't scoff. Nothing in the world of football is beyond belief...
Hunter Davies is the football columnist of the 'New Statesman'
Join our new commenting forum
Join thought-provoking conversations, follow other Independent readers and see their replies