Worrying truth is the labour market may be slowing
There is no evidence to support the claim that the Coalition has created more jobs in three years than Labour managed in ten. Quite the reverse, in fact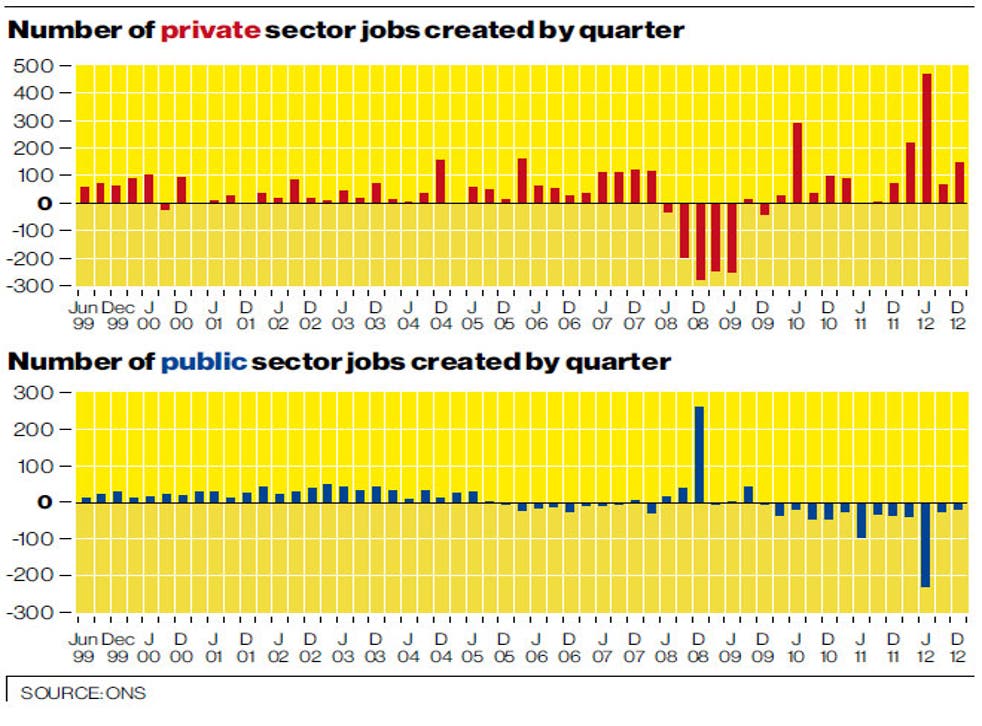 The death of Margaret Thatcher brought to mind the big rise in inequality and the double-digit rates of unemployment that occurred in the Eighties. The statistic that stands out is the million male manual workers who were union members from the North who lost their jobs. Many never found a job again.
The difference between then and now was that roughly 10 per cent of the workforce were unemployed all the time and 90 per cent were never unemployed. The employed did well with rising real wages, which is a stark contrast to today when real wages are falling and everyone is hurting – well, apart from the rich folk who got their tax cut last week.
This recession is much deeper and the recovery has been much slower, but unemployment has not reached the double-digit levels many feared it would, in large part because wages have taken the strain.
In contrast to the claims of Tories such as Liam Fox, the UK labour market is highly flexible, which may well be Mrs Thatcher's most significant economic legacy. Strikes are largely a thing of the past.
The most recent industrial production and retail sales data along with the services PMI do suggest we are narrowly going to avoid a triple-dip recession, but little or no growth isn't much to celebrate. A big concern right now though is that, just as in the United States, the labour market may have started to slow.
The March KPMG/REC Report on Jobs, for example, found that both permanent placements and temp billings increased, but at the slowest rates for six months, along with muted pay inflation. Bernard Brown, a partner and head of business services at KPMG, said: "The jobs market is finally catching up with the prevailing GDP picture as confidence amongst employers and candidates drops to a half-year low."
Given the way the unemployment rate is calculated, as a rolling three-month average, there is a concern that the next data release will be a shock, because we already have two of the three numbers that will be used. The current unemployment rate of 7.8 per cent is the average of estimates for November (7.5 per cent); December (7.8 per cent) and January (8.1 per cent); November will be dropped and the February rate added. The worry is that we are observing a trend, so if the February rate is the same as it was in February 2012 (8.3 per cent), the December-February rate will jump to 8.1 per cent. The employment numbers have a similar downward trend.
The performance of the labour market has been surprisingly good, when measured in terms of employment and unemployment, although falling real wages have kept living standards down. That has meant that there is a lot of underemployment, meaning that workers want more hours. Currently, 1.4m part-timers say they can't find full-time jobs. David Bell estimated in a recent paper that workers currently would like an additional 20m hours a week, but that work is not available. So lots of slack remains in the labour market.
Although the labour market performance has been pretty good, that hasn't stopped the Coalition spinning about job creation. Interestingly, there really is no need to do this as the actual numbers aren't that bad. Attempts to fiddle the starting date when jobs are counted is foolish, especially given that policies take time to work.
The Economic Secretary to the Treasury, Sajid Javid, has been up to his old tricks again. I have told him a million times not to exaggerate. Recall that, in answer to a question in March in the House of Commons, he reported that 1.2m private sector jobs had been created under this Government, which was untrue.
His latest foray into fiction was a tweet on 7 April in which he claimed: "More private sector jobs created in 3 years under this Government than during the entire last decade of Labour, by a ratio of 2:1!" So let's examine this claim.
The two charts show us job creation by month since 1999, in both the public and private sectors. It is notable that in the public sector, two major spikes stand out, one up and one down. The first is the upward spike of 259,000 in December 2008, because RBS and Lloyds were shifted from the private sector to the public, as they had to be bailed out. The second, downward spike, of 230,000 in June 2012, was composed primarily of 196,000 lecturers in FE and sixth-form colleges, who were transferred as if by magic one night from public to private. David Cameron and George Osborne have continued to claim they created these private sector jobs, when of course they have not.
Between March 1999 and March 2008, 1,931,000 private sector jobs were created, along with 555,000 public sector jobs. From June 2008 to June 2009, 974,000 private sector jobs were lost, including the 250,000 RBS/Lloyds jobs. From June 2009 to June 2010, 300,000 private sector jobs were created. Between September 2010 and December 2012, 1,167,000 private sector jobs were created, including the 196,000 lecturers.
Mr Javid referred to the last decade of Labour, so let's do a comparison: from June 2000 through to June 2010 827,000 jobs were created but we have to add back 250k for RBS/Lloyds so that gives 1,075,000. From September 2010, taking off the lecturers gives a number close to a million for under the Coalition. Plus workers at Northern Rock were removed from the private sector in October 2007 and added back in January 2012, biasing upwards the Coalition numbers still further.
We can now do the fact check. There is no evidence to sustain the claim that "more private sector jobs created in 3 years under this Government than during the entire last decade of Labour, by a ratio of 2:1".
The truth is exactly the reverse, that more private sector jobs were created under Labour in their last decade than the Coalition has created over the last three years. Lies, damn lies and Sajid Javid's statistics.
Join our new commenting forum
Join thought-provoking conversations, follow other Independent readers and see their replies