Zoella is a great role model - she changed my life
Zoe showed me – and many others - that feminism can come in all forms, even a pixie-like vlogger with a love of cosmetics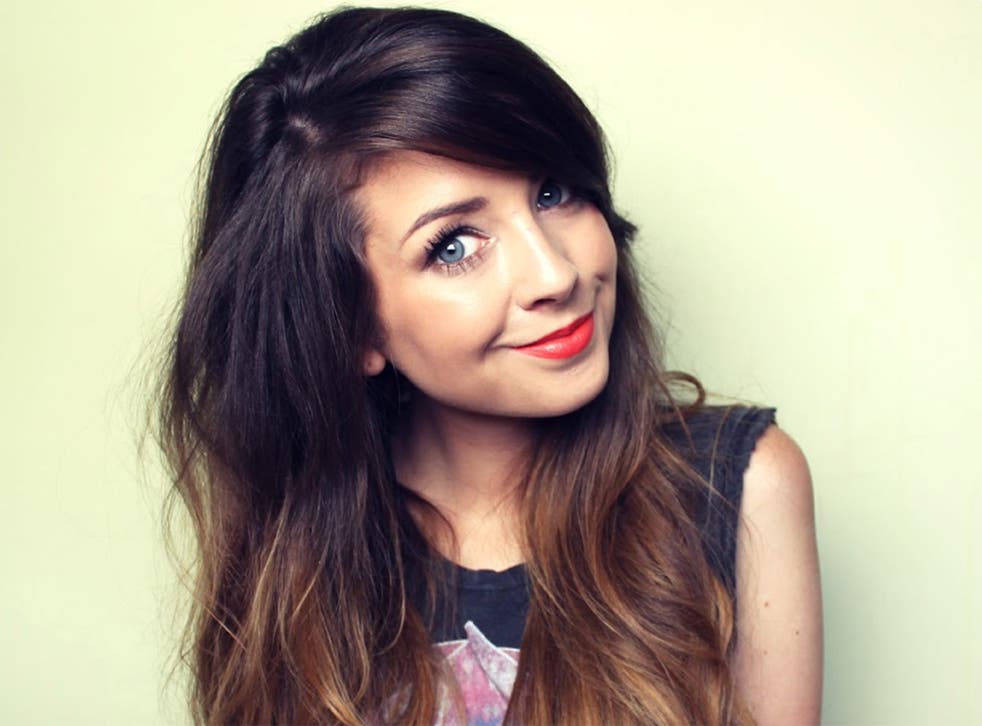 You'd expect the words, "Zoella changed my life" to come out of the mouth of a gushing fangirl, smitten with the pint-sized YouTube sensation, not a 21-year-old journalism student who wishes she was the child of Caitlin Moran and Germaine Greer. Being way past my 'tweenage' years, I'm not exactly within the age demographic of your average Zoella follower, but in many ways she has had a huge impact on my life. Independent Voices just carried a piece that was highly critical of her, and I'd like to come to her defence.
Blogging has exploded in the last few years. It's the new cool-gang that everyone is allowed to be a part of, and women like Zoe Sugg (Zoella's real name) lead the way when it comes to digital stardom. As a student eager for a full-time media career, I started my blog as way of demonstrating to potential employers that I am able to run a digital platform. But it has become so much more than that. Through blogging I've made friends for life, gone to some amazing events, built relationships with brands and readers, and most worked for some of the biggest publishing names in the UK. It may look like an easy task, but building a successful brand takes hard work. And 'Zoella' is the most successful brand there is – she is inspiring to women like me.
Despite the sweet and girlie exterior that so many have fallen in love with, there can be no doubt that Zoe is a smart businesswoman. She has tapped into the digital market at just right moment, and knows exactly what her viewers want to see. It's no wonder that brands are desperate to work with her. She works the digital world like Beyoncé works the stage, and for that I admire her. She has proved that you can start a business around something that you love- and just because it's centered around beauty, it doesn't make her any less smart.
Growing up, I struggled with the concept of feminism. I'm a feminist, but I'm obsessed with makeup, and have always dreamt of a big, white wedding. Does that make me any less able to support the advocacy of women's rights than someone else? Zoe showed me – and many others - that feminism can come in all forms, even a pixie-like vlogger with a love of cosmetics.
Experimenting with different make-up looks was my way of discovering who I was; make-up was my way of expressing who I wanted to be. My look changed month by month, it was how I explored changing as a woman. But when I was 14, the only role models I had were inaccessible A-listers from the pages of glossy magazines. I would have loved a relatable girl-next-door like Zoe, talking to me like her best friend on a webcam from her bedroom, to give me tips and ideas.
Young people will always be interested in their appearance, and I think it's fantastic that women like Zoe are there to guide them through these experimental times. She has opened up a new market of media, allowing an average girl like me to voice an opinion on a blog. Until girls like her came along, we relied on magazines to tell us what to wear and how to look. But now our peers across the world influence our consumer habits. It's exciting.
Most-watched videos on YouTube

Show all 10
But the biggest impact Zoe had on my life was when she was on the April 2014 cover of Company magazine - a blogger had become a cover star, gracing pages normally only Hollywood stars would have the privilege of doing. Finally, a woman was being acknowledged as a celebrity not because of a sex tape or a stint in a reality show, but because of a business she started from scratch. To me, Zoe Sugg is the epitome of a modern, empowering businesswoman. And for this, if nothing else, she is a role model.
As a digital ambassador for the charity Mind, Zoe has helped numerous young people. She is open about discussing her experiences with anxiety and mental health issues, using her platform to talk about serious topics. But the reason she has this platform is because she has gained the trust and friendship of over 6 million subscribers, and she did this by sharing a love of beauty with them. Does this make her less of a role model? I don't think so. I also started my blog purely talking about my favourite beauty products, but now I write articles about weight loss, and slut-shaming. I wouldn't have been able to do that without women like Zoe inspiring me to use my platform in different ways.
So yes, Zoe has changed my life for the better. Not just because of her make-up tutorials, but because she has taught me, a woman eager for success, that you can earn money doing something that you love. She has shown me that you can care about the way you look, and still be a feminist. She empowers young women by demonstrating them that they can be who they want, that they can identify with feminism and still love lipstick, but if they don't, then that's fine too. She builds us up, rather than knocks us down. Zoe Sugg oozes girl power, and that message is good enough.
Join our new commenting forum
Join thought-provoking conversations, follow other Independent readers and see their replies