General Election 2015: With MPs out of love with coalition, only one thing is certain about this election – it'll be messy
Cameron might need the Democrat Unionist Party as well as the Lib Dems to get over the 326-seat line needed for an overall majority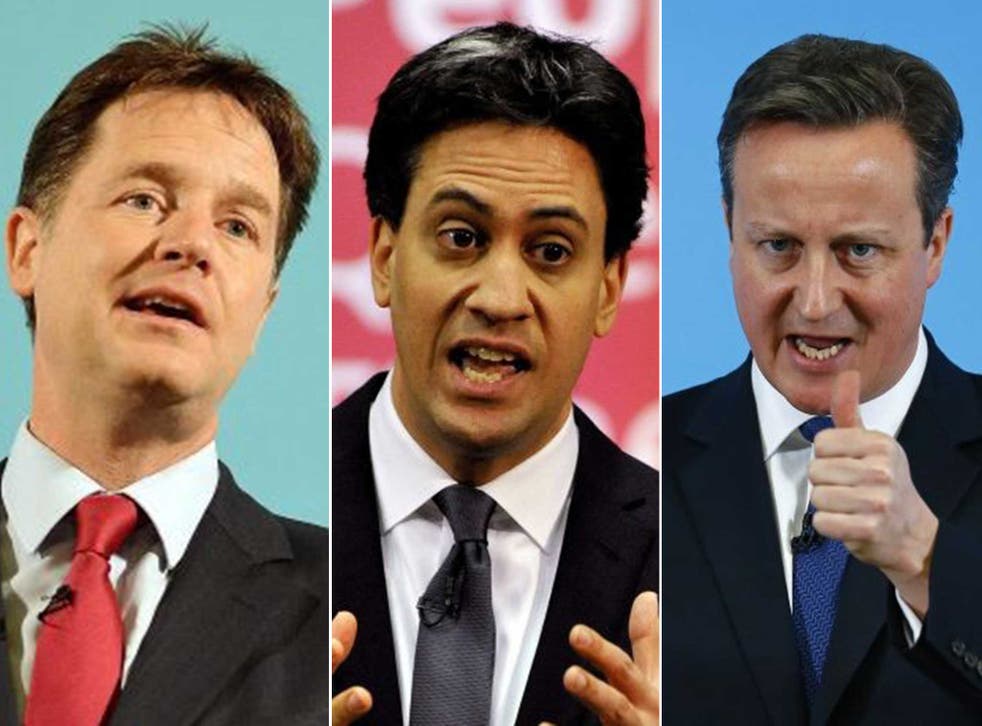 It was like the last day at school when the Cabinet held its final meeting before the general election. Francis Maude, the Tory Cabinet Office minister who is leaving the Commons, defied a ban on mobile phones by taking photos of the 31 ministers at the coffin-shaped Cabinet table.
David Cameron and Nick Clegg paid generous tributes to each other, a reminder that any coalition requires strong personal relationships at the top. They recalled that the "naysayers" had predicted the Coalition would last a week or a month, yet it had stayed the five-year course. Ministers were presented with "Coalition crunch" Yorkshire crisps and a special edition "Co-ale-ition" beer with a label saying: "An unconventional pairing; this experimental beer has astonished doubters and exceeded expectations."
David Laws, the Liberal Democrat Schools Minister, quipped: "Our achievements clearly show that coalition is better than any other form of government." Tory ministers laughed.
A more impartial school report comes in a new book, "The Coalition Effect 2010-15," edited by Anthony Seldon and Mike Finn. "Conduct: increasingly fractious. Comments: Loveless lasting marriage of convenience; shrank the state (sometimes irrevocably); significantly improved the economic outlook; government by ideology or inertia (often without compromise); Union (just) maintained, EU/global status diminished."
It is true that the two parties, and even the two leaders, hit plenty of bumps in the road. In their darker moments, Tories wonder whether Mr Clegg's vetoing of changes to parliamentary boundaries – in retaliation for Tory MPs killing his House of Lords reforms—will make the difference between Mr Cameron keeping or losing the premiership in May. It could cost the Tories 20 seats, which could be crucial in such a tight election.
With no sense of national economic emergency that pushed the two parties together in 2010, what would be the mission statement of a second coalition? To finish the job of clearing the deficit? Perhaps, but it would be less urgent than five years ago, and might look more like an attempt to keep their bums on Cabinet seats.
Although the two parties have inevitably diverged in the second half of the five-year parliament, the Cabinet's good-humoured "au revoir" on Tuesday left several ministers on both sides thinking they could do it all again if the numbers added up on May 8.
Experts' predictions for the general election

Show all 10
That's a no-brainer for Mr Clegg, who doesn't have to pretend he is going to win an overall majority. Mr Cameron must maintain that pretence for the next six weeks, even though most senior Tories admit privately their best hope is being the largest party in a hung parliament. "Dave wants another coalition," one Tory moderniser whispered. A Tory Cabinet minister confirmed: "We would go for another coalition if it was the only way to keep Labour out."
Yet both Mr Cameron and Mr Clegg could be thwarted by their own party. "Continuity coalition" Tories fear Mr Clegg might be unable to win his party's support for a repeat of the deal. Even Lib Dem optimists admit they will probably lose 20 of their 57 seats, hardly a good advert for another spell in power. Mr Clegg needs the formal approval of his MPs and membership and would find it harder to win it than in 2010. Many Lib Dems want to recharge their batteries in the comfort zone of opposition.
Mr Cameron has promised Tory MPs a vote on a post-election deal. They felt bounced in 2010 when he told them he was off to see the Queen and would demand a proper say on any agreement this time. Tory backbench leaders would prefer a minority government followed by a second general election. His Tory critics plan to turn a vote on coalition into a vote of confidence in Mr Cameron himself. Privately, they admit he could win it by giving his party a stark choice: coalition or a Labour government.
Of course, it could be Ed Miliband rather than Mr Cameron in the driving seat on May 8. Labour is less keen on a deal with the Lib Dems than the Tories are. Although Mr Clegg's party has more common ground on policy with Labour than the Tories, the Lib-Lab "footsie under the table" index is at a very low level.
It is very possible that the rampant Scottish National Party win more seats than the Lib Dems. Mr Miliband doesn't want to talk about it, but he could easily emerge as the head a minority government reliant on SNP co-operation on a "vote by vote" basis to get his measures through the Commons.
Only one thing seems certain: it is going to be messy. Mr Cameron might need the Democrat Unionist Party as well as the Lib Dems to get over the 326-seat line needed for an overall majority, and there is no guarantee the three parties will achieve that between them.
On the face of it, coalition is out of favour at Westminster – at least among backbenchers. The expected battering of the Lib Dems would not help its popularity. Yet much of the opposition is based on self-interest. Unpromoted Tory MPs complain that Lib Dems bagged their ministerial posts and blocked right-wing policies. In fact, the Coalition delivered the liberal conservative government Mr Cameron said he wanted when he became Tory leader in 2005. The Lib Dems deserve credit for that –but they won't get it on May 7.
We have taken it for granted since 2010 that the Government has a 70-plus majority. That will seem like heaven if a minority Tory or Labour government has to live with the chaos and instability of endless horse-trading and knife-edge Commons votes. Another coalition would be better for the country. But we may have to live through the turmoil of minority government before MPs learn to love coalition again.
Register for free to continue reading
Registration is a free and easy way to support our truly independent journalism
By registering, you will also enjoy limited access to Premium articles, exclusive newsletters, commenting, and virtual events with our leading journalists
Already have an account? sign in
Join our new commenting forum
Join thought-provoking conversations, follow other Independent readers and see their replies