Matthew Norman: If politics is like sex, Ed will never find the national G-spot
For all the good that his 'relaunch' will do him, Miliband might as well have spoken in Klingon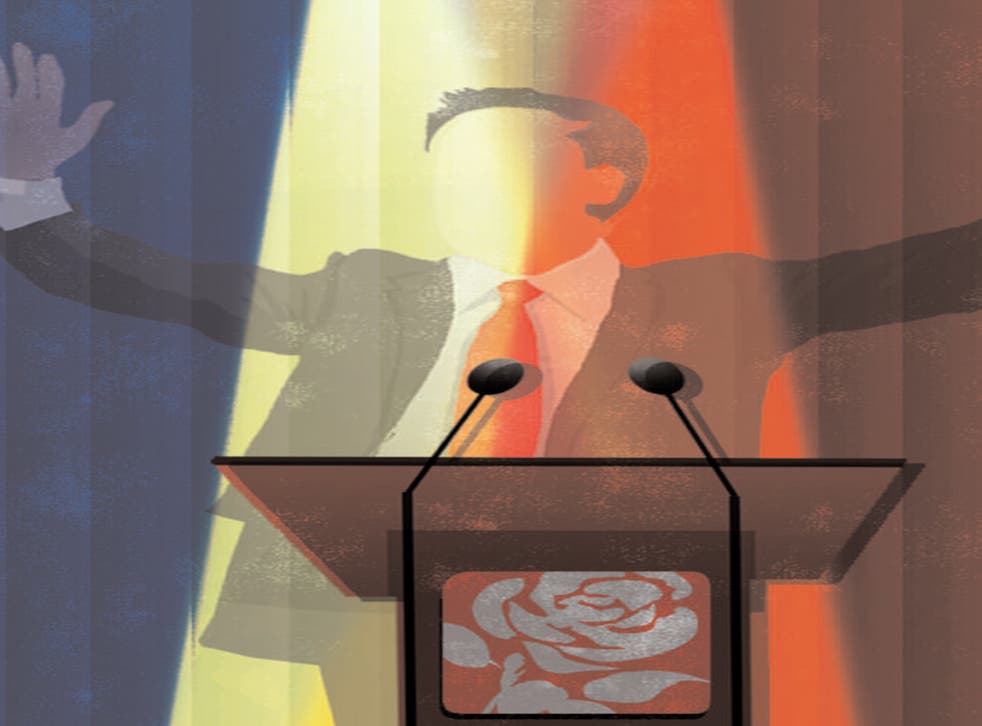 Other, cleverer people incessantly tell me how supernaturally useless Little Ed is in every way, and why. They dismiss the defence, by way of praising his agenda-dominating boldness (knifing Murdoch) and prescience (good capitalism vs horrid capitalism), with a withering curl of the lip. Yet, despite the brutal consensus that the guy is a fatally risible hypernerd, the only serious flaw I can find in Ed Miliband – and even this feels too trivial to mention – is that he happens to be Ed Miliband.
For any party leader, electoral politics is both much more complex than it looks from outside, and much, much simpler. Among the myriad complexities are juggling the rival egos of underlings and the formation of policy, or in his case faux policy, with enough nuance to build the coalition of often conflicting interests needed to win elections. Here, he shows real talent.
The simple thing, meanwhile, is that presidential politics of the ersatz kind now practised here is startlingly genital. As John Humphrys hinted during yesterday's lively interview, referring to Robin Cook's refusal to run for the leadership on aesthetic grounds, the sexual is the political. The public takes one look at a wannabe PM, and subconsciously decides whether it wants to disrobe and nestle beneath the duvet.
With yesterday's "relaunch", Ed Miliband addressed the complex stuff with what this minority of one saw as his usual deftness and intelligence. For the good it will do him, he might as well have spoken in Klingon, because that devastatingly simple thing was decided within 0.03 seconds of his becoming leader. The country took that look at his face, or sniff of his pheromones, or earful of those Ed Anoidal dulcets, and muttered "Nice lad, means well, far from stupid, but I wouldn't do him with yours. I wouldn't do him, in fact, with Antony Worrall Thompson's on the cheese counter at Tesco."
Since there is very little chance (though not quite zero in these uniquely fluid times) of making a marriage with the electorate without any initial spark of mutual attraction, it's hard to see a realistic way around this problem. But, in the fantasy world of my mind, I have an answer modelled on previous fiction, and it came to me the other night watching an old movie on Sky.
In Roxanne, itself based on the Cyrano de Bergerac story, small town fire chief Steve Martin is decent, bright, droll, confident and adorable in every way but one. His nose is twice the length of the Golden Gate Bridge. One of his firefighters, meanwhile, is his precise opposite, being gorgeous to behold but barely an eighth wit. For convenience, we will henceforth know this latter character as Andy Burnham.
When Daryl Hannah's astronomer Roxanne comes to town, both men naturally fall for her – Steve in love and Andy in lust – and eventually hit on a solution of sorts. One night, Andy stands beneath her window parroting the lyrical words of love spoken into his earpiece by Steve, who is hiding in a bush with a mic. This way, they reckon, the pretty boy gets laid and the Schnoz at least gets a vicarious thrill from pulling the heartstrings.
The masterplan is threatened when a taxi firm momentarily hijacks Steve's radio signal, and, in the midst of his serenade, Andy declares: "Therefore, I must move silently towards you. Reach out your hand... Car three, proceed to the... Confirm, car three, confirm..." But Roxanne finds the apparent combination of brains, soul and beauty irresistible, at least until the moment the airhead has to use his own words rather than Steve's.
Frankly, it's a struggle to see how Ed Miliband could adapt this plot to his own advantage, even though his personal approval ratings would surge if he appointed Professor Stephen Hawking as his official voicebox. Assuming Little Ed can continue to find the right words – as he has over Murdoch, predatory capitalism, the Occupy movement, and now the necessity to move Labour beyond boom time tax'n'spendism – there is no credible mouthpiece to repeat them to Mr Humphrys.
No Opposition leader in history has been as blessed and as cursed by such a dearth of collegiate talent. We needn't waste time on the real Mr Burnham, the mascara model with the gravitas of a helium balloon, or on the Elder Milibandroid who continues to stare down from the back benches like Napoleon gazing out from Elba, let alone on Ed Balls.
Westminster experts apparently rate Douglas Alexander, but, to most people who are aware of the pipsqueak's pipsqueak at all, he will always be Orville to Gordon Brown's Keith Harris.
When popular opinion deems the ice-pixie Yvette Cooper a viable pre-election replacement, you realise the extent of Labour's problem. When Alistair Darling is touted as caretaker – and with Scotland potentially an independent nation by the next election, what better than a Scottish MP leading the party? – you appreciate how astonishingly secure Ed Miliband is.
He is our own Mitt Romney, sullenly tolerated by his base because there is no alternative, but loved by none and an animatronic turn-off to decisive swing voters.
Like Mittens he is not without hope, and for the same reason: the economic air-raid sirens have been silenced over the holiday season, but the truce will not endure. Those demanding Ed's head after every duff PMQs, like football phone-in dunces insisting the manager be sacked for losing one match, may yet be calling for those of Messrs Cameron and Osborne.
In the meantime, devoid of a helpful financial cataclysm, bereft of a sexy mouthpiece to find the national G-spot with his own honeyed words, and aware that life seldom follows the sort of art in which Roxanne eventually falls in love with Steve, he has no choice but to sample Winston Churchill and keep buggering on.
If Little Ed is as confident as he says that he will win an election, there, bless him, he is another minority of one. But isn't being the smartest geek at the party, stuck in the corner nursing the warm Jacob's Creek while the posh lads pull all the birds, enough to drive a fellow round the twist?
Join our new commenting forum
Join thought-provoking conversations, follow other Independent readers and see their replies