Owen Jones: It's not competitive spirit that poor kids lack, but fields on which to compete
Only state intervention can counter the massive advantages the most privileged schools have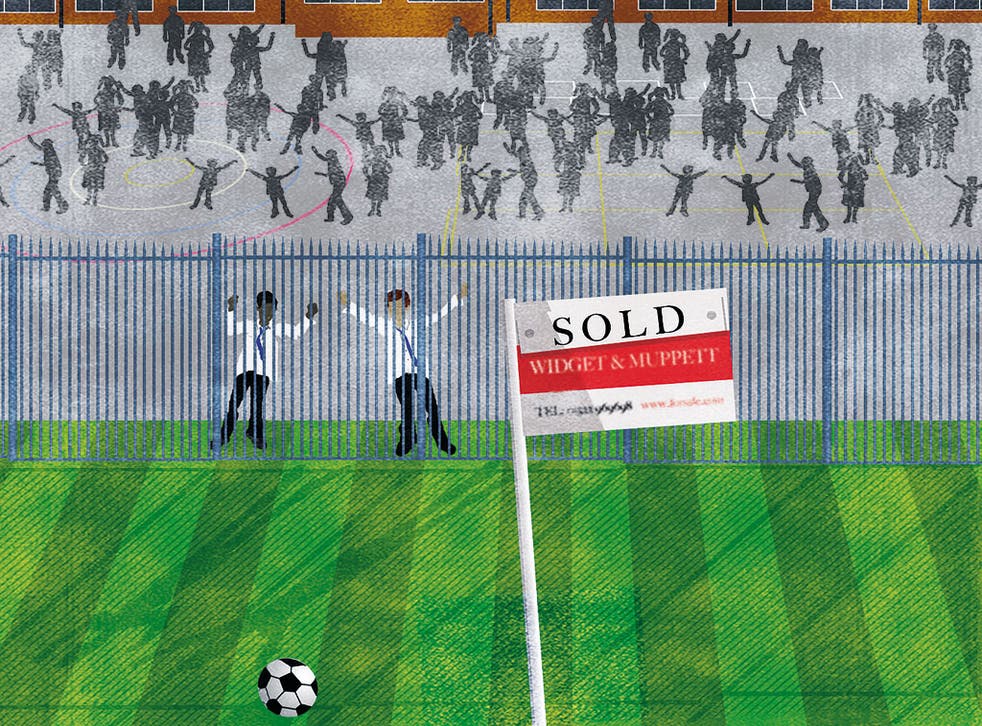 When Gordon Brown mocked David Cameron for dreaming up his inheritance tax cuts policy "on the playing fields of Eton", it was unclear which field he meant. Perhaps he meant the Mesopotamia field, where Etonians can play cricket; or Agar's Plough, for a spot of football; or the five grass pitches for hockey on the Master's Field; or indeed the Dutchman's field, where rugby balls are kicked about.
This is not to indulge in a crude attack on Cameron's background: after all, we are all prisoners of our upbringings, over which we have no control. But when ignorance generated by hyper-privilege creeps into government policy, it demands a response. According to Cameron – who benefited from some of the best sporting facilities in Britain – state schools lack a "competitive ethos" when it comes to sports.
A convenient diversion from the stripping of sports provision in schools by this Government, but it is a view shared by Cameron's privately educated colleagues. Last week, I was asked to debate with Tory MP Charlotte Leslie, who was educated at the prestigious Badminton private school, on Radio 4's PM programme. Leslie made a stunning claim: that competition was so frowned upon in state schools that those who excelled at sports faced being bullied. She cited Tom Daley as evidence, a young man clearly (and shamefully) harassed for his fame rather than his sporting abilities.
The claims of Cameron and Leslie are in complete contrast to my own experience at comprehensive schools. It is true that those who academically overperformed, if you like, could end up being labelled a "geek" or a "nerd". It wasn't uncommon for people to keep schtum about exceptional grades in, say, maths or science for that reason.
Nothing could be further from the truth when it came to sports, particularly for men. Competition was rampant, and often had damaging side-effects. Sporting prowess was wrapped up with notions of masculinity: being rubbish at sport was likely to have you ridiculed for being weak, "gay" or a "girl". I remember pretending to my first girlfriend that I was in the middle (rather than the bottom) set for Physical Education for this very reason. The "cool" kids and the "sporty" kids were, generally speaking, one and the same.
Is that to say athletic ability could never end up being frowned upon in a state school? Certainly not, though that has more to do with gender stereotypes (common to young people of all backgrounds), rather than the lack of a "competitive ethos". Being good at the "wrong" sport could invite attack: I'm aware of examples of girls excelling at football being abused as "lesbians", and an exceptional male gymnast might face similar homophobic abuse. But challenging this isn't about addressing a lack of competition, but rather taking on entrenched gender divisions in society as a whole.
That's not to deny the self-evident disproportionate number of the privately educated among our top athletes. Lord Moynihan, the chairman of the British Olympic Association, decried the lack of state school-educated Olympic medal winners as "wholly unacceptable". At the Beijing Games, for example, over half of Britain's medallists were privately educated, compared to just 7 per cent of the population as a whole. But, as ever, comprehensive schools are being scapegoated for the grotesque ills and inequalities of British society.
In some examples, it's simply the case that the Olympic sports in question are inaccessible to all but the wealthiest. Not to belittle Britain's success in shooting, sailing or equestrianism, but it is difficult to see how a young woman or man born on a council estate in Manchester or Glasgow could excel at any of these sports as things stand. Parents from wealthier backgrounds have the funds to plough into extracurricular activities for their children, giving them a huge advantage. Professional football remains dominated by players from working-class backgrounds, for example, because it requires little one-on-one training: you simply need a ball you can kick about with your friends, even on the street if needs be. There are other more complex factors at play, too: children from more privileged backgrounds tend to have better diets and be healthier.
Only state intervention can counter the massive advantages the most privileged have over the least. Rolling out universal free school meals would help: the poorly fed cannot be expected to excel on the playing fields. And that's if they have a playing field to begin with. As ever, Cameron is keen to distract us from the devastating impact of his Government's failed austerity offensive. It's not spending money that makes a difference, we are told: it's culture and ethos that have to change. Presumably, children are expected to depend on self-reliance and determination, not sporting facilities, in order to do well. "Pull yourself up by your own bootstraps, even if you don't have boots," as Barack Obama put it.
During the last Conservative era, around 10,000 school sports fields were sold off. Labour continued to sell fields, albeit at a much-reduced rate. That little bit more difficult, then, to compete against Etonians who spent their childhoods running around Mesopotamia, Agar's Plough and the Master's Field.
And Cameron's Coalition is now waging war against sports provision. The compulsory target for state schools to provide two hours of sports a week has been abandoned – a target that 86 per cent of pupils had been meeting. In 2010, Michael Gove scrapped funding for the 450 School Sports Partnerships, a national network of sports advisers. The amount of time spent planning school sports has plummeted by 60 per cent in the wake of cuts.
Following swingeing cuts to local authority funding, sports facilities are being massacred. The website False Economy has been monitoring cases: like the South Birmingham Sports Club (all £8,293 funding cut); the City of Portsmouth Hockey Club (all financial support gone); or the East Hampshire Sports Council, which exists to encourage sports provision in the least well-served parts of the region (likewise).
As sporting facilities are swept away, the children of the wealthiest will flourish as they always do: they are cocooned from austerity by the resources of their parents. The odds are stacked in their favour from conception. But the only hope for working-class young people to compete with them is being demolished. It is not "competitive ethos" that state schools need. It's a government that isn't determined to reinforce Britain's class system, on and off the playing fields.
Join our new commenting forum
Join thought-provoking conversations, follow other Independent readers and see their replies