Philippa Stockley: What your red-soled stilettos say about you
Sales of small pots of scarlet paint are rocketing as women seek to spice up their footware. It's a ploy with an illustrious pedigree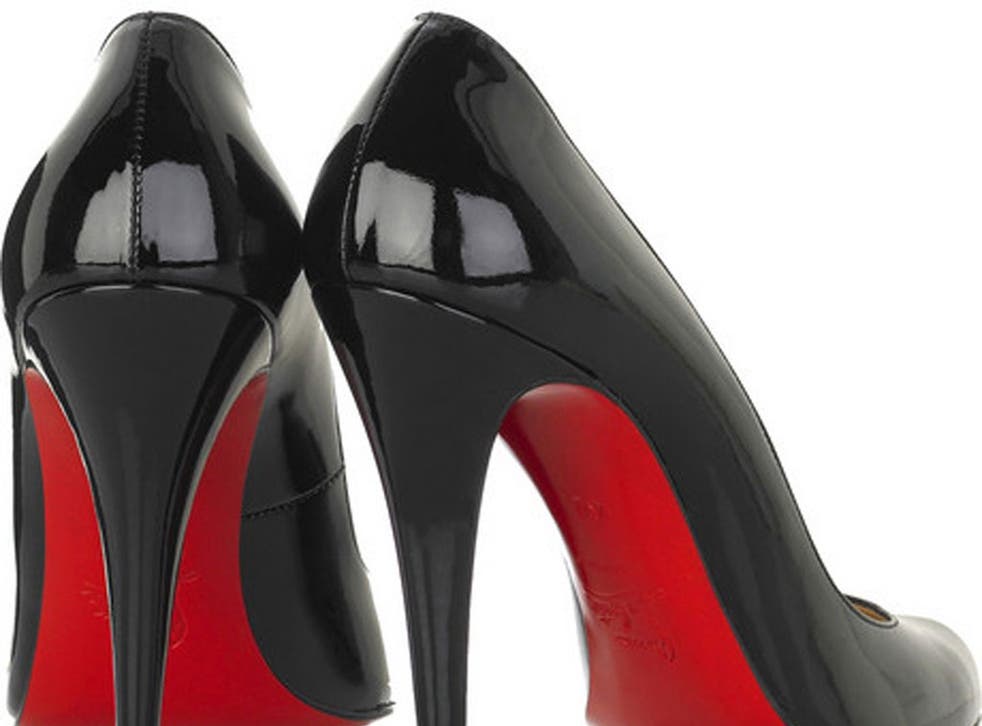 Why is a flash of red so exciting, so naughty? The hint of a red bra, red lipstick, a red sock under a City suit, a teasing red shoe?
That Carrie Bradshaw in Sex and the City seemed almost welded to her towering red-soled Louboutin stilettos, also beloved of real women such as Rihanna, Kate Moss and Victoria Beckham, is well known. But, last week, Homebase reported that sales of tester pots of red paint had rocketed because women have been painting their shoe soles red to mimic the covetable foot-coverings. It's an unforeseen, Blitz-spirited twitch in the row that broke out last year between Christian Louboutin and Yves St Laurent over whether a red sole can be trademarked. YSL had made red shoes with red soles and Louboutin took umbrage. Zara, also selling a red sole, got embrangled. The gist of the complex argument was about whether Louboutin could trademark what has been a feature of his top-end shoes for 20 years. Yes, colours can be trademarked in particular circumstances; Whiskas purple is one. But last month, Louboutin lost against Zara in the French high court, which decided that ideas must be free.
So why do some women enjoy wearing the flashing red insteps that are especially visible from the rear, apart from their whiff of money? Obviously the shoes are sexy to many, and red attracts attention. Female baboons have flashed inflammatory bottoms at their admirers for centuries and old tricks are usually good ones. The earliest record of women using shoes to attract interest from behind is by prostitutes in Ancient Greece, whose studded sandals left an imprint of the words "follow me".
But it was men who started the red-heel thing, wearing them at court in the 17th and 18th century, as a 1701 portrait of Louis XIV in red heels and finely turned white stockinged legs, by Hyacinthe Rigaud, shows. Women soon caught on. The V&A has a pair with a high red-leather heel, dated 1700. Even earlier, in Venice, courtesans favoured red for their high chopines – platform shoes towering up to an eye-watering 18 inches, which even Lady Gaga might totter at. There's a pair in the corner of Vittore Carpaccio's 1490 picture, Two Venetian Ladies on a Balcony. Those blond-haired "ladies" were tarts.
We consider red the most exciting, daring colour. At a fundamental level, it is the colour of arterial blood, or fire, so we are conditioned to react to it instantly, to avoid potentially fatal danger. It's also the colour of flushing: sexual not only in baboons, but as a sign of attraction between humans. It's not called "hot" for nothing. This is why reddened lips and rouge, or blusher, have brought accusations of immoral behaviour since their earliest, pre-Christian use. Chris de Burgh's "Lady in Red" trope is constantly mutating; from the Virgin, in her beautiful, costly red cloak in many Renaissance portraits, to Jessica Rabbit in the 1980s film Who Shot Roger Rabbit, to the "little red dress" that turns any woman into a confident vamp. While the consistent element is attractiveness, variable bolt-ons include connotations of wealth, immorality, or allure.
Visible red sits at the far end of the light spectrum, just before infrared. Interestingly for such a stirring colour, red has a long wavelength and so a low frequency. But unable to perceive that, we are instead drawn to the overt visual thump of red, like moths to flame.
Red lake, red lead, red ochre, madder; Indian, Prussian, and Spanish reds; cadmium and Mars red; alizarin, vermilion, and scarlet are just some of the names of different pigments given, as artists tried to capture the thrill and beauty of red, used both in paintings and in dying cloth for clothes. For by dressing ourselves in the stimulating colour, we take on, and give off, some of its qualities and attributes.
As long as people have worn red, there have been attempts to monopolise or reserve it for particular ranks or classes. Along with Tyrian purple, red was briefly an imperial colour in Rome, though it was also used for wedding veils, and red is still a wedding colour in India, China, and other parts of the world where it represents good luck and happiness. Tudor sumptuary laws or "statutes of apparel" had complex rules about who could wear what, from furs and silks to cloths of gold, and types of shoes. And colour. Just as now, shrewd judgements about class were made from dress.
In a 1533 Act, Henry VIII authorised academic doctors to wear scarlet, which suggests that it was denied others. But though such attempts have gone on throughout history, they usually failed. It is impossible to control our desire to dress as we please. We instinctively resist attempt to be colour-coded, unless, as with political and other affiliations, such as a Manchester or Arsenal, we embrace them ourselves.
Red can be expensive: kermes, and cochineal (both from crushed scale insects), which gave the first bright, clear scarlets, were costly. But there were cheaper reds such as madder, and this is partly why the English army adopted what was initially a darker, softer red. In 1645, Oliver Cromwell's New Model Army had 12 foot regiments of 1,200 men each, all dressed in "Venetian red". They were quickly called Redcoats, and the term stuck. Like football players, soldiers in close combat needed instant certainty over who they were jamming a halberd into. It was only from the mid-1850s when smokeless powder, and rifles, made longer-range fighting possible, that red tunics became a target.
Some cardinals, who also wear red, have been considered as dangerous as an entire regiment. Cardinal Richelieu was a case in point; less so, perhaps, Biggles and Fang in Monty Python's Spanish Inquisition sketches. Head to toe incarnadine, from the now sadly redundant galero (wide brimmed hat) to their cassock and mozzetta, the blood red garments indicate willingness to die for their faith.
Now that the army mostly wears khaki, and hunting scarlet – or "pink" – is hardly likely to increase, some men are affecting red trousers or socks, statement garments that may still imply association or attempted association with class or rank. The Look at my fucking red trousers! blogspot has photos of men in strident bifurcated garments, many humorously captioned "toff". Red hose can attract disproportionate opprobrium, as when the then Deputy Prime Minister John Prescott referred to the former Press Complaints Commission chairman Christopher Meyer as a "red-socked fop" upon publication of his memoirs.
We make political affiliations with colour too, although they are historically inconsistent. The red of socialism or communism and the British blue of Conservatism have reversed since the 18th century, where the radical Whig Charles James Fox adopted George Washington's blue uniform, in opposition to the Conservatism of George III, who sometimes wore military red. Today, American Democrats still embrace blue, so it is their Republican opponents who brand themselves in red.
As with so many other things, women now show brilliance where men first presided. But if any modern man fancies trying the spellbinding effect of a flashing and dashing 18th-century red instep on the opposite sex, tester pots cost £1.59.
Phillipa Stockley is a painter and author of 'The Edge of Pleasure' and 'A Factory of Cunning'
Join our new commenting forum
Join thought-provoking conversations, follow other Independent readers and see their replies