View from Bamako: 'They cut off the man's hand with scissors. They want to destroy Mali'
In the capital refugees from the jihadist-held north tell Kim Sengupta of their suffering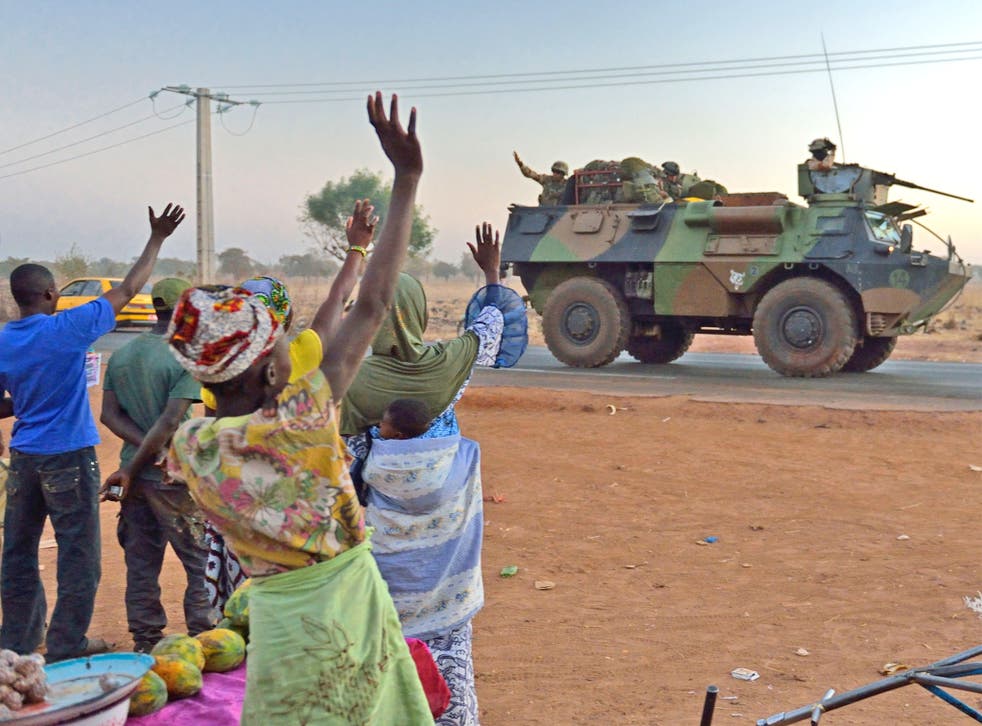 Hania Bakr Toure and her family decided to flee their home in Gao after seeing a young couple whipped unconscious. Their offence had been to have an affair which had resulted in an illegitimate child; the public were ordered to watch by the Islamist fighters meting out the punishment in the street.
"The girl died from what was done to her, the boy is still alive, but he is now disabled. We don't know what happened to the baby. It was only a few months old [but] the men with the gun took it away," the 33-year-old teacher recounted at a cousin's home in the capital, Bamako.
The tales of what is happening in the north of Mali under jihadist control are being brought out by those who managed to escape – a grim catalogue of savage and often arbitrary interpretations of sharia law by groups who proudly declare affiliation with al-Qa'ida, inflicted on a society which had been hitherto easy-going.
The news of killings and hostage-taking in Algeria, a direct extension of the Mali conflict, broke here in the afternoon with differing views of what it would mean. Some felt it may cut short the international intervention led by France with Western governments worried about reprisals on its citizens. Others, however, hoped it would show just how dangerous the Islamist threat in the region is and galvanise foreign military help.
Malians point out they have been facing such violence for months, as the International Criminal Court acknowledged today when it opened an investigation into alleged war crimes including murder, torture and rape. Accounts supersede each other in their shocking nature. One is of a pair of steel scissors forged by a local blacksmith in Timbuktu to amputate limbs. Not all such stories can be verified, but Amadou Ibadullah Massufi insisted this one was true. "They used it to cut off one hand of a man who had stolen a bicycle. It was done by Ansar Dine [one of the terrorist groups]. They wanted a more efficient way of carrying out the sentences of their courts.
"Now that the French have come to help, the others should do so too – America, Britain. After all, a lot of nationalities were attacked in Algeria, not just the ones helping here, it shows these people are ruthless. I am a Muslim, but we have a tolerant society here, these people want to destroy that in Mali and everywhere."
The refugees who have fled to Bamako were afraid that the vengeful jihadists would be following them here as they began a victorious march south. Air strikes by the French stemmed the advance, but the rebels, augmented by foreign fighters, are hardly a spent force. They subsequently took over Diabaly, 220 miles from the capital, forcing the Hollande government to send in ground troops.
France's Operation Serval has got under way, with fierce fighting in Diabaly between Islamists, French special forces and a Foreign Legion unit trained in desert warfare. A column of 30 Sagaie armoured vehicles attacked rebel positions in the town of Niono, around 200 miles from the capital, while fighter-bombers struck at six targets, including the headquarters of the "Islamic Police" at the village of Niafunké. More French equipment and troop reinforcements were coming into Bamako airport today. A young captain said: "I don't think we'll be going home for a long time."
Troops from Mali's neighbours in West Africa are due to arrive in the next few days, but no one expects them to be battle-ready. The Malian government knows its survival from the Islamist assault lies in the hands of the West. The interim President, Dioncounda Traoré, today went to meet the French troops at their base near the airport. But there is no guarantee his government would be able to withstand another onslaught by Muslim fundamentalists even if a respite is gained by international intervention. The Malian state – buffeted by coups and rebellions – is institutionally weak and unstable.
Mr Traoré was taken to hospital last year after demonstrators beat him unconscious. They were angry that he had remained in office under a deal following a coup. The main reason given publicly for extending his term was so that he could oversee the fight against the jihadists. The soldiers guarding his complex stood aside and let the mob go in to vent their wrath on the 70-year-old leader.
Hania Bakr Toure felt that Mali had a long way to go before there is stability. But for the time being she is glad that something is being done to drive away those who brought so much misery to her home town. "If they are defeated we have a chance. If they win we will have nothing left."
Join our new commenting forum
Join thought-provoking conversations, follow other Independent readers and see their replies