Viv Groskop: Beware the 'Boden backlash' – it's a mirror of Middle English hypocrisy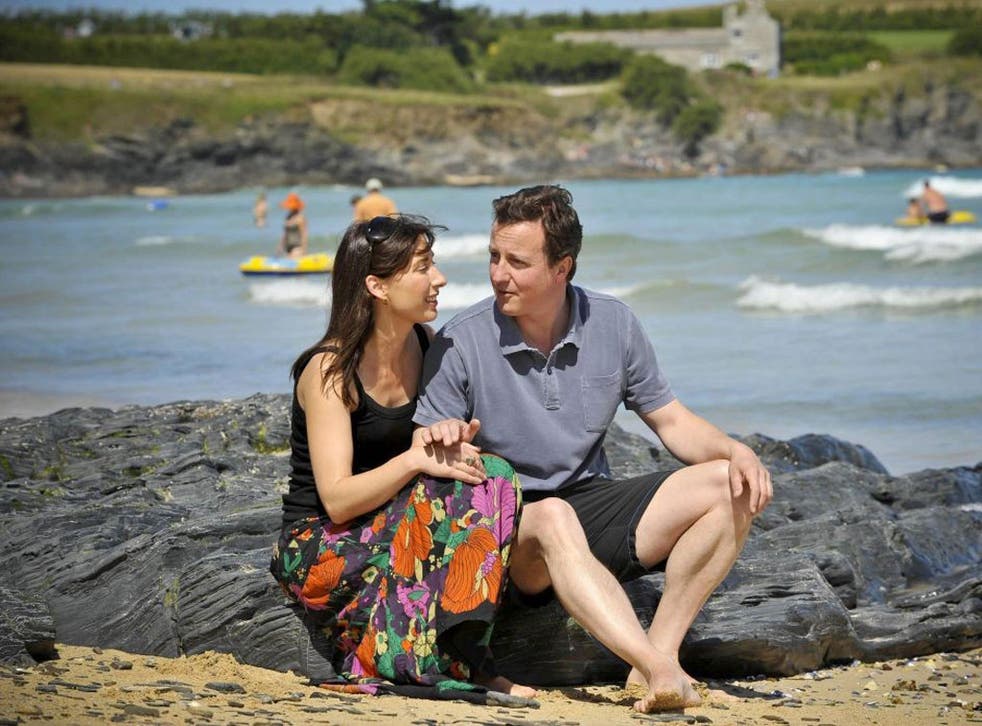 If any fashion brand is the velvet-trimmed, braying, living embodiment of Middle England, it's Boden. The purveyor of Favourite Cargos, Fun Cardigans and Everyday Jackets – see current catalogue! – is regarded as the ultimate barometer of Cameron's Britain.
Especially since it was revealed that one of their keenest customers is "Sam Cam" – as it seems we must now call the daughter of Sir Reginald Adrian Berkeley Sheffield, eighth baronet. I did not make that title up, by the way. If I had done, I would sell it to Julian Fellowes for one of the characters in Titanic. Except he would reject it for being too ludicrously clichéd.
Anyway. This week comes shocking news of a Boden backlash. It's four years since the Camerons stage-managed a photo shoot on a beach in Cornwall where they were dressed straight out of the pages of a Boden catalogue. Eight million of these cheery tomes – "Hello! Johnnie here again!" – are sent to British homes each year. Many of them to my address.
Boden inspires envy and loathing in equal measure. You may hate the idea of it but once you start leafing through the catalogue, you find yourself turning over the corner of the pages in spite of yourself in anticipation of some imaginary Lotto win. Although something tells me that the Venn diagram of scratchcard addicts and Boden customers is composed of two very separate circles. There's no getting away, though, from the fact that the way it presents its pricey wares is nauseatingly attractive. As Cameron put it of his Hawaiian shorts once upon a time: "They're all right, aren't they?"
Or are they? Possibly not, as things are not so super duper in Bodenland any more. Even Mumsnetters – usually loyal supporters of the middle-class aesthetic – have started posting mutterings of discontent. "When I look at Boden ads, I want to say, 'Stop looking so bloody smug.'" "The discounts have an air of desperation." And the final nail in the coffin is a dismissive sniff from the blog Middle Class Handbook: "In many ways, Primark is now more chic for the middle classes than Boden. Unless they do something sharpish, Boden-bashing could become a bit of a sport."
Is it not one already? It's noticeable that Boden is losing its pull on the purse strings of the yummy mummies of Vince Cable's south-west London constituency where I live. Every season, there seems to be something of a race to order certain items before any other mother in the playground. I do not participate in this race, I hasten to add, although secretly I would quite like to and can usually be found with a scratchcard in my hot little hand. Usually by this time of year, I would have spotted at least two or three rival Rainyday Macs fresh from New Arrivals, perhaps one in Apple Provence, another in Fudge Bloom (not that I've studied the catalogue or anything). But, this year, however, I've yet to spot a single new Boden piece.
The online carping – "out of touch with Austerity Britain" – perhaps represents the end of a craze. But is it the end of an era and hence a Sign that Things Are Changing? When Britain hates Boden, does it also begin to hate Cameron? If only. The snipping and sniping and lack of fevered interest in the new season's collection? A red herring. A red mullet, if you'd rather. It feels a bit more of a Boden kind of fish.
Because, although people claim to hate Boden and everything it represents, the latest figures tell a different story, showing a rise in turnover of 15 per cent to £232m. Pre-tax profits were up 13 per cent to £32.5m. That hardly represents a growing disillusionment with the happy, preppy bohemia Boden is selling.
Instead of shrinking in influence, the conservative lifestyle and ideals that Boden represents are becoming all-pervasive. The company is expanding aggressively into Europe and the US, and has plans to double in size. If anything, Boden is all the more powerful the more reviled it becomes. Hmm. Remind you of any particular political parties?
It's all very well, then, pretending we think Boden is overrated, smug and unsuited to recessionary Britain. "Hey, it's just like the Government!" Boom, boom. In reality, the backlash is just talk. Boden is turning into a nice little shorthand for Middle English hypocrisy. Soon certain people will pretend their Must-Have Sweater is actually from Primark. Just as they'll pretend they're angry with the Government, but still vote Coalition. Beware the Boden backlash. Because it's a mirror of hypocrisy. Now where did I put that Lucky Dip ticket?
An insult to The Muppets
It's a fortnight since whistleblower Greg Smith claimed that "five different managing directors refer to their own clients as 'muppets', sometimes over internal email". Now the digital quest is on to find those emails. Never mind la femme – cherchez le muppet. What we're missing here is an awareness of the repercussions of this persecutory adventure. Steve Martin already put it best when he tweeted: "I recently worked with Kermit. Behind his back, I was referring to him as a 'Goldman Sachs employee.'" The fact is, the term "muppet" must be reclaimed. As the song in the new Muppet movie suggests, it is far nobler to be a muppet than it is to be a man. Meanwhile, the image of Goldman Sachs' chief executive Lloyd Blankfein embarking on a full-scale "muppet hunt" is deeply pleasing. Marvel at his twitching antennae as he imagines he hears a lady pig's battle cry of "Hiii-yah!" in the distance. Presumably, he'll need to pull a lot of strings.
Get those mantyhose in XL
Exciting reports from Planet Madonna. For her latest single "Girl Gone Wild" (um, "Girl"?), the singer has a video featuring male dancers dressed in an item of clothing many women would counsel them against. They are men in tights. Also dubbed "brosiery" or "guylons", the Mantyhose is apparently the latest accessory for the man who has everything. Apart from self-consciousness or common sense. Cavallini, emporium of man tights, explains that Mantyhose were launched when it noticed that "tights in size medium-large were quite often being purchased by men". As a reluctant hosiery-wearer, one word of advice. Always go for extra large. Better to risk the Nora Batty effect than cut off your circulation. And good luck!
Join our new commenting forum
Join thought-provoking conversations, follow other Independent readers and see their replies