Whether or not Miliband is anti-business, he has that image - and it's damaging
Inside Westminster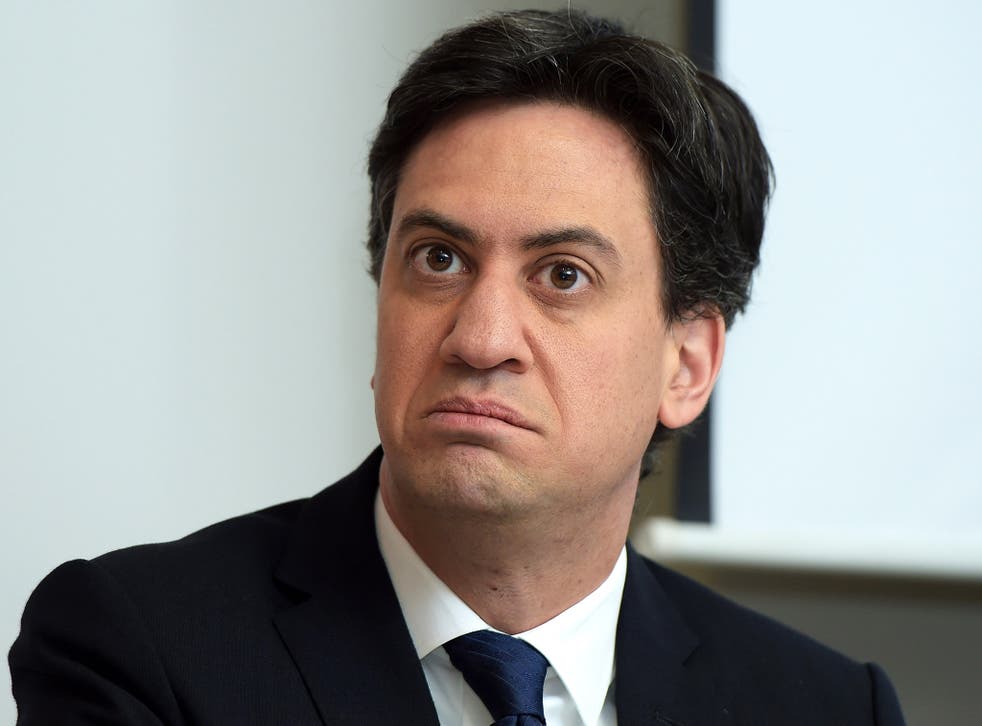 "He doesn't get business," the chief executive of one of Britain's biggest companies said after a rather frosty and inconclusive meeting with Ed Miliband last year. He judged the Labour leader badly briefed about his sector, and rather disengaged.
It might have been unfair criticism. Perhaps Miliband was having a bad day or thinking about a more urgent problem. But perceptions matter and if business leaders believe a would-be prime minister does not understand them, it will hardly enhance his prospects of making it to Downing Street.
At least, that is the view of many in the political world after a week in which Labour has been at daggers drawn with some businessmen. Conservative Cabinet ministers believe the perception that Labour is "anti-business" will fuel voters' fears that the party cannot be trusted with their money and would mess up the economy.
What's interesting is that some senior Labour figures share that analysis. They cannot admit it in public, of course. But several members of Miliband's Shadow Cabinet are uncomfortable with the war of words, not least because it threatens to undo months of painstaking bridge-building with Britain's bosses by Ed Balls, the shadow Chancellor, and Chuka Umunna, the shadow Business Secretary. Hours of schmoozing over breakfast, lunch and dinner can be quickly blown away by hostile headlines in the Tory papers. Labour told the Daily Mail: "We love Boots." It didn't stop the paper screaming on its front page: "Labour's War on Boots the Chemist."
In pictures: Ed Miliband trying to look normal

Show all 18
This was a "war" of Miliband's choosing. Last Sunday Stefano Pessina, the acting chief executive of Walgreens Boots Alliance, said it would be a "catastrophe" if a Labour government lived up to the party's anti-business rhetoric. If Labour had ignored his remarks, the row would probably have fizzled out. But Miliband decided to go nuclear. He sensed an opportunity because Pessina is a Monaco-based tax exile and Boots has moved its tax residence to Switzerland. Labour advisers suspected the Conservatives would unleash an anti-Labour barrage by their business supporters at the time of the Budget in March. They sensed a chance to draw the Tories' fire and discredit their business allies by hinting that they are all a bunch of tax avoiders (which they are not).
The Tories mobilised Lord (Stuart) Rose, the former boss of Marks and Spencer, to hit back at Miliband. No surprise there because he is a Tory peer. The hunt for more business voices was on and some of Labour's former supporters made clear their reservations. Repeated headlines about bosses attacking Labour unnerved some in the party.
Business people have not forgotten Miliband's 2011 Labour conference speech in which he said his party is on the side of "producers" rather than "predators." Many saw it as a declaration of war. The Labour leader could have made a peace offering by committing his party to securing growth before making the case for fairness, as the likes of Balls and Umunna do. In his own speeches, Miliband gives a token nod to growth but puts the emphasis on the need to build a fairer economy.
He is adamant that his Tory and Labour critics are living in a past that existed before the 2008 financial crisis. He is confident Labour's plans to take on the banks, energy companies and private landlords will be popular with voters. He insists his is a "pro-business agenda". Although the Tories attack Labour's pledge to scrap another planned cut in corporation tax, Labour would use the money saved to reduce business rates for small firms and promises to keep corporation tax rates the lowest in the G7.
Miliband allies put this week's raised voices down to the bosses' desire to protect the status quo; they argue that it cannot be "business as usual" when the economy is not working for ordinary people. It is true that Labour's pledges to bring back a 50p top rate of income tax and introduce a mansion tax on homes worth more than £2m, would hit many businessmen. Its energy price-freeze was seen as a sign of more interventionism to come.
But all is not lost for Labour. Most businesspeople are worried that David Cameron is playing with fire by promising an in/out EU referendum in 2017 because they want to remain part of our biggest export market. They welcome Labour's refusal to match the Tories' pledge. But denying people a vote is hardly a vote-winner and making Europe an issue would play into Ukip's hands.
The doubts in his own party about Miliband's attitude towards business are real. To some Blairites, this week's attack was the final confirmation that Miliband has given up on winning over voters from the Conservatives and is wooing those tempted by the Greens, Ukip and Scottish National Party. "These people want someone to express their anger," one Miliband ally explained. But there is a problem in him trying to be Mr Angry: there is a more plausible one in Nigel Farage.
Miliband deserves full marks for honesty. He really does believe that the capitalist system needs reform. Does his apparent hostility to business matter? Most people work in the private sector, where the number of jobs is predicted to rise by 1.8m by 2020. By next year, the number of self-employed is forecast to exceed the public sector workforce. So perhaps the bosses' voices matter more than Miliband thinks.
And most people would expect their government to work in partnership with business. Most senior Labour figures are not hostile to it. But if the man at the very top is perceived as such, it may be another reason for voters not to take a risk on Labour.
Join our new commenting forum
Join thought-provoking conversations, follow other Independent readers and see their replies