David Cameron has secured a good deal on the EU – but just think what else he could be doing
Without the referendum, the Prime Minister could be free to push ahead with bold, progressive and radical policies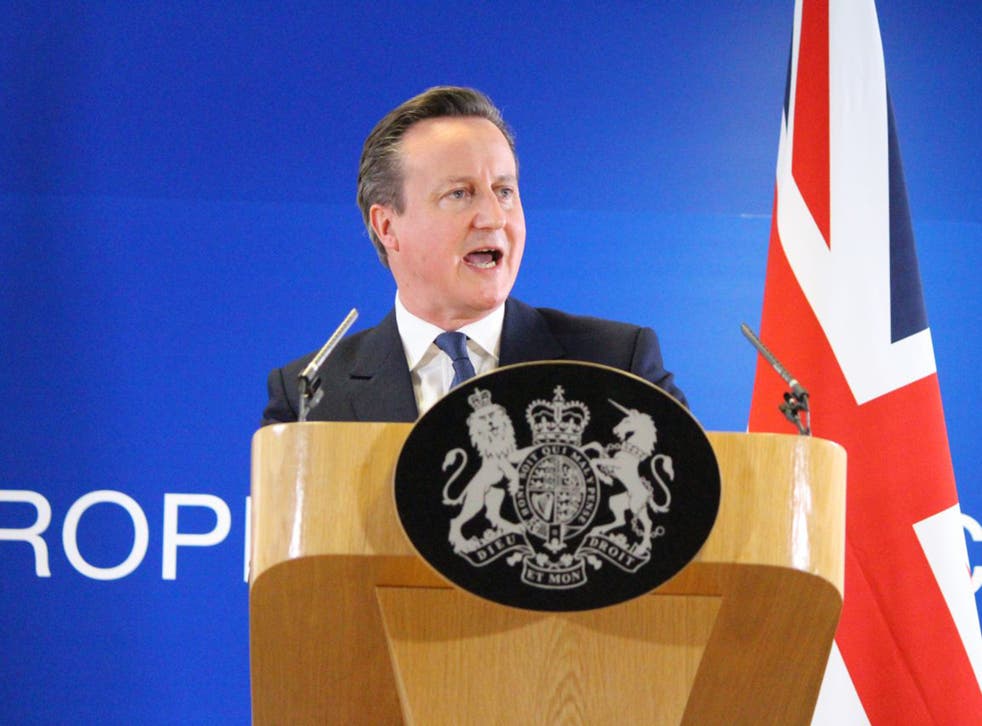 Gulping water and in need of an emergency dispatch of Halls Mentho-Lyptus, David Cameron merited a prescription from Boots as well as an award for long service after reaching a deal with fellow EU leaders.
The Prime Minister's marathon slog on the issue of Europe has lasted longer than his 10-year leadership of his party. His exhaustion on Friday evening was not only the result of a two-day EU summit, but a decade of trying to please the Tory right – first, making concessions on Europe in order to secure the leadership and, later, year after year, giving away more ground: on the triple lock and then the referendum. And still the sight of a croaky PM having struck an agreement is not enough for the leavers – but then any deal Cameron negotiated would never have been good enough.
The PM has secured a good deal. Forget the people who on 23 June will vote to leave no matter what. Cameron can say to the rump of undecideds, who feel an instinctive scepticism in their bones and want some reform in Britain's relationship with Europe, that this is indeed change.
The PM has slayed the beast of ever-closer union, ensured the EU is more competitive for British workers and agreed fair rules on benefits for migrants. Now the referendum battle will dominate the next four months. Ministers and Whitehall officials, particularly in the Treasury, Home Office and Foreign Office, will spend time on the referendum, as well as preparing for possible Brexit.
Yet, despite Cameron securing reform in the EU, just think what he could be doing if the referendum wasn't happening at all. Having announced that he will not seek a third term as prime minister in 2020, he could be free to push ahead with bold, progressive and radical policies and tackle the biggest challenges facing Britain without fear from any wing of his party.
Cameron's foreign policy agenda has never been so urgent, with the refugee and geopolitical crises in Syria the top priority. Back in the UK, the shortage of affordable homes is only getting worse, despite the PM's new year announcement to relax planning rules to build new houses. The NHS creaks under strain, and social care continues to be the biggest problem for local government and the health service. There is no big second-term vision for education.
The most exciting reform this Government has introduced since the election has been on prisons and rehabilitation. It is ironic, then, that this policy that could shore up Cameron's legacy as a compassionate, One Nation prime minister comes from the same man who could end up destroying his premiership. If Justice Secretary Michael Gove's endorsement of the Brexit campaign is successful, surely Cameron's resignation will follow, whatever the PM has said about remaining in post. Eurosceptics will be powerful enough to demand Cameron's head. After all, they have held him in an armlock for a decade.
National treasures?
It should come as no surprise that I am a supporter of the In campaign, but my fellow traveller Emma Thompson tested my loyalties last week when she said Britain's status as a "cake-filled misery-laden grey old island" was why we had to remain in Europe.
Even though she later claimed her remark was classic British self-deprecating humour, I felt pangs of defensive national pride. On the day she made her initial comments, I was walking across the Yorkshire Wolds, a stunning part of Britain where even in February there is nothing grey about the landscape: purple, green, brown and yellow unfolding under a blue sky.
Thompson later described the reaction to her remarks as "that strange nationalism I don't like". Nationalism can have ugly connotations, particularly in Britain, but there is nothing ugly about feeling love for your country. The point is, I don't see a love for Britain and wanting to stay in Europe as mutually exclusive – in fact, you can be proud of this country's leading EU role.
But here's the problem for the "remain" camp: this summer, Britain will be awash with national pride. In May, there will be celebrations for the Queen's 90th birthday. In June, England, Wales and Northern Ireland will play in the Euro 2016 tournament in France. Later in the summer we will be cheering on Team GB at the Rio Olympics.
The "Out" campaign will use the ubiquity of the Union flag to harness a sense of national pride and translate that into why Brexit makes sense: the challenge is for the "Stronger In" camp to capture that same sense of Britishness for a reason to stay in the EU.
The Mae West of the Baltic
Angela Merkel is the dominant force in EU politics but the breakout star in Brussels last week was Lithuania's President Dalia Grybauskaite, who had an almost sardonic take on proceedings that reminded me of Mae West, declaring: "I think everybody will have their own drama and then we'll agree."
Grybauskaite is an old hand at EU negotiations, having been a European Commissioner before becoming president of her country in 2009. She is also renowned for her black belt in karate. What is less well known is her love of the US rock band Aerosmith, tweeting a picture of herself meeting lead singer Steve Tyler in 2014. It is not known whether, during the endless hours of negotiations, Grybauskaite broke into a rendition of the Aerosmith/Run DMC hit "Walk This Way".
McBride is back
The return of Damian McBride to frontline politics, as shadow Defence Secretary Emily Thornberry's adviser, shows that anyone can be rehabilitated.
McBride, branded the most hated man in Westminster in 2009 when (as Gordon Brown's spin doctor) he attempted to smear senior Tories, has one of the sharpest political brains in the business. But is he past his muck-raking days?
Last week it emerged that Nicholas Soames, the Tory MP, had sent a rude letter to Thornberry dismissing her request to meet him for lunch. Will the one-time attack dog be able to resist snapping at the ankles of Winston Churchill's grandson in retaliation?
Twitter: @janemerrick23
Join our new commenting forum
Join thought-provoking conversations, follow other Independent readers and see their replies