Why can't Cameron talk about the EU's biggest achievements? Because it would shine a light on Tory failures
Unsurprisingly we have heard next to nothing about two of the issues on which membership of the EU is most beneficial – tax and climate change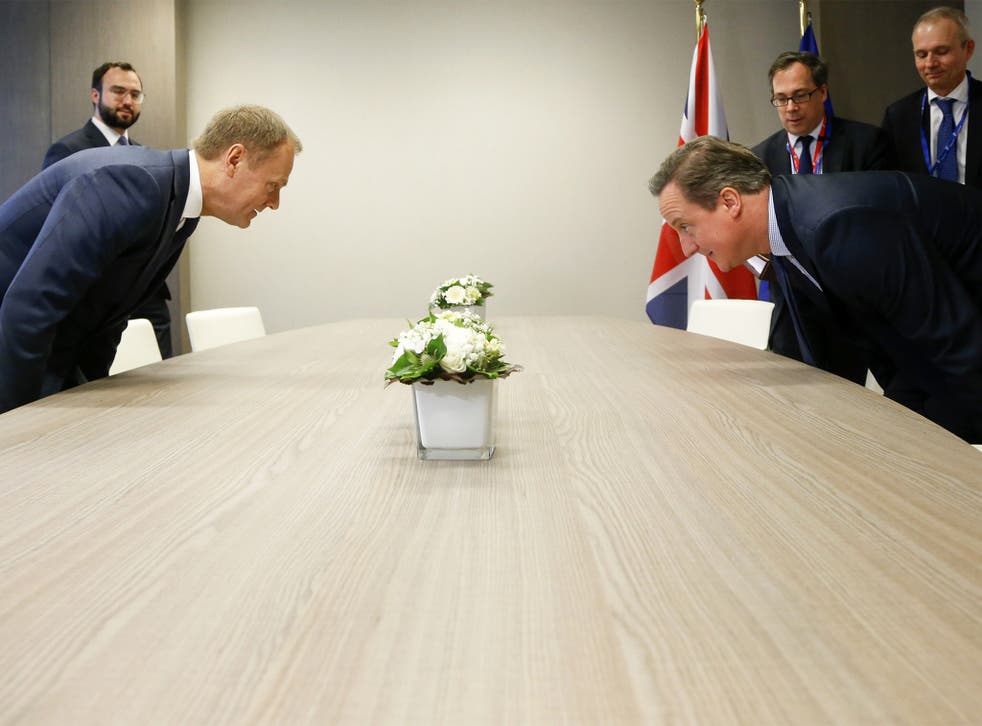 Take a look at the powers David Cameron has returned with from his trip into the bowels of Europe. Listen to the debates that fill hour after hour on radio and television. What you learn is that the referendum debate is sitting squarely in Conservative territory. Competitiveness, sovereignty, migration, benefits, national security: these are the issues upon which the Prime Minister is basing his case for Britain to remain in the EU, and they have become a filter – royal blue – through which the entire question is viewed.
It makes sense, of course. Over the past week, Cameron has been addressing his party more than the nation as a whole, attempting to convince MPs to join him in the Remain camp. Even when he turns his microphone away from Westminster, the message is unlikely to change. There is nothing dishonest about it. Competitiveness, migration and sovereignty are subjects close to the heart of any Conservative: they interest Cameron, they are where he feels comfortable, and on them he can claim some success. But they represent a sliver of what membership of the European Union means.
If Jeremy Corbyn could unmix his feelings about the EU a little more, he would be the natural person to make this case. As it is, his column this weekend, coming out in favour of "In", served up a small helping of praise on a platter of criticism. The Prime Minister, he stressed, had not been attacking the EU for the right reasons. There is much more wrong with the institution than Cameron turned his gaze to.
That line of argument will not do much to counter the gravitational pull of Michael Gove and Boris Johnson towards a Brexit – in fact, it may only get sucked into their vortex. The Labour leader should realise that he can praise the European Union and condemn the Conservative Party in the same breath, should he so choose.
We have heard next to nothing about two of the issues on which membership of the EU is most beneficial – tax and climate change. No surprise, as these are subjects on which the Conservative record is patchy at best. Neither Cameron nor George Osborne can do what I am about to do – that is, list some of Brussels's better achievements – because they throw a harsh light on Conservative bald spots.
Consider tax. The only efforts against multinational tax avoidance that prompt more than a chuckle among Silicon Valley accountants come from Europe. Margrethe Vestager, the impressive EU competition tsar, has – more or less unremarked – been dismantling the extreme tax breaks member states have offered multinational companies in order to convince them to set up home in, say, Luxembourg. She has extracted £40m from Amazon and Fiat, and £550m from Anheuser-Busch, and the bill for Apple, whose case will be decided this year, could reach into the billions (the company has warned of a "material" impact on profits). The most significant benefit to European taxpayers has yet to come. Large fees and long court cases, tax lawyers say, are likely to discourage multinationals from entering the avoidance hall of mirrors ("Big company? No, we're tiny!") in the first place.
What has the EU ever done for us?

Show all 7
These are the kinds of decisions that make ground towards Corbyn's ambition of plugging up the holes in the tax system, and that is without mentioning the EU-led reform that, come 2017, will make it vastly harder for European citizens to evade tax altogether by, say, stuffing it into a Monaco bank account and pretending that it does not exist.
Contrast that with the Conservative record. Britain's "Google tax" will not, in fact, affect Google. So paltry was Osborne's back-tax settlement with the search engine, Vestager threatened to look into it herself.
The environmental case for EU membership was made most eloquently in these pages by Michael McCarthy earlier this month. A network of regulation – stronger than the home-grown variety – protects our wildlife, rivers and air. (On the other hand, the Government faces a steep fine for the dangerous levels of pollution in UK cities.) And it is conjoined European policymaking that has seen the continent take a lead in bringing down the levels of CO2 emissions. (Again, the UK's laggardly approach since 2010 has drawn criticism from Europe.)
British people may, on balance, care more about stopping migration than about tax justice. They may care more about national security than the environment. They may not care much at all. But it remains the case that Cameron will not go anywhere near the latter issues (which make a strong case for EU membership) because if he did he would be painting a target on his chest, one that even an opposition as scattergun as Mr Corbyn could hardly miss.
Tax justice and the environment need not be left-wing issues – Stanley Johnson, Boris's father, advocates staying "In" because of the EU's green credentials – but it will take a non-Conservative politician to trumpet them to the wider public. It would pay off, too, if they could harness the anger and activism of the likes of UK Uncut, and so send more of that skittish youth vote to the polls on 23 June.
Left to the Tories, as the issue broadly has been, we witness the kind of scene that took place on Monday's Newsnight. Iain Duncan Smith claims membership makes the UK more at risk of terrorism; Ken Clarke snorts and contradicts him; the issue of EU membership is treated like an internal Conservative spat.
There is a real danger that the rest of the referendum campaign will be played out in only one corner of the field, when there is abundant space for the Remain team at the other end.
Join our new commenting forum
Join thought-provoking conversations, follow other Independent readers and see their replies