David Davis has emerged as the most impressive of the Brexit ministers
The Secretary for Exiting the EU, once endorsed by Tony Benn and reduced to being Nigel Farage's spin doctor, is now the unexpected champion of a soft Brexit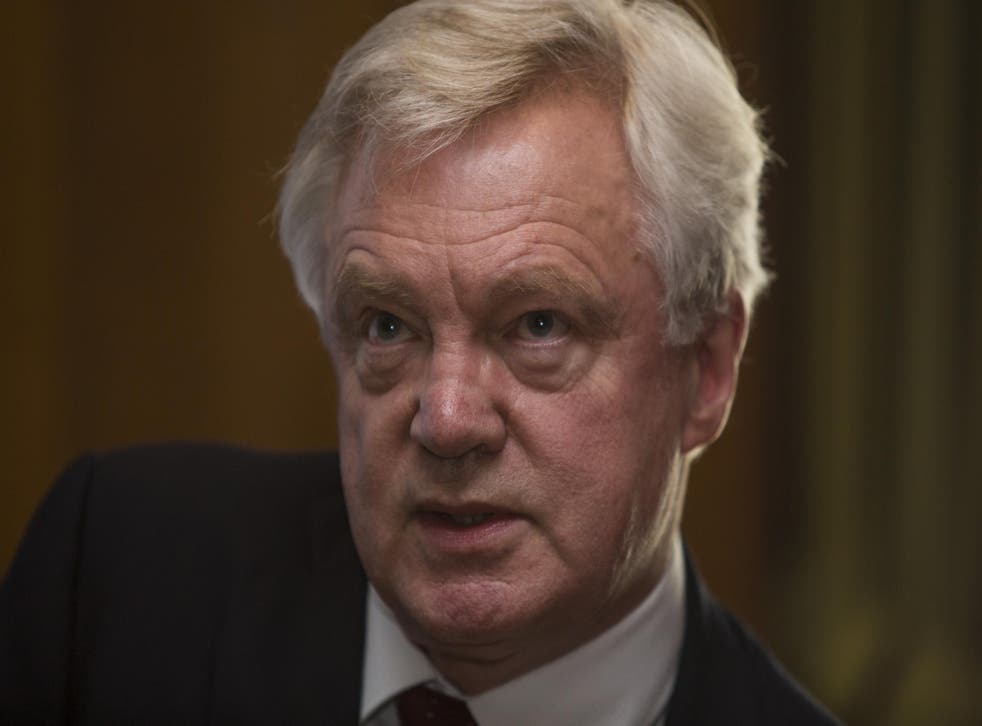 Theresa May raised three Brexiteers to high office. Boris Johnson was there to be the butt of jokes for her and the Chancellor when they had important speeches to give. Liam Fox got the call so that May could leave out Michael Gove, with whom she got on badly. But David Davis was given the job of working out the answer to the riddle: what does Brexit actually mean?
And it is Davis who has been the success of Brexit preparations so far. Civil servants report that he is thoughtful, pragmatic and hard-working. He has come to the Commons to update MPs several times. He has not had much of substance to report, but he has impressed MPs on both sides of the House – the Remain side and the Leave side – with his openness.
This is a surprise to those who dismissed Davis as an egotistical bore who had never got over losing the Conservative leadership to David Cameron in 2005. He appeared to be a write-off when he resigned from Cameron's shadow Cabinet in 2008 to fight a by-election in protest at Gordon Brown's attempt to extend detention without charge to 42 days, a measure later defeated in the House of Lords.
Brexit Concerns

Show all 26
That quixotic decision, which won him the support of Tony Benn, removed him from the front line – incidentally helping to propel May to Home Secretary in 2010 – and it seemed his career was over.
So much so that Davis was hardly seen during the referendum campaign. His most notable contribution was to help prepare Nigel Farage for his TV showdown with Cameron – it wasn't a debate but the two of them appeared one after the other. This prompted a howl of rage at ITV for arranging the clash behind his back from Dominic Cummings, director of the official Vote Leave campaign, because he tried to keep Farage and his Ukip-dominated rival campaign at arm's length.
According to Tim Shipman, author of All Out War, the essential book of the referendum campaign, Davis "talked a lot about his debate with Cameron from the 2005 leadership contest, and gave his advice on how Nigel should approach it".
From such depths as Farage's spin doctor, Davis is back, proving that you are not finished in politics as long as you still have a seat in the Commons. Which is why George Osborne is touring northern towns holding "Northern Powerhouse round tables", which are steam-driven tables that turn slowly and unstoppably.
It is not irrelevant that one of Davis's special advisers is James Chapman, a former Daily Mail journalist who supported Remain and whose last job was as Osborne's head of communications. Davis's other special adviser is Raoul Ruparel, one of the brains behind Open Europe, the think tank promoting EU reform which was neutral in the referendum.
Davis's restoration as an open-minded pragmatist, working with well-regarded advisers, suggests that some of the promise that almost carried him to the Tory leadership in 2005 is back.
I first came across him in 1992, after John Major's election victory. He was unusual for a Tory MP in being interested in ideas. He wanted to know more about Bill Clinton and the Labour modernisers' ideas about workfare, requiring the unemployed to work for benefits. He also relished his new job as the "Maastricht whip". It would be his job to get the ratification of the Maastricht Treaty through the Commons. He was a Eurosceptic but he thought Major had done a good job to secure opt-outs for the UK from the single currency and the social chapter. More than anyone else in the House today, he understands the strange game that John Smith, the late Labour leader, played in opposing something with which he and his party agreed. By comparison, getting Brexit through Parliament is going to be simple.
Twenty-four years later, he is in the Cabinet, in charge not just of the parliamentary process but of the negotiation that precedes it. In the minutes of his conversation on Monday with the Tory MP Mark Field, released accidentally to a photographer in Downing Street by Field's aide, Julia Dockerill, Davis emerges as the unexpected champion of a soft Brexit. He was "loath to do it", he said of a transitional deal after Britain leaves the EU in 2019. But the implication is that it will have to be done.
This makes sense, in that the UK's bargaining position is poor. It seems plausible that, to secure lower tariffs and trade barriers when we leave the EU, we will have to accept some of the things the Brexiteers don't like, such as payments to the EU, some free movement of workers and some jurisdiction of the European Court, as part of a temporary deal to soften the economic blow of departure.
Davis has kept those options open. He is not a man of all ambition spent. It may be premature to note the recent rise in his political stock – after all, the UK has not yet invoked the Article 50 procedure for leaving the EU – but it does make people wonder about the perennial question in politics. The question of who might succeed the Prime Minister will come up on Wednesday next week, when she will be away and David Lidington, the Leader of the House, will take her place for Prime Minister's Questions. This is in line with convention, given that there is no deputy prime minister and, despite the Speaker attributing the title to Philip Hammond from an erroneously copied-and-pasted list this week, no first secretary of state.
But it makes you think: about the continued stalling of Boris Johnson's caravan, about the safe but Remain-y hands of Hammond, and about the unexpected rise of David Davis.
Join our new commenting forum
Join thought-provoking conversations, follow other Independent readers and see their replies