Deepcut: It is a scandal that the families of soldiers who died at the barracks have waited so long to find out the truth
The wall of silence the Army has put up around Deepcut has led to comparisons to the police and Hillsborough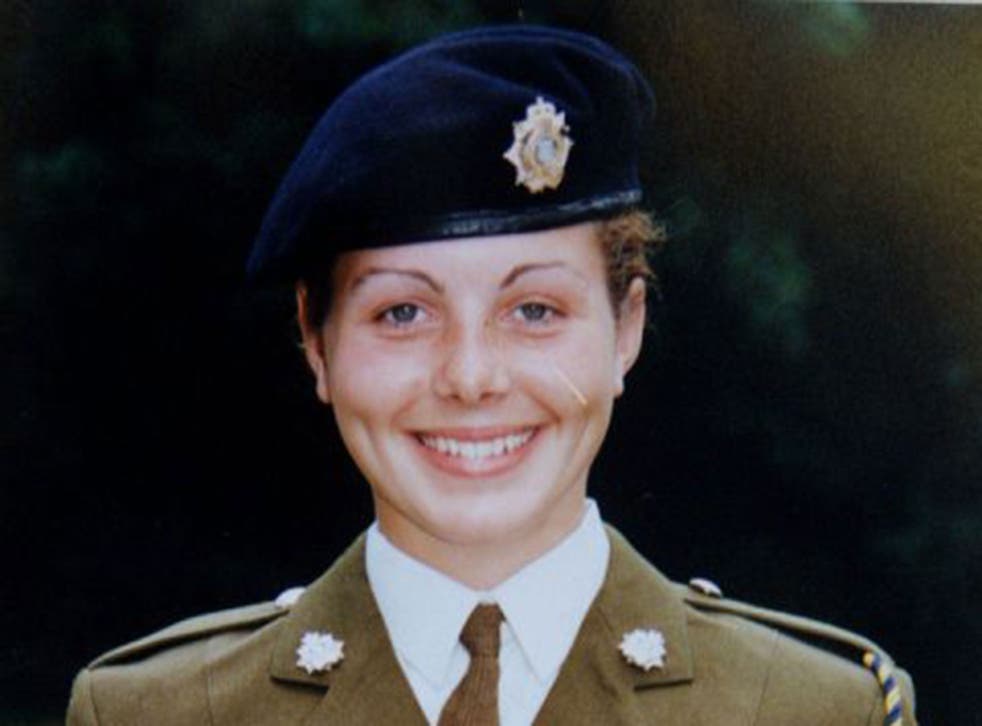 One hour was all it took for the first inquest into the death of 18-year-old Private Cheryl James to be concluded. She had been found with a bullet through her head, lying in a wooded area only feet away from her guard post in the Deepcut barracks. Police handed the 1995 inquest over to the Army, and – since there was apparently not enough evidence to prove a suicide or foul play – an open verdict was swiftly recorded. The lack of evidence was, according to lawyers for the James family, no accident: key witnesses were not interviewed, Pte James's clothing was not examined and was later "lost", along with the bullet fragment and all the other bullets from her SA-80 rifle. The Army has been quite content to leave the case a mystery.
That is no longer possible. Last year, a High Court judge quashed the open verdict and ordered a fresh inquest. Now three other families, whose children also died in mysterious circumstances at the Deepcut barracks between 1995 and 2002, are preparing to challenge the open verdicts that were recorded. If their suspicions are not proved false, the story of Deepcut barracks will mark one of the darkest moments in British military history.
Allegations from recruits paint a picture of an institution warped beyond recognition by physical and sexual abuse of young soldiers. In 2002, Surrey Police recorded interviews with several female soldiers who reported knowing of colleagues who had been raped; one 16-year-old recruit said she had been raped, but refused to make a formal allegation; a 17-year-old said she had sex with an NCO as she was "too scared to refuse"; a 23-year-old claimed to have had a bag put over her head in bed and been assaulted by several men. Male recruits described perpetual bullying. It is into this context that The Independent's report earlier this week fits, citing claims that Pte James had been sexually abused by officers, and could have been raped on the night she was found dead.
All three of the "open verdict" cases beside Pte James's invite scepticism. How could Pte Sean Benton, 20, have possibly killed himself in 1995 – as the Army claimed – when he was shot only once from close range, and four times in the chest from a distance? How can Pte Geoff Gray's death in 2001 have been an accident, when two bullet wounds were found in his head, a total of five bullets fired in his direction, and a figure witnessed running away from the scene? The parents of Pte James Collinson – whom they describe as happy – dispute that he would have killed himself, as the Army claimed, in 2002.
Needless to say, the Army's unwillingness to look closely at these cases is a grave misjudgement. It is understandable to seek to protect troops. But when that instinct leads to potentially protecting the reputations of rapists and murderers, it damages the name of the Army and its thousands of soldiers.
Inquests should be reopened into all three cases. These should not involve Surrey Police, which has sought at every corner to delay the inquest into Pte James's death, asking last year that the case be delayed (after 20 years of waiting), and passing over documents only after pressure from the James family's legal team. Its 2002 handling of the Deepcut reinvestigation was queried by Devonshire and Cornwall Police in 2005. Outsiders are needed.
The wall of silence the Army has put up around Deepcut has led to comparisons to the police and Hillsborough. Just as a public inquiry was needed in that case, one should not be ruled out over Deepcut, if reopened police inquests are stymied. The families deserve to know what happened. So does the nation. And the only way for the Army to ensure there is no repeat is to face the facts, whatever they may be.
Join our new commenting forum
Join thought-provoking conversations, follow other Independent readers and see their replies