DNC 2016: Cory Booker dazzles as a star of the future with soaring evocation of the Democratic Party's values
If Booker harboured disappointment at not being the running mate, he gave zero sign of it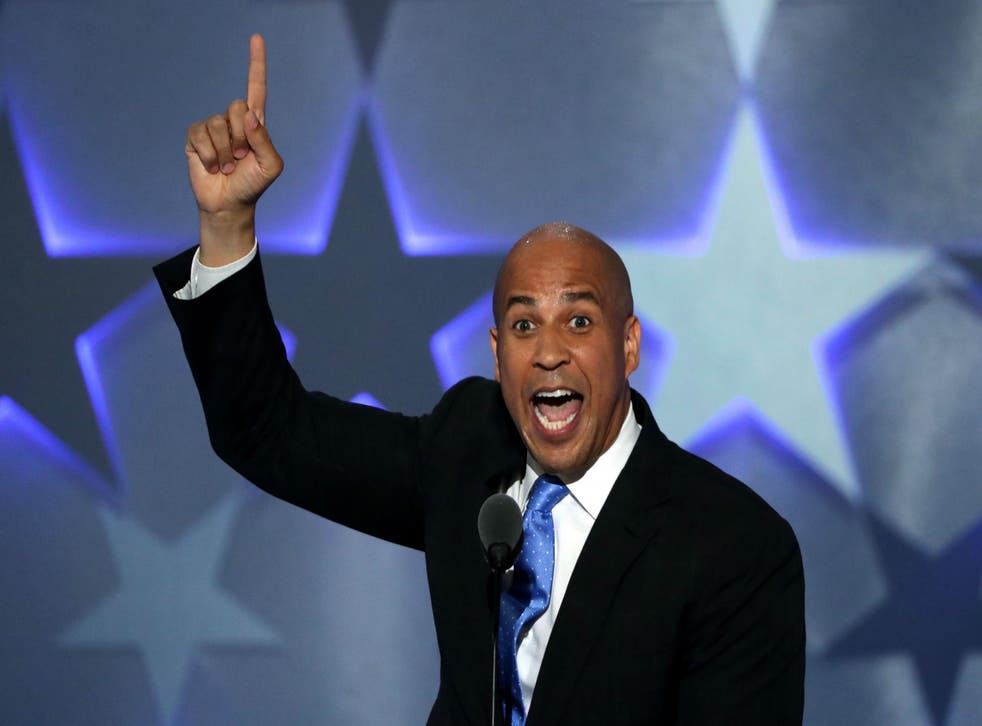 Midway through the Democratic confab's first night, the lights dimmed and the once familiar oratory of Mario Cuomo filled the air. Clips of the former New York Governor delivering his still legendary speech to a party convention of yore played on jumbo screens above the throngs.
The year was 1984. With rhetorical flights never before heard in the political arena and his relentless devotion to a progressive vision for the country, Mr Cuomo, who passed away last year, instantly transformed himself into a figure who one day, surely, would seek the presidency.
As it happened Mr Cuomo, whose son Andrew is Governor of New York today, never made that leap, sparking speculation that he possibly had "skeletons" he didn't want unearthed. But he had already established a tradition that remains true today: speaking slots at party conventions becoming auditions for rising stars who one day might reach for that ultimate brass ring.
No figure in recent political history, however, pulled this trick of auditioning as their party's next best hope as presidential candidate more successfully than Barack Obama. By all reckonings his gripping keynote speech to the 2004 Democratic Convention, when John Kerry was the nominee, was the moment that set the clock ticking on his decision to leap into the fray and seek the nomination in 2008. That, of course, pitted him, a first-time US Senator with scant experience, against Hillary Clinton, a battle she lost and he won. The Oval Office was his months later.
This convention's first night, filled with the tumult of disappointment for supporters of Bernie Sanders and the frantic push to corral support for Ms Clinton, offered at least one of those moments. The question is posed: who on stage did most to earn that mantle of expectation?
Michelle Obama, with her passionate defence of Ms Clinton, clearly stood out and ignited a wildfire of social media messages advertising her as a candidate in 2020 or beyond. Her speech brought tears to the eyes of delegates wherever their allegiances – with Ms Clinton or Mr Sanders – lay. But we have to believe what those close to her have consistently stated: the First Lady, whatever her potential as a candidate in the future, has zero interest in a political career.
And so to the other soaring speech of the night that arguably received less attention than it deserved. Cory Booker set the Wells Fargo Centre alight, making the case that collective action not "rugged individualism" is the fuel that has given America its greatest gifts.
Like Ms Obama, the US Senator from New Jersey who made the shortlist of possible running mates for Ms Clinton, built his argument while at the same time repeatedly contrasting its tenets with the kind of America that Republican nominee Donald Trump is offering.
"Hillary Clinton knows what Donald Trump betrays time and time again in this campaign: that we are not a zero sum nation, it is not you or me, it is not one American against another American. It is you and I together, interdependent, interconnected with one single interwoven destiny," he said, speaking with his own brand of oratorical fire and passion.
And like Mr Cuomo more than 30 years ago, Mr Booker delivered a message that was unmistakably progressive, repeatedly returning to the theme of lifting the poor and ensuring equality. In that vein, the Senator artfully embraced one of the signature policy priorities of Mr Sanders – free state college education for all – and extolled Ms Clinton's decision to alter her own thinking to embrace it.
"She knows that debt-free college is not a gift, it's not charity, it is an investment," Mr Booker said. "It represents the best of our values, the best of our history, and the best of our party: all of our shared values together."
In a clear reference to the Trump slogan, "Make America Great Again", Mr Booker intoned: "When we respect each other, when we stand up for each other, when we work together against the challenges our neighbors face ... That is when we go from an already great America to an even greater America," drawing cheers and chants of "Cory, Cory," from delegates.
Elected to the Senate in 2013, Mr Booker, who is African American and previously served as Mayor of Newark, has also ensured that he will play in a top role championing Ms Clinton in the roughly 100 days that remain before Americans vote for a new president on 8 November.
"We cannot fall into complacency or indifference about this election, because still the only thing necessary for evil to be triumphant is for good people to do nothing," he said.
By affording Mr Booker his tersest – and most cryptic – Twitter barb of the night, Mr Trump himself all but acknowledged the power of his address. "If Cory Booker is the future of the Democratic Party, they have no future! I know more about Cory than he knows about himself," he chided. On Tuesday, Mr Booker responded without taking the bait. "I love Donald Trump," he said on CNN's New Day. "I don't want to answer his hate with hate. I'm going to answer it with love. I'm not going to answer his darkness with darkness."
Before stepping off the stage on Monday night and returning to his seat in the party's VIP box to watch the First Lady, Mr Booker led the hall in a final, ringing admonition to the country. It may be the three words that will be remembered the longest and may have put him on a path to a still more significant future. They were: "We. Will. Rise."
Join our new commenting forum
Join thought-provoking conversations, follow other Independent readers and see their replies