Welcome to the 'Trump Legitimiser Club', Michael Gove – your membership comes at a moral cost
It is worth putting on the record now that when that picture of Michael Gove, double thumbs up with Trump in front of a framed Playboy, becomes a notorious embarrassment, he had no alibi. That he was not following orders: his German co-interviewee from Bild, declined to make the gesture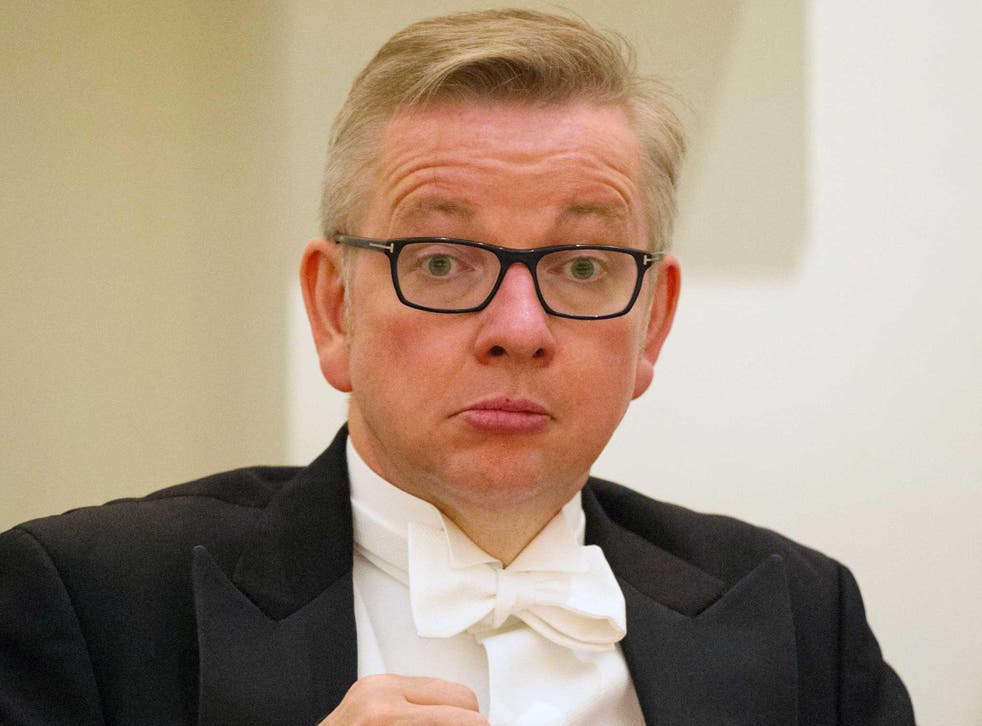 It is a principle now firmly established that as any Donald Trump opinion piece grows longer, the probability of an analogy involving Godwin's Law approaches one, so let's get the Nazi stuff out of the way as quickly as possible.
There is a notorious photograph of the England football team, playing a friendly in Berlin in 1938 in front of a crowd of Joseph Goebbels and Hermann Goering and 120,000 others, in which, when the German national anthem is played, the eleven Englishmen raise their hands in a Hitler salute.
That they weren't to know what was coming is the most common excuse inserted in retrospect. Then there's the fact that, in 1938, much of the British establishment, including the Daily Mail, the Mitford sisters and a healthy chunk of the Royal Family were unambiguous about which side they were on.
But the players themselves were unambiguous, too. Sir Stanley Matthews has since said he was "livid" about it. England's captain that day, the legendary Arsenal left back Eddie Hapgood, had told the FA blazerati where they could "stick it". But the salute was performed in the end, the orders from on high were followed, and yet it's their reputations and no one else's which are casually besmirched every time the pictures resurface. It was four months after "peace in our time", Anglo-Nazi relations had to be maintained, the Foreign Office told the Football Association. That eleven working class men should have seen what Neville Chamberlain hadn't won't come as a surprise to anyone.
World reaction to President Trump: In pictures

Show all 29
Donald Trump is not Adolf Hitler. Of course he isn't. But the four years of history that will begin on Friday morning out on the National Mall in Washington DC will almost certainly be unlike any that have been seen in long decades.
Whatever happens, it is worth putting on the record now for when that picture of Michael Gove, double thumbs up with Trump (don't call him "the Donald", please) in front of a framed Playboy, becomes a notorious embarrassment, that he had no alibi. That he was not following orders. (His German co-interviewee from Bild, declined to make the gesture.)
It is almost too tedious to repeat that Donald Trump is the man who has pledged to build a two-thousand-mile-long wall across the US's southern border. Who has called for a ban on Muslim immigration to the United States, a policy that would preclude the Mayor of London from visiting New York. Who has stood on a stage at a rally in the full glare of the television cameras and entered into a convulsing, limp-armed impression of a Pulitzer Prize-winning journalist who happens to be disabled. Who, again, wearing a microphone and knowing his words were being recorded, has bragged about the powers of fame that allow you to just grab women by the pussy.
Dress rehearsal takes place ahead of Donald Trump's inauguration
Of course, well done to The Times for getting the scoop, and well done too for sending Michael Gove, given the two men's intellectual alliance on Brexit. And Gove's sycophancy in the interview itself is admirable in its way. It's a written interview. There's no point acting like Jeremy Paxman. There will be no picture to paint a thousand words when your subject doesn't have an answer – just a blank page staring back at you.
That Michael Gove was still suffering the after-effects of Trump's "charisma" when he arrived on the Good Morning Britain sofa this morning is more curious, however. That the racist, Muslim-banning, disabled-mocking, pussy-grabbing soon to be leader of the free world was, in person, "warm" and "electric" may not come as reassurance to whatever small percentage of the population is still vainly holding on to some sort of old-fashioned distinction between right and wrong.
Whether Gove can still be considered a journalist is no more than a semantic question really. Not all journalism is about "speaking truth to power." Interviewers must listen to it, and flatter it, too. But having sought, and exercised, real power, from what ground can you return to speaking truth to it, not least if that power to which you speak are your friends and allies, and your return has been heralded only by your own personal failure?
But Gove should not be under any illusions. That little "thumbs up", and the silken words that have followed it give Gove lifetime membership of the "Trump Legitimiser Club", right up there with Nigel Farage and Piers Morgan. Whatever follows in the years to come will not have been unforeseeable, and, unlike Eddie Hapgood and Sir Stanley Matthews, he will not have any excuses.
Join our new commenting forum
Join thought-provoking conversations, follow other Independent readers and see their replies