Keep your tired, poor, huddled masses away – Donald Trump's message, shamefully endorsed by Theresa May
The shadow of selfishness and neglect is darkening over the world – let us spread the light of altruism and compassion instead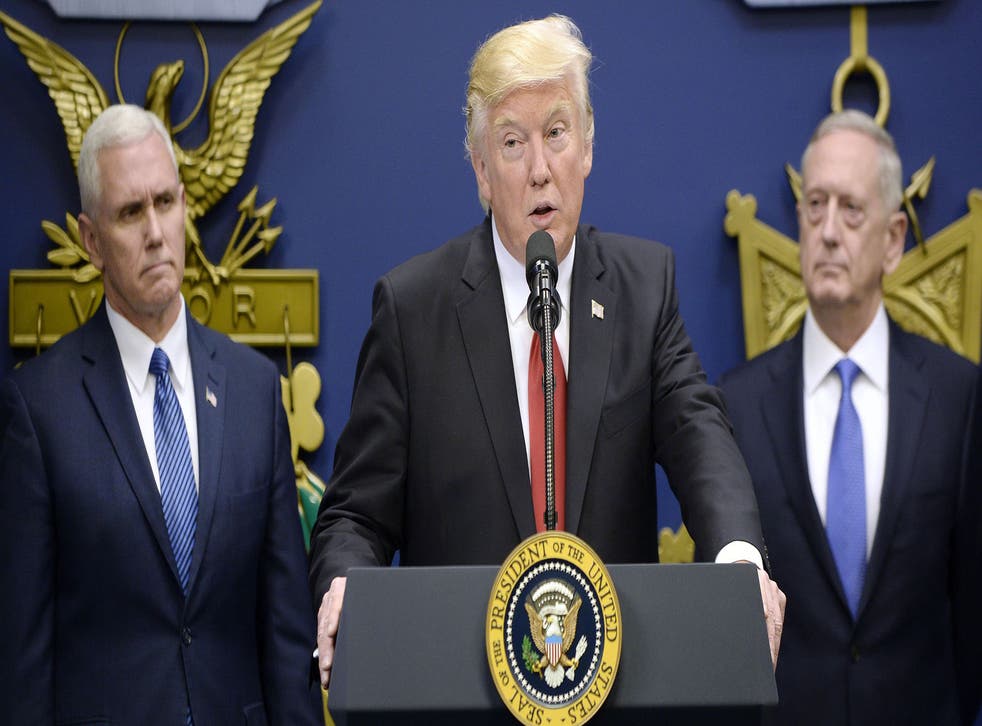 They might as well take the Statue of Liberty down and give it back to the French. Except that the French have problems of their own in living up to their responsibility to the "huddled masses yearning to breathe free" – a responsibility in which we British share.
Donald Trump signed an order last night suspending refugee admissions to the United States and temporarily banning all arrivals from seven Muslim-majority countries, with a few exemptions for diplomats.
We should be clear that this is not, technically, the ban on Muslims which Mr Trump spoke about during his election campaign. The order does not explicitly ban people on grounds of their religion. But it is as close to such a thing as is possible under American law. The indefinite ban on Syrian refugees, in particular, seems hard to reconcile with the US's obligations under international treaties.
Video shows poor standard of living for refugees in France
It seems that the new administration intends to halve the cap on refugees accepted by the US this year, from 110,000 a year under President Obama, to 50,000. It is a big reduction, which will be imposed regardless of the numbers actually fleeing persecution, and which will be strongly biased in practice against Muslims.
Mr Trump waited until Theresa May's plane had taken off before he signed the executive order, which allowed the Prime Minister to escape direct contamination by his moral squalor. But she cannot escape a measure of indirect association with the President's act. She could have said to him what she had said earlier that day in her statement to mark Holocaust Memorial Day: "Our commitment to remember the Holocaust is about more than words – it is about action. It is about raising awareness, spreading understanding, ensuring the memory of the Holocaust lives on, and standing up to prejudice and hatred wherever it is found today."
Despite having said that she would not hesitate to speak up when he and she disagreed, she chose not to raise the subject. That could be cowardice, or it could be that she, the Home Office Prime Minister, does not disagree.
Refugees welcome here: Protesters demand UK resettle more migrants in response to refugee crisis

Show all 7
And she was asked at her news conference in Ankara today what she thought of Mr Trump's policy, and said only: "The United States is responsible for the United States's policy on refugees."
After all, as we report exclusively today, Ms May is failing in her responsibility to those seeking refuge in Britain. Our investigation into what happened to the 1,000 children living in the Calais Jungle before it was cleared last year, whose applications for asylum in Britain were rejected, reveals a terrible story of hardship and neglect. These children have been rehoused in centres around France, many of them which have been unprepared to receive them, in which conditions are primitive and psychological support non-existent.
Of course, the primary responsibility for these children is borne by the French government. But the camp at Calais, created by the desire of people to reach the UK, was rightly accepted as a joint responsibility of the two governments. When the Jungle was cleared, the British Government pledged to bear its share of ensuring that the children rejected as refugees would be decently cared for.
Ms May is failing to fulfil this country's duty to these children.
The shadow of selfishness and neglect is darkening over the world. Ms May needs to do more to live up to her fine words if Britain is to play its part in spreading the light of altruism and compassion instead.
Join our new commenting forum
Join thought-provoking conversations, follow other Independent readers and see their replies