Everyone involved with the Grenfell Tower inquiry deserves to be heard – including Sir Martin Moore-Bick
It would have been quite wrong to have repeated the chaotic process when the Government tried and successively failed to appoint a suitable chair of the inquiry into VIP child sex abuse. The Grenfell inquiry needs to get on with the job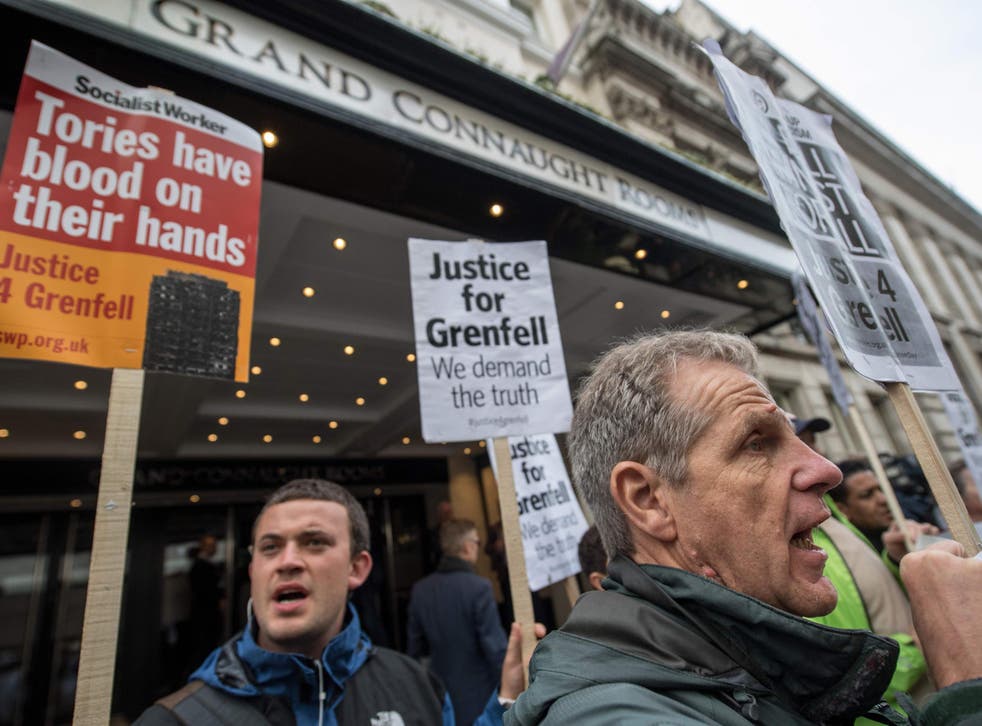 It is hardly the Right Honourable Sir Martin Moore-Bick QC's fault that he looks like, sounds like and has the demeanour of a member of the establishment. He is. He is, that is, a grammar school and Cambridge-educated former Lord Justice Appeal and a member of Her Majesty's Most Honourable Privy Council. It would be a surprise if had ever spent much time in, let alone lived in, a council tower block.
Nor is it any real criticism of him that he is not, by nature or by reason of his profession, given to outward and passionate displays of emotion. That is not what is traditionally expected of a judge in a court or a public inquiry. Indeed, it would be thought strange if he was to break down hearing the evidence laid before him.
Others, certainly, would have been better champions for the victims and their families, in the manner of a public prosecutor. Some of those affected told Sir Martin to his face that "we need someone real". Perhaps he could show more empathy, but there's no reason to believe he does not feel compassion. He may well not even have been responsible for the venue for his first session, a rather grand hotel ballroom with no wheelchair access. These, though, are not reasons to disbar him.
The victims could have had a community organiser or leader to run some sort of inquiry – but they would not have carried the legal experience, authority or expertise to carry out a full public inquiry. Someone qualified to do that – and it is a highly complex and technical legal exercise – had to be appointed. Sir Martin is qualified. It would have been quite wrong to have repeated the chaotic process when the Government tried and successively failed to appoint a suitable chair of the inquiry into VIP child sex abuse. The Grenfell inquiry needs to get on with the job.
Heckles as Grenfell Tower inquiry chairman concludes opening statement
Community leaders and advocates for the families do certainly have their role, and will continue to be heard, but it would obviously detract from a fully independent and impartial inquiry if Sir Martin or any of the assessors he will appoint to advise him arrived with an identical settled view as to who was responsible for what, demanding retribution immediately.
So some, at least, of the personal criticism that has been aimed at Sir Martin is misplaced and unfair. It is, also, however, sincere and real, and does deserve a better response. Sir Martin does need to make sure that leaders and families and their representatives should be allowed maximum time to give their evidence and show the pain they have suffered.
He would also be wise to allow as informal a set-up as possible for people unused to operating in courtrooms or under such close public scrutiny. He has a good deal of freedom in how he will run his show, and ought to do so with the minimum of pomposity and jargon.
Alongside Sir Martin's inquiry there should also run parliamentary hearings, police inquires and media investigations into what went wrong – including the long historical background to Britain's housing crisis that couldn't possibly be adequately covered in Sir Martin's own work.
To have asked Sir Martin to examine the origins of the social housing shortage would be excessively political and would have dragged him away from the central issues he has dedicated himself to answering – what went wrong, why, who was responsible and how to stop such a tragedy recurring.
Sir Martin will ensure, in a forensic and thorough fashion, to follow the evidence and to make recommendations that could lead to criminal or civil proceedings against individuals, public bodies such as Kensington and Chelsea Council, various contractors and other companies and any other entities that have case to answer.
Grenfell disaster inquiry chairman vows probe 'can and will provide answers'
Those who suffered at Grenfell are suffering still. Despite the efforts of the authorities and charities such as the London Evening Standard's Dispossessed Fund (the Standard is owned by the proprietor of The Independent), only two families have been properly rehoused in the months since the fire. Compensation seems inadequate. Schooling and family lives have been disrupted for far too long.
Those, though, are immediate and political matters that cannot be allowed to interfere with the work of Sir Martin and his team, who are not in a position to pursue them directly in any case. Frankly, leading opposition politicians from Jeremy Corbyn and Sadiq Khan down need to agitate far more about the continuing plight of those who found their lives destroyed on the night of that inferno. Thus far too much of the burden of campaigning has fallen to the new local Labour MP, Emma Dent Coad, to her fellow backbencher David Lammy and to various local leaders.
Sir Martin should be criticised if he does a bad job, but he is himself in danger of being made a scapegoat for what went wrong, and to be blamed by conspiracy theorists for a "cover-up" that hasn't actually happened. Sir Martin deserves a chance to prove them wrong.
Join our new commenting forum
Join thought-provoking conversations, follow other Independent readers and see their replies