So long as Jeremy Corbyn's Labour fails, Ukip will continue to win
Ukip has taken over from the Liberal Democrats as the default protest party of choice in any election that doesn't matter, and thus will remain in position to cause all manner of mischief in the coming years, almost regardless of its policy stance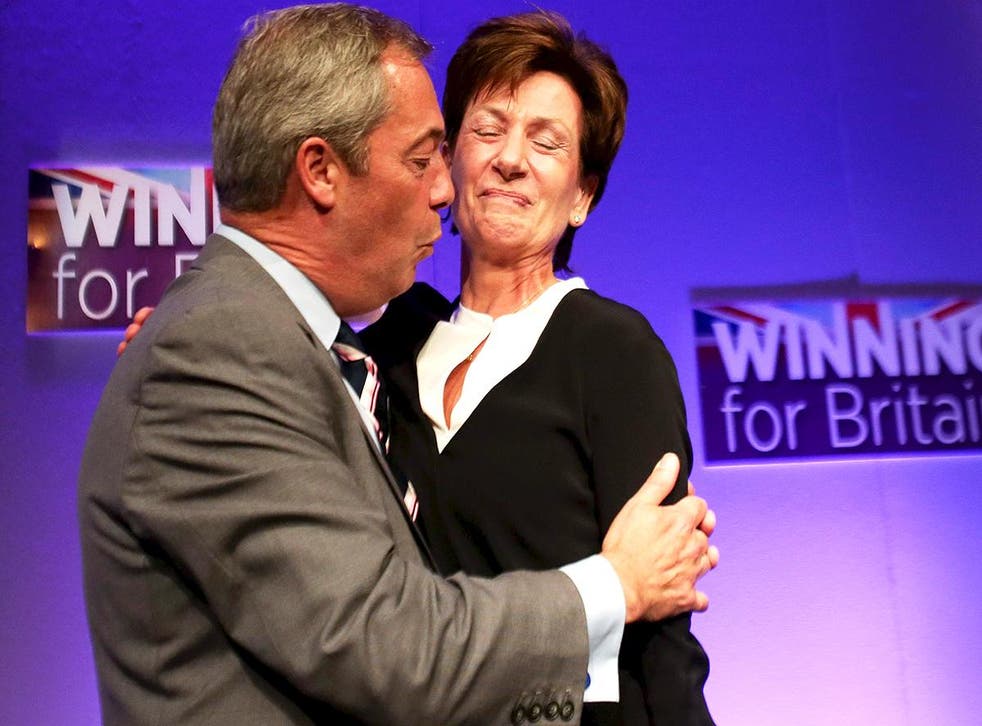 Like him or not – and The Independent did not especially care for the views of our one-time columnist – Nigel Farage changed the face of British politics. He took what was a fringe party – famously characterised by David Cameron as "fruitcakes, loonies and closet racists" – and won them 3.8 million votes at the last election. The rise of Ukip so panicked Mr Cameron's that he conceded the ill-starred referendum on membership of the European Union, a calamitous error of judgement.
Though they tried to sideline him in the official Leave campaign, that didn't stop Mr Farage from indulging in his own brand of vigorous campaigning, with a poster campaign featuring migrants that caused wide offence and revulsion. He made his mark, much to the lasting detriment of Britain's prosperity and influence.
So, quite a hard act to follow for new leader Diane James. Personally, she deserves best wishes, a welcome addition to the cadre of female party leaders that have been showing the boys how to do grown-up politics recently. She will, she tells us, have a different style and be less "frank" than her predecessor, for which much thanks. Even so, her party will remain true to the values of Ukip, apparently, which presumably means the pursuit of Farageism by other means. The more liberal wing of the party, in effect led by their sole MP Douglas Carswell, remains just that, a marginal force attempting to temper the extremism of this slightly random grouping.
Given Mr Farage's final sideswipe against Mr Carswell, for supposedly failing to do very much for the party, we can indeed expect that Ukip is not changing its stripes.
Yet it will have to do so. Logically, Ukip should wind itself down now that its principal reason for existence has been achieved. Or maybe stay around for a couple of years, yelling at the Government to get on with Brexit, until the baleful day when the UK finally turns its back on its European partners and allies. Of course, they won't.
Ukip has taken over from the Liberal Democrats as the default protest party of choice in any election that doesn't matter, and thus will remain in position to cause all manner of mischief in the coming years, almost regardless of its policy stance. As the defection of a former Ukip spin doctor shows, Ukip is vulnerable to a resurgent Tory party taking on more of the atavistic attitudes and policies Ukip members tend to like – grammar schools being as stand-out example of that.
So far as the wider electorate is concerned, though, Ukip poses an uncomfortable threat to Labour's heartland seats, where the party have already moved into second position at the last general election, and where resounding Leave votes in the referendum confirmed disaffection with the three main parties, and especially Labour. In much of England, outside London and even in Wales, Ukip will stay a force to be reckoned with for as long as the economy stutters, jobs remain scarce and resentment about immigration is allowed to fester.
Is this Labour's fault? Jeremy Corbyn is perfectly clear about what his party stands for on this – that the Government's policies of austerity are the real cause of such impoverishment, and not those coming to make a life in Britain. And yet, so far, Mr Corbyn's message doesn't seem to be resonating with those it is aimed at. Labour's weakness is Ukip's opportunity. Ms James has her chance.
Join our new commenting forum
Join thought-provoking conversations, follow other Independent readers and see their replies