Hurricane Irma shows that the Government can't afford to neglect climate change any longer
Not so long ago, the UK was at the forefront of international efforts to combat climate change, promoting the use of green energy and encouraging other nations to help reduce global carbon emissions. Yet for the past five years, matters have regressed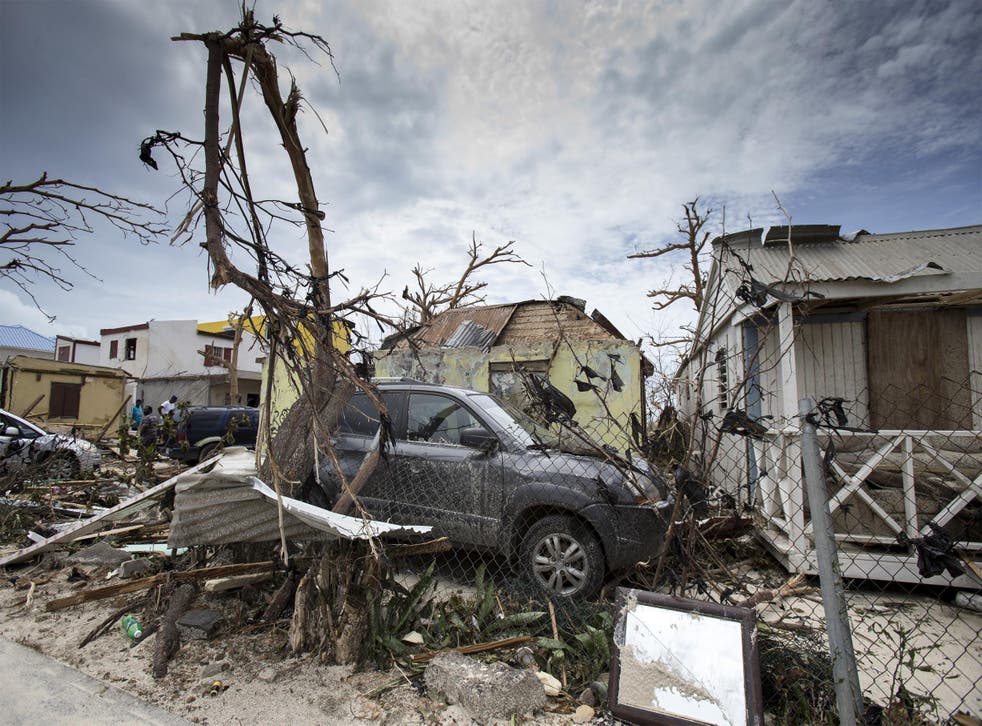 As Hurricane Irma continues its barrelling progress across the Caribbean, America is bracing itself to be next in line for a battering – just two weeks after residents of Texas were pummelled by Hurricane Harvey. Half a million Floridians have been told to leave their homes in advance of Irma making landfall.
The destruction already caused by Irma's intense winds has been significant, with the confirmed number of fatalities at 19 and the death toll expected to rise. Officials have reported that 60 per cent of the homes on the island of St Martin are uninhabitable. Meanwhile the Prime Minister of Barbuda, Gaston Browne, says nearly every building there has suffered damage to one degree or another – and he estimates the reconstruction bill will be £80m.
Several British Overseas Territories have been badly affected, including Anguilla, the British Virgin Islands and the Turks and Caicos Islands. The UK Government has pledged aid, quite rightly, although it seems probable that the figure of £32m is optimistically low. British troops will travel to the region as a matter of urgency to assist the relief operation.
Naturally the immediate focus of attention must be on rebuilding ruined communities, accounting for the missing and preventing looters from bringing additional distress by pilfering from shops and private residences. With more hurricanes loitering further out in the Atlantic, reconstructive work must begin swiftly.
However, it is not inappropriate in the face of this destruction to discuss the issue which Alan Duncan, the Foreign Office minister, seemed so outraged to be confronted with in the House of Commons on Thursday: climate change. When Green Party MP Caroline Lucas suggested that the Government was failing to show leadership on the subject, she was told imperiously by Mr Duncan that she had "misjudged the tone of the House". What utter, arrogant nonsense.
Hurricane Irma – devastation caused in pictures

Show all 45
As Ms Lucas noted, while the Government was warning against a debate on "the broader issues", Mr Browne had been telling reporters that he and his people in Barbuda "are living with the consequences of climate change". As he put it: "The science is clear ... It is unfortunate that there are some who see it differently."
Certainly the broad consensus among scientists is that, while hurricanes are not caused by climate change, we will see those with the intensity of Irma more frequently as a consequence of global warming – essentially because higher sea-surface temperatures enable storms to pick up more water and more power. It is far better to consider this in the full face of the reality wrought in the Caribbean in recent days than to do so when the world is no longer interested, and the issues appear, however temporarily, less urgent.
Not so long ago, the UK was at the forefront of international efforts to combat climate change, promoting the use of green energy and encouraging other nations to help reduce global carbon emissions. David Cameron promised the "greenest government ever" when he came to office in 2010 and the coalition made a bright start.
Yet for the past five years, matters have regressed. Support for solar energy has been cut and the development of new onshore wind farms has been made more or less impossible. The requirement for new homes to be carbon neutral was ditched. There is little obvious sign that Theresa May intends to place greater emphasis on green issues – which seems particularly short-sighted in the context of Britain's withdrawal from the EU. There is surely no better time for the UK to make itself a world leader in the development and deployment of green technology.
On the other side of the swirling, heaving Atlantic, America finds itself with a President who has repeatedly dismissed the full reality of climate change. He has made much of his desire to re-energise the United States' coal-mining industry; he has rescinded numerous of his predecessor's climate-related executive orders; and of course he has withdrawn America from the Paris Agreement on climate change. He may still believe that the very notion of global warming is a Chinese invention designed to "make US manufacturing uncompetitive".
Whether recent extreme weather events will make President Trump think again remains to be seen. But intense hurricanes such as Harvey and Irma, not to mention Friday's earthquake in Mexico, must be considered within the wider context of our changing climate. To do that is not to underplay the immediate needs of people affected by such natural phenomena; rather it is to accept that if we are to reduce the number and suffering of future victims, we must recognise the signs of global warming for what they really are in the here and now.
Join our new commenting forum
Join thought-provoking conversations, follow other Independent readers and see their replies