Theresa May's loss of authority is so great it will be hard for her to do her job
The Prime Minister is not expected to weep for the cameras, but she does have to speak for a country in mourning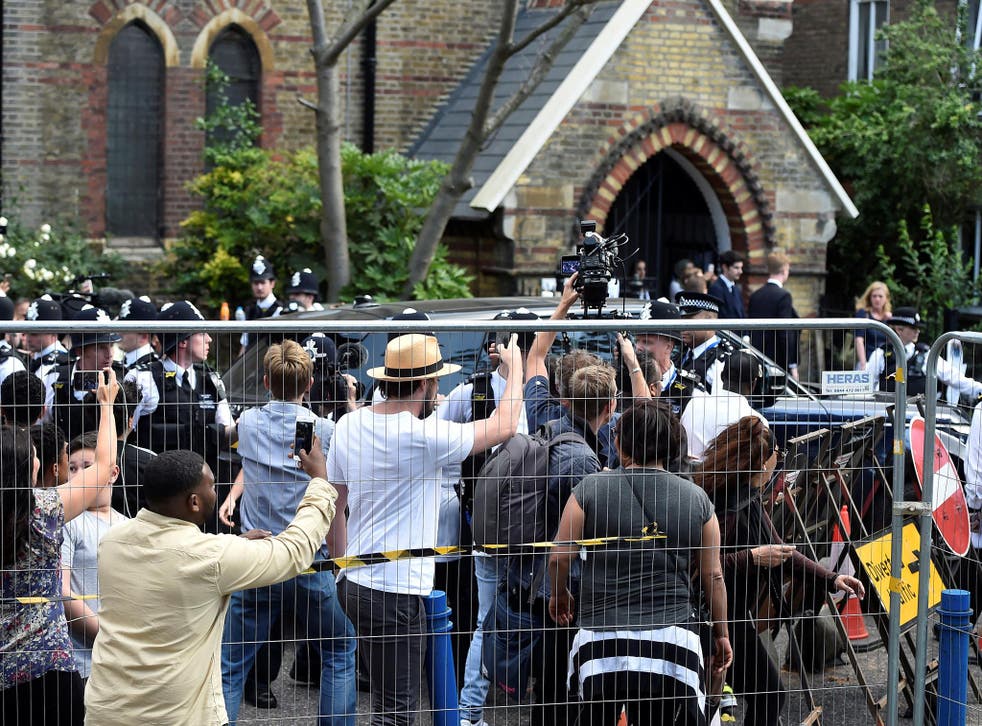 The destruction of Theresa May's reputation has been so rapid and so complete that it is hard to imagine that she could ever recover the minimum respect required to do her job.
After an election in which she was humiliated, punished for failing to engage with the voters, she faced the disaster of the fire in a west London tower block that killed more than 30 people, mostly poor social tenants. This was a chance to show that the caricature of her as an unfeeling robot was unfair, but instead she made it worse by avoiding contact with residents when she visited the site on Thursday and by a stilted interview on Newsnight last night.
Two months ago, when she called the election, the Prime Minister seemed respected and secure, preparing the ground for testing Brexit negotiations with some care and skill. Now she has moved beyond weakness and ridicule to face a mood of public anger, and she seems hopelessly ill-equipped to deal with it.
This is not a matter of asking our politicians to emote for the TV cameras, although some acting skills are needed in any leadership position. It is about recognising that one of the tasks of a national leader is to speak for the country and, at times, to feel and to express its pain. Ms May's inability to do so is not some trivial failing of public relations or media management, but something close to a disqualification for the highest office.
Grenfell Tower Fire: Theresa May leaves church to chants of 'coward'
Nor is empathy, the buzzword of the moment, a matter of mere lip service. The story of Grenfell Tower is simple and damning enough to require a show of contrition from those in authority. She needs to apologise to the families of the victims on behalf of a state that has, locally and nationally, let them down, but she cannot do it, presumably because she is worried about admitting liability or showing weakness.
Of course, it is unlikely that any decision she has taken as Prime Minister could be held responsible for the conflagration, but she has to take responsibility for the Government as a whole. It does not help that she hired Gavin Barwell, the housing minister who lost his seat at the election, as her Chief of Staff just a week ago.
Ms May finds herself, therefore, in a more difficult position than Gordon Brown after he failed to call an election 10 years ago. Her party is still too stunned by the unexpected loss of its parliamentary majority to move against her, and in any case it is not clear how much of an improvement Boris Johnson, David Davis, Amber Rudd or Philip Hammond would be. Meanwhile, she has not yet completed the negotiations with the Democratic Unionist Party that would allow her to govern at all.
Yet the Brexit talks are due to open in Brussels at 11am on Monday. Mr Davis, the Brexit Secretary, and Michel Barnier, the EU's chief negotiator, have a lot of preliminaries to get through, but within weeks they will start to hit difficult questions that are going to require decisions to be made.
We are approaching the point at which Ms May will simply lack the authority to make them.
Register for free to continue reading
Registration is a free and easy way to support our truly independent journalism
By registering, you will also enjoy limited access to Premium articles, exclusive newsletters, commenting, and virtual events with our leading journalists
Already have an account? sign in
Register for free to continue reading
Registration is a free and easy way to support our truly independent journalism
By registering, you will also enjoy limited access to Premium articles, exclusive newsletters, commenting, and virtual events with our leading journalists
Already have an account? sign in
Join our new commenting forum
Join thought-provoking conversations, follow other Independent readers and see their replies