Tony Blair knows his party and country are in crisis – he still has something to offer them both
As the leader of a cross-party European movement, the former Prime Minister could place himself at the centre of debate once again – at least on the European question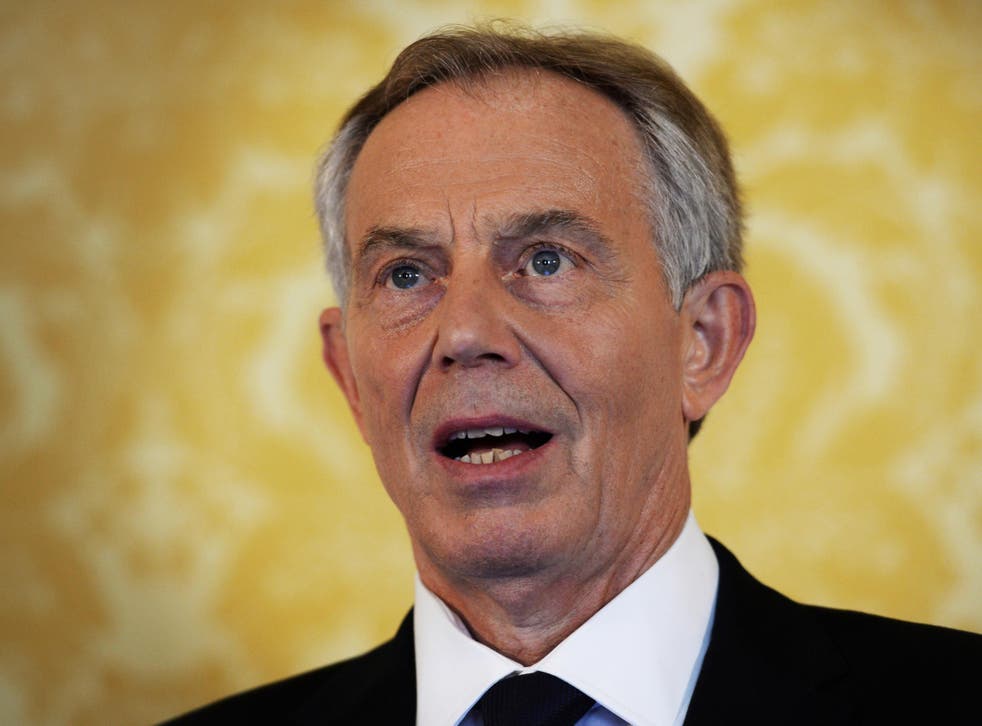 The return of The Master? Less science fiction than it sounds, Tony Blair's recent interventions suggest he is not content to sit back and allow everything he built to be dismantled by people who he harbours a bottomless contempt for.
He has spoken about a "role" for himself in British politics, and has called for the nation to "keep its options open" on Brexit. Pointedly, he has never ruled out a return to his old career, nor taken a peerage. Having been pushed out of the premiership rather earlier than he would have wished in 2007, he seems to have itchy fingers.
Almost a decade on, with his reputation trashed by the controversy over Iraq, he must wonder what has become of his "legacy" – something we were told he fretted a good deal about before his resignation. Plainly it is not in good shape.
In the Labour Party, which he delivered back into power after 18 years of opposition with a hat trick of general election triumphs, and on the great issue of our membership of the European Union, Mr Blair must have watched events in recent months with some despair. He finds it difficult, understandably, to be a spectator in these momentous times. Never unsure about his sense of destiny, Mr Blair is straining to get back on the pitch.
Tony Blair says there must be a second vote on UK's membership of EU
That is easier said than done. He is committed to the Labour Party, and has said so repeatedly. They, however, are not so committed to him.
As he used to tell his own supporters, Mr Blair was not born into the Labour movement and came to it as no committed socialist. If there were a better vehicle for Mr Blair's brand of vaguely progressive politics he would surely take it, but as he well knows that alternative does not exist and is unlikely to do so for as long as the British electoral system is there to crush smaller parties. So Labour it is – even if led by Jeremy Corbyn and dominated by Blair-hating members of Momentum.
Even so, somewhere in the land there must be a constituency Labour Party in a safe seat that would be prepared to adopt him as a candidate. That, at least, would offer him some base in the party and the Commons (though a figure of Mr Blair's stature hardly needs it). One way or another, perhaps as the leader of some cross-party European movement, Mr Blair could place himself at the centre of debate once again, at least on the European question.
Europe is certainly a project that is worthy of Mr Blair's talents and would benefit from his contribution. Once upon a time he was touted as a possible "President of Europe". Although he played a modest role in the EU referendum campaign, the Remain group lacked charismatic figures to carry the message as forcefully as Boris Johnson and Nigel Farage did for the Leave side. Mr Corbyn claims to have worked very hard on the campaign, but if so he did not exactly break through to the floating voters.
Now there is the slim chance that Mr Blair's views on a second referendum could gather support. There is a parliamentary majority for that, in all likelihood (though once again Labour is equivocal), and as Mr Blair points out, almost half of the country who voted did opt to Remain in the EU.
As the evidence grows about the risks and the damage that a hard Brexit could entail, more minds may also be changed about the options. The tide of opinion could run Mr Blair's way and his undoubted skills in presentation and debate would help to push it along. As his political opponents have found frequently to their cost, he is not a man to be underestimated: David Cameron, Michael Gove and George Osborne revered him, with good reason, as "The Master".
But a return to party politics? That is much more far-fetched. For good reasons and bad, there are too many members of the Labour Party who scorn him for Mr Blair to be capable of making any kind of comeback.
EU referendum - in pictures

Show all 18
There is a school of thought on the social democratic wing of his party that argues that the best thing now would be for the left to go ahead and lose the next general election decisively. Mr Blair, one suspects, does not accept the logic of that; he is too much of a man of power, and too impatient of such complacency to make that something he could accept with equanimity. He cares too much about the people Labour is supposed to help to leave them under a Conservative one-party state for a decade or more.
Mr Blair is often regarded as being an extraordinarily unprincipled politician. Yet, at these times of near existential crisis for his party and country, he evidently cares about both of them sufficiently to speak out and offer his services – even for those who cannot forgive his conduct in the war in Iraq and its aftermath, and dislike the way he has made his fortune since leaving No10, he deserves to be listened to.
A still sprightly 63-year-old with undimmed enthusiasm and ambition, we have not heard the last of Anthony Charles Lynton Blair.
Join our new commenting forum
Join thought-provoking conversations, follow other Independent readers and see their replies