Zimbabwe is delicately poised between violent anarchy and the hope of national recovery
Although Robert Mugabe was a dictator, he is still widely regarded by many of his people as a hero of Africa's struggle against colonialism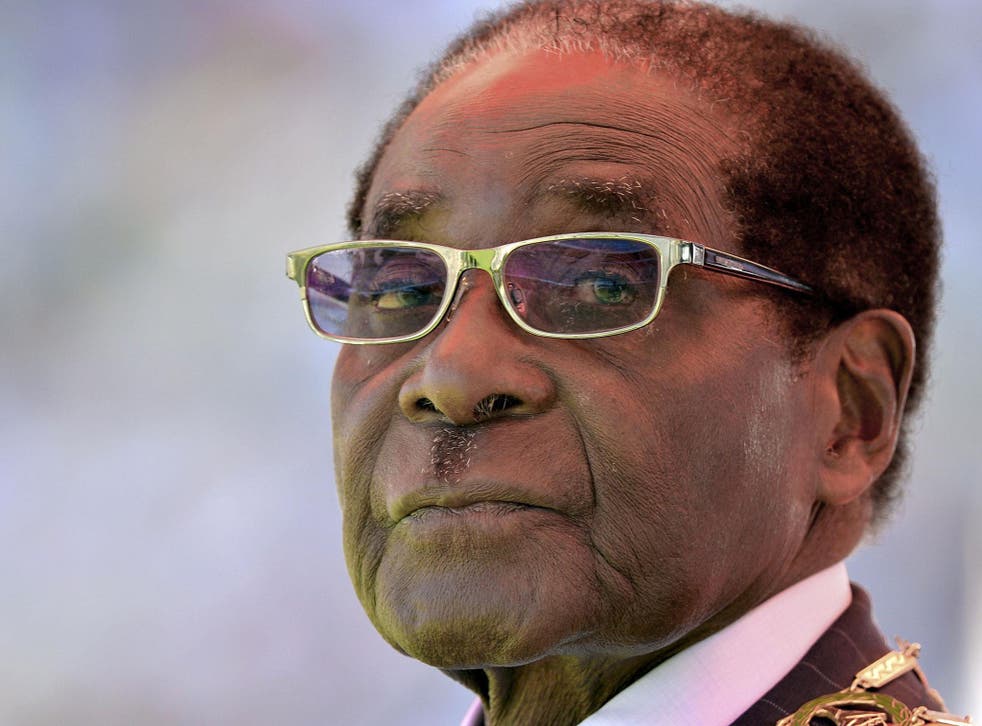 For so long it has seemed as if Robert Mugabe could not last as the leader of Zimbabwe. Now, finally, the 93-year-old despot has succumbed – and not, in the end, to old age, but to the more usual miscalculations of factional rivalry.
It seems that what tipped the balance was the undeclared war of succession between Mr Mugabe's wife, Grace, and his recent Vice President Emmerson Mnangagwa. Mr Mugabe sacked Mr Mnangagwa last week, which seems to have prompted what Chris Mutsvangwa, leader of the War Veterans Association and Mr Mnangagwa's unofficial spokesman, called Tuesday's "correction".
Jacob Zuma, President of South Africa, the regional power, has confirmed that Mr Mugabe is under house arrest. Sibusiso Moyo, the spokesperson for the Zimbabwean army, insists: "We are only targeting criminals around him who are committing crimes that are causing social and economic suffering in the country."
So far, this has the potential to be a soft coup that could put Zimbabwe on a better path towards national recovery, and possibly even towards democracy and respect for human rights. It may be that 75-year-old Mr Mnangagwa seems a better bet to the young cardinals of Zanu-PF and the army than Ms Mugabe, 52, and her supporters in the ruling party's youth wing. Unfortunately, Zimbabwe could still go in the wrong direction, and descend into further conflict and instability.
For that reason, we should cautiously welcome the coup leaders' respectful treatment of "His Excellency" Mr Mugabe. Although he is widely, and rightly, regarded outside Zimbabwe as a dictator who has in the past crushed his opponents with violence – indeed, he and his wife are under United Nations sanctions – he remains a hero to many in his own country and in Africa generally.
It was significant, however, that Mr Mugabe's appointment as a "goodwill ambassador" for the UN's World Health Organisation was so swiftly revoked last month. Tedros Adhanom, the Ethiopian leader and director-general of WHO, obviously felt that Mr Mugabe's reputation in Africa as the last of the anti-colonial freedom fighters counted for less than the abuses of human rights for which he has been responsible.
Equally, the African Union might be a ramshackle organisation, and indeed Mr Mugabe held its rotating chair just two years ago, but it has recently become less tolerant of dictators, and its involvement in Zimbabwe now is more likely to do good than harm. The AU, like South Africa and China (Zimbabwe's main trading partner), has an interest in stability and recovery.
Against this background, it makes sense for Zimbabwe to make the transition away from Mugabeism gradually. Indeed, the country might have already begun to do so. Mr Mugabe turned the country from one of the richer countries in Africa into one of the poorest, blighted with hyperinflation, high unemployment and political suppression. But in the past few years, as Mr Mugabe has weakened, things have stopped getting worse, and there have even been some signs that they could get better.
But the country is now poised in a delicate balance, and the priority must be to prevent the escalation of tensions between the Zanu-PF factions into violence. Thus it makes sense to avoid talk of a show trial. Mr Mugabe might be allowed to go into exile in South Africa or Singapore, where he has recently received expensive medical treatment of the kind not available to most of his fellow citizens. Or he could even be allowed to attend the Zanu-PF congress next month, where he could anoint Mr Mnangagwa as his successor, in return for honorary status as the founder of post-colonial nation.
The best chance of forestalling serious violence must be that Zimbabweans, supported by their neighbours and partners, avoid recriminations for Mr Mugabe's many crimes. Those can be addressed another day.
Join our new commenting forum
Join thought-provoking conversations, follow other Independent readers and see their replies