'SuperMac's' impressive victory will be met by challengers at every turn
Le Pen has done what Le Pens always do: pretend that overwhelming defeat is a victory, and pledge to come back nastier and more vengeful in five years' time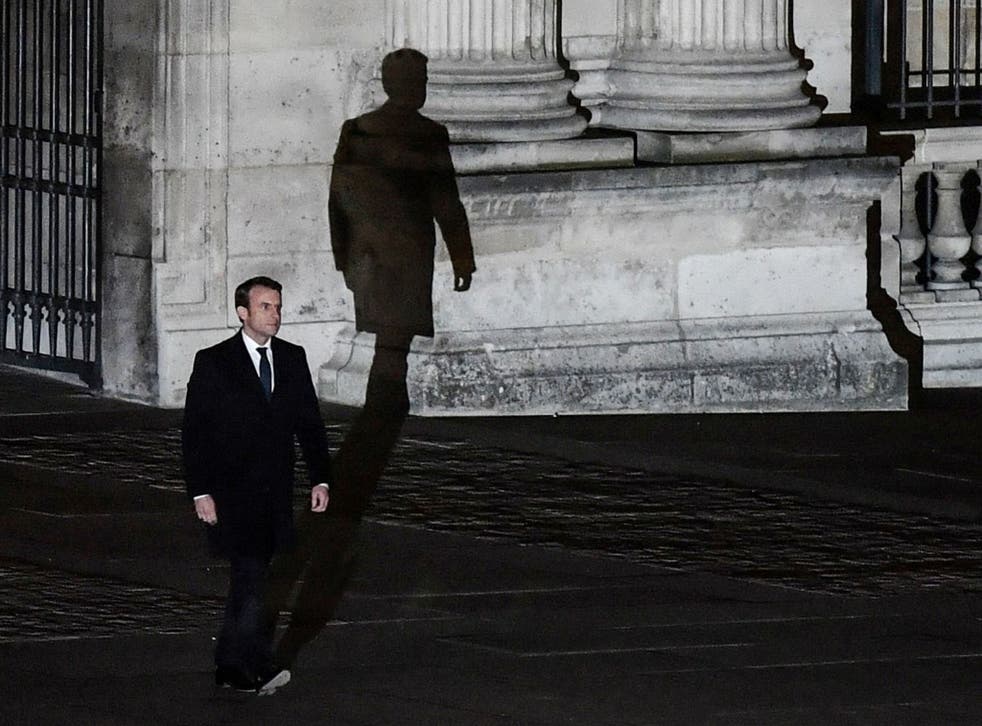 SuperMac was an ironic nickname given to Prime Minister Harold Macmillan by the cartoonist "Vicky". He mocked the Tory grandee by portraying him as an unlikely cosmic hero who needed supernatural powers to run post-war Britain. This was in 1958 – the year France's current Fifth Republic was created – and today it is the French who have a far more credible SuperMac at their head. Emmanuel Macron, still just 39, has performed a near miracle in coming from absolute obscurity to winning one of the most powerful executive positions on earth.
Anyone who witnessed his magisterial victory rally at the Louvre in Paris on Sunday night could see how serious his ambitions were as he promised to devote all his "strength and energy" to upholding the legendary Republican values of "liberty, equality and fraternity".
This point in Macron's career was reached without a conventional political party behind him, and in spite of concerted cyber-attacks by suspected "alt-right" enemies abroad who want to discredit him.
SuperMac works just as well in the French language as it does in English, but when I spoke to the young pretender to the moniker towards the official end of his electioneering, he was supremely modest. Macron even denied that his En Marche! movement was created around his EM initials, as most of us had assumed, claiming that was "just a coincidence".
French crowd goes wild as Macron is announced election winner
Macron was also very aware of what pitiful opposition he had been up against to become France's youngest ever president. His main conservative rival, François Fillon of the Républicains, is an indicted criminal suspect who is facing trial and prison alongside his British-born wife, Penelope Fillon, over a fake jobs scandal. The Socialist candidate, Benoît Hamon, was blighted by five years of ineffectual rule by his crumbling party.
Worst of all was Marine Le Pen – an entitled multi-millionaire heiress also engulfed in corruption allegations, who grinned and sneered her way through a campaign of dishonesty and hatred. The core vote of Le Pen's Front National (FN) – a party built on the most primitive types of racism​ and xenophobia – held up as it usually does, but with a 34 per cent of the vote, got nowhere near challenging Macron, who ended up on 66 per cent.
Now Le Pen has done what Le Pens always do: pretend that overwhelming defeat is a victory, and pledge to come back nastier and more vengeful in five years' time. Such a strategy has defined a long list of FN failures since the party's foundation in 1972.
Marine Le Pen has never even been able to win a seat in the Paris parliament, despite trying since 1993. Instead she has earned a place in the European Parliament (an institution she detests) and a string of regional posts. Yet she will still fantasise about becoming France's head of state. Her father, Jean-Marie Le Pen, is 88 and still active politically, so why not her?
The FN despises Macron. Le Pen tried to portray him as an establishment stooge with a hidden offshore bank account, and an equally secret desire to promote everything that the FN demonises, from global capitalists to Islam and all its followers.
French Presidential election night: Round-up
As Macron prepares to be inaugurated, he knows more than anyone else that such venom will now be multiplied. Incumbent presidents are seldom popular at home, and he will find few friends overseas either.
He clearly blames Russian president Vladimir Putin for the massive hack that saw previously confidential En Marche! data appearing online. Other efforts to scupper Macron's election included the spreading of fake news.
Both Putin and US President Donald Trump's agendas are far closer to Le Pen's than Macron's, and there will also be many in Britain concerned by the maverick Frenchman's passion for the EU project, and especially his view that Brexit was a "crime".
His decision to march on to the Louvre stage to Beethoven's Ode to Joy – the EU anthem – was hugely significant. He was famously flanked by both the French and EU flags during his first round victory speech too.
Despite British fears, Macron's wife, Brigitte, told me last Friday that the couple were confirmed Anglophiles, who holiday in the UK ever year. Macron is determined to try to forge good relations with all countries, and to deal with problems in a pragmatic, non-ideological fashion. He is first and foremost a technocrat, and wants his administration to be defined by solving pressing issues, from mass unemployment to global terrorism.
It is a daunting prospect, and one that will first of all involve Macron attempting to build a working majority in the National Assembly during key parliamentary elections in June. There is no doubt that he seeks to unite the country, but there are plenty of contradictions in his programme. He favours liberalising employment laws so as to encourage entrepreneurs, for example, while also hanging on to sacred cows of state socialism, such as the 35-hour-working week.
Emmanuel Macron says he will defend France and its vital interests
Above all, however, Macron is not interested in the tired adversarial left-right party system which has been failing France for so long, and instead is keen to get things done.
The former Rothschild banker is a strange mix of thrusting, can-do professional and relaxed Frenchman. He is never happier taking time off with family and friends – and his dog Figaro – at the holiday home in the northern beach resort of Le Touquet. He enjoys tennis, playing the piano, and watching his football team, l'Olympique de Marseille.
Macron's plans to change France will now be challenged at every opportunity, by everybody from his political opponents to well-organised trade unions. Yes, Macron's incredible election win has already proved his courage and determination, but living up to the nickname SuperMac will take considerably longer.
Join our new commenting forum
Join thought-provoking conversations, follow other Independent readers and see their replies