Win or lose, this is what will happen to the Tory party after the EU referendum
David Cameron's referendum was supposed to settle the EU issue for a generation. It would be ironic if it recreated the mayhem of the Major years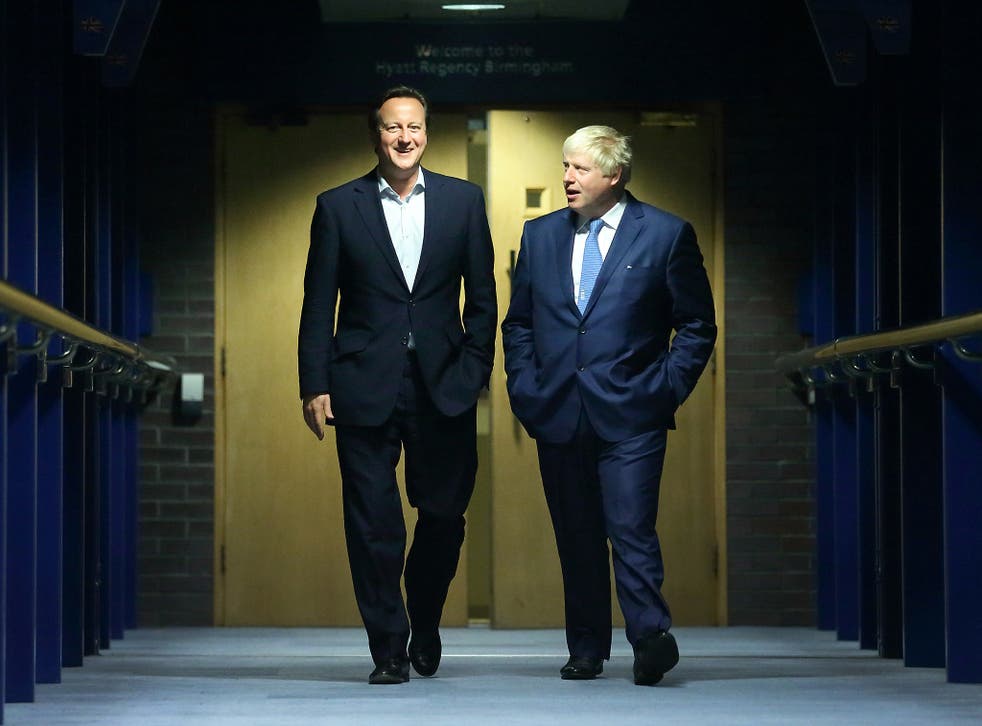 When Boris Johnson dined recently with Paul Dacre, editor of the Daily Mail, at the exclusive Mark's Club in a Mayfair town house, they made a rather ham-fisted attempt to keep the meeting secret. A curtain was drawn across the entrance to the private Garden Room, bolstered by a step ladder.
But other guests spotted the encounter. While the onlookers did not know what the Leave campaign's frontman and Eurosceptic editor were discussing, they could not help thinking that the issues to be decided in Thursday's referendum go well beyond Britain's place in the EU. The leadership and future direction of the Conservative Party and the Government are also at stake.
If the country votes for Brexit, Johnson could be prime minister in a few months. David Cameron's career would have been terminated – only 13 months after he secured his party's first overall majority for 23 years.
Remarkably, it would have been ended by two of the small band of brothers who backed him for the Tory leadership in 2005: Boris and Michael Gove. They would have been there at the end as at the beginning; friends turned enemies.
How long would Cameron last if we vote for Brexit? Officially, Leavers like Boris and Gove want him to carry on. They are among 70 Tory MPs to sign a round-robin letter saying so, a project dubbed "Save Dave." Privately, senior Tories say his position would be untenable; his MPs would not trust him to oversee the negotiations on Britain's EU exit.
They might give him a short breathing space to steady the financial markets, but would press him to announce his departure date – and threaten a leadership challenge if he refused.
The most likely option would be for Cameron to announce that his successor as Tory leader would be announced at the party's annual conference in October. A victorious Boris would start the clear favourite.
But the electoral system could complicate matters. Tory MPs, who are split down the middle on EU membership, choose a shortlist of two names, which then goes to party members. So only about 125,000 people would choose our next prime minister.
Theresa May, the Home Secretary, has backed Remain but made clear it was a balanced judgement and has not campaigned vigorously. She could still be a serious contender for leadership, and is being talked up as interim "stop Boris" candidate. A dark horse could be Stephen Crabb, the Work and Pensions Secretary. Outsiders often win the Tory race – Margaret Thatcher, John Major, William Hague, Iain Duncan Smith and, of course, Cameron himself.
After a Brexit vote, George Osborne would surely not run, his reputation tarnished by defeat.
The most scaremongering arguments for Brexit

Show all 7
Gove is sincere when he says he does not covet the leadership but, as the brains behind a winning Leave campaign, might come under pressure to stand. Gove seems to have bonded with Boris during the referendum and might be happy to be his chancellor. And yet his long-time relationship with Cameron and Osborne, ruptured by the referendum, might be repaired. Gove is the man to watch if we vote to leave.
There is an alternative government-in-waiting inside Vote Leave. Prominent figures such as Priti Patel, the Employment Minister, could expect promotion. A Leavers' government would do things differently. It would move to prevent the people's decision being diluted by the civil service or the Commons, where fewer than 200 of the 650 MPs back Leave.
Could the Conservatives come back together after Brexit? Remainers would be bitter about a negative, immigration-based Leave campaign. Some would seize on any economic turmoil as evidence that the country was already paying the price. There could be attempts by pro-EU MPs to ensure that Britain remains in the single market, which is not Vote Leave's policy because the EU would demand keeping free movement in return.
And Remainers could propose a second referendum on the precise exit terms negotiated with the EU, a move that might just prise concessions out of other EU leaders fearful that their project could collapse if Britain left.
If we Remain, Cameron's job is even tougher
If we vote for Remain on Thursday, Cameron would be safe – for a while, at least. But he would have a huge job on his hands; healing Tory wounds would be harder than after a Brexit vote.
Tory Outers are incensed that Cameron has used the government machine to churn out pro-Remain propaganda. Many would not forgive him, and would demand that Osborne be moved from the Treasury as the price of any peace deal. They might try to force a vote of confidence in Cameron, which would require 50 MPs (15 per cent of the total).
There is a hard core of about 25 anti-Cameron Tory MPs, so it is not certain they would clear the hurdle. There would be pressure from Tory grandees and backbench leaders to accept the result and unite.
UKIP's Farage Places £1,000 Bet on Brexit
If there is a confidence vote after a decision to Remain, Cameron would almost certainly win it. But his troubles would not necessarily be over. His announcement that he will not lead the Tories into the 2020 general election would allow mutinous Tory MPs to press him to spell out his departure plans. Although he would try to resist, the pressure could grow. If he named his exit date, Cameron's authority would drain – as Tony Blair's did after Gordon Brown's supporters forced him to set a leaving date after the 2005 election.
A beauty contest ahead of the Tory succession would be underway. Cameron might find it hard to hang on to 2019, his preferred departure time.
Given the Government's tiny majority of 12, pro-Brexit Tories could easily wage guerrilla war, voting down legislation and scuppering Cameron's attempt to secure his legacy with One Nation reforms. It might be seen as a return to the chaos after John Major signed the Maastricht Treaty. Cameron, a twenty-something special adviser at the time, is still haunted by the experience. His referendum was supposed to avoid a re-run by settling the EU issue for a generation. It would be ironic if it recreated the mayhem of the Major years.
A lot would depend on the scale of a Remain victory. A close vote would encourage Brexiters to campaign for a second ballot. Some might argue that their momentum was derailed by the pause after the killing of Jo Cox. They would take heart from the growing support for independence after the SNP-led Yes campaign lost the 2014 referendum.
After a victory on Thursday, Cameron would have one weapon in his locker: a Cabinet reshuffle. He could carry it out swiftly, but the latest signals suggest a delay until the autumn.
Whips are quietly consulting Tory backbenchers. Some urge a "revenge reshuffle" to punish outspoken Outers such as Patel and Penny Mordaunt, and offering a low-grade or even no job to Boris. Other Tories press for a "reconciliation reshuffle" with a proper job for Boris, such as Health or Education, and the retention of other ministers who backed Leave. It would be a difficult balancing act.
In the meantime, Cameron would try to reunite his fractious party and hope that Labour divisions take centre stage – over next month's Chilcot inquiry into the Iraq War and a Commons vote on renewing the Trident nuclear weapons system.
The referendum winners should take the spoils. But some ministers backing Remain fear a messy outcome: a narrow victory for staying in, followed by constant demands by the Leavers for another referendum.
Despite all the sound and fury, claim and counter-claim, fear and loathing, this referendum might still not settle Britain's future in Europe, or the power struggle inside a Conservative Party still riven by the issue.
Join our new commenting forum
Join thought-provoking conversations, follow other Independent readers and see their replies