EU referendum: David Cameron challenged over 'hypocrisy and scare-mongering' in Sky News special
The Prime Minister faced an interrogation by Faisal Islam, political editor of Sky News, and a studio audience tonight: how did he fare?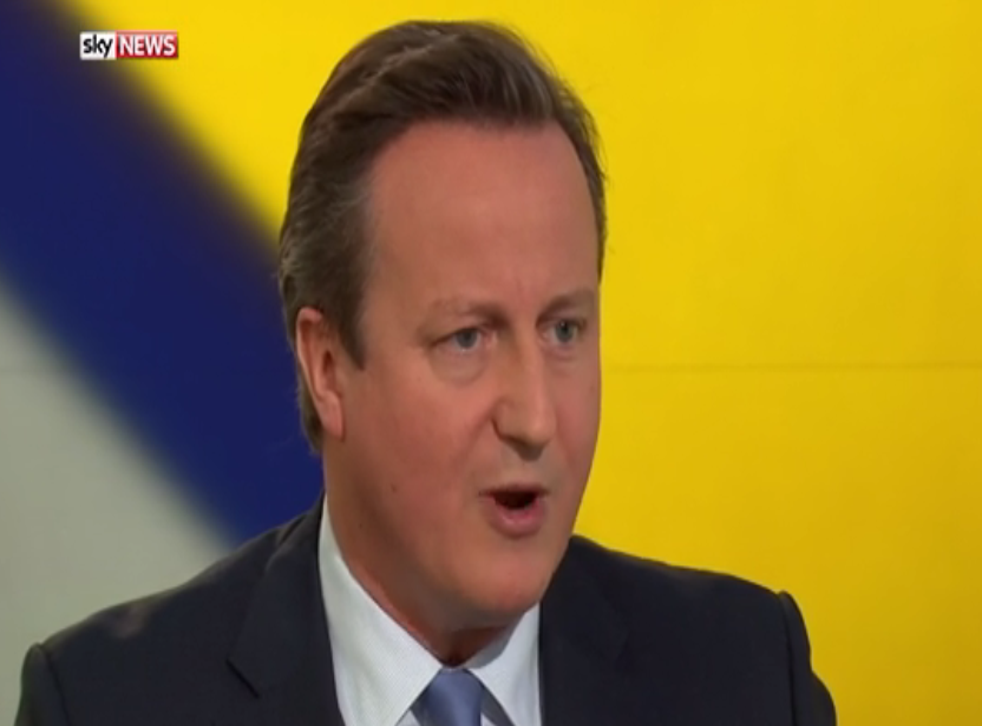 David Cameron was so well prepared for Faisal Islam's first question that it looked like a stitch-up. What has net immigration into Britain from the rest of the EU been since you have been Prime Minister? Six hundred thousand have gone from Britain to the rest of the EU, said Cameron, and 1.2m have gone the other way, so let's call it quits.
It was too smooth: not only did he have all the numbers in his head, but he started by answering the opposite question. Yet his very precision and clarity meant that everyone could work out (a) that he had avoided the question, and that (b) the answer was 600,000.
Nobody does his homework like Cameron, the essay-crisis Prime Minister. He was ferociously on top of his brief and his team had worked out that the immigration question was likely to be the Sky political editor's first.
So, yes, he was too slick out of the blocks. If he had been a sprinter he would have been dope-tested. But they wouldn't have found anything. At the start it looked inauthentic but only because Cameron is so good at the technique of politics.
For the rest of the interview, Cameron's technical excellence stood him in good stead. Islam was a tough interviewer, pressing him, slightly mockingly, on his arguments' weak points. It was a top-of-the-range contest.
Islam said that the target of net immigration in the tens of thousands is "a promise that cannot be fulfilled" while Britain is in the EU. Cameron said, "I don't accept that", but his last line of defence was: "There have been years when it has been lower and there will be again."
And Islam had a great line, asking: "Which comes first: World War Three or the global Brexit recession?"
Once past the opening bumps, though, Cameron started to make an impressive case that Britain would lose out by leaving the single market. It would take years – "a decade of uncertainty" – to negotiate new trade rules, and in the meantime World Trade Organisation rules would mean we would face 10 per cent tariffs on our cars being sold into the EU.
It was theme he came back to even more powerfully when he was challenged by the audience. The Germans want to sell to us, interrupted one man. They wouldn't want tariffs on trade between us. Cameron pointed out that 44 per cent of our trade is with the rest of the EU, but only 8 per cent of the rest of the EU's trade is with us.
Some journalists were hoping that, having held his own against Islam, Cameron's poise might be disrupted by the more unpredictable questions from the audience. But it was not to be. Some of the questions were difficult, and several of the audience shouted out without waiting to be called by Kay Burley, but Cameron dealt calmly and politely with them all.
When he was challenged over the "hypocrisy and scare-mongering" – audience applause, naturally – of his warning against Sadiq Khan and then sharing a platform with him, he played one of the strongest acts in British politics, that of Bipartisan Reasonableness, to perfection.
It was a surprisingly watchable hour of television. The Prime Minister was still weak on his weak points, but he had fortified his defences as much as he could, and he was stronger than ever on his strong points.
It won't have changed many minds, not least because I don't think many people would have been watching – there may have been some association football on another channel. But all those complaining about the quality of the referendum debate should watch it back.
Tomorrow night Michael Gove faces one of the stiffer tests of his career when he takes on the same format for the Leave cause. He will not be as well prepared as Cameron was, but then he will have it easier because he doesn't have to defend the status quo.
Join our new commenting forum
Join thought-provoking conversations, follow other Independent readers and see their replies