EU referendum: David Cameron's strategy to keep UK in Europe is to present himself as 'the man in the middle'
Mr Cameron leaves open the prospect of campaigning for an Out vote if his European partners refuse to back his reforms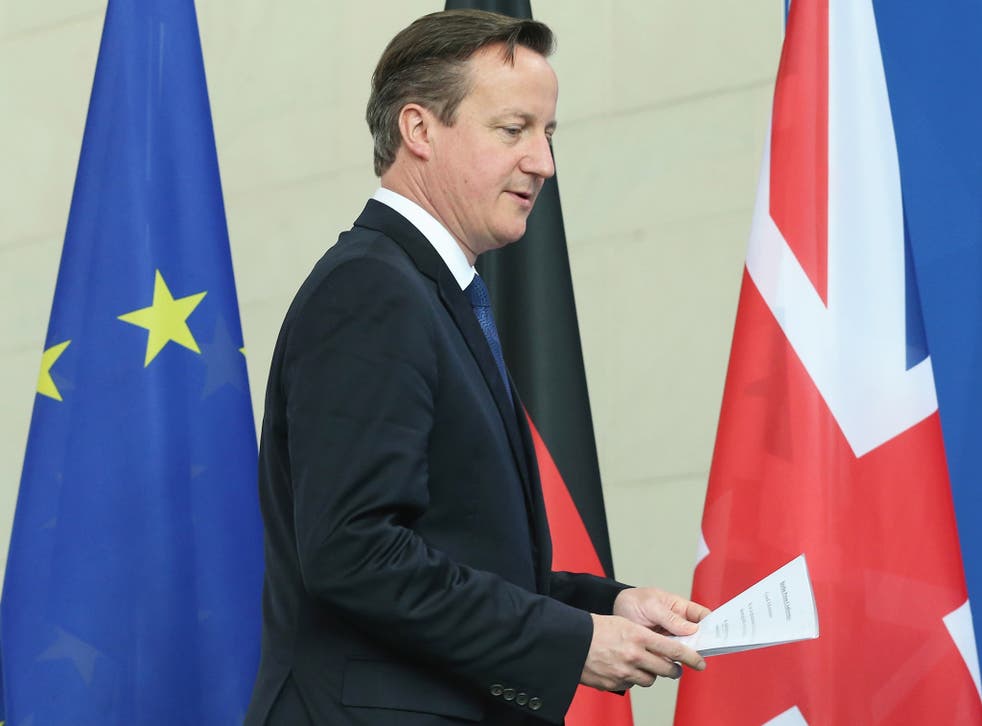 David Cameron's strategy for winning the referendum he hopes will keep Britain in the European Union is to present himself as "the man in the middle" between the fervently pro and fervently anti-EU brigades.
In an attempt to gain credibility at home and negotiating clout in the EU, he leaves open the prospect of campaigning for an Out vote if his European partners refuse to back his reforms.
Yet few Conservative MPs can envisage him leading the Out campaign. Similarly, other EU leaders find it hard to imagine that the British public would vote to leave the 28-nation bloc. "Our biggest problem is to convince them that Brexit could happen," one UK official admitted.
UK news in pictures

Show all 50
Mr Cameron's speech was aimed more at winning support in the EU rather than appeasing Tory Eurosceptics. He knows their voracious appetite can never be satisfied and, without admitting it, has finally come off the fence.
The reaction in Brussels was more favourable than among his MPs. The European Commission said some proposals were feasible, some more difficult. A UK opt out from "ever closer union" could be opposed by Spain, Belgium and Luxembourg. Safeguards to stop the 19 eurozone countries ganging up on the nine EU nations outside will meet some resistance. Some member states are wary of special protection for the City of London. And Britain should not get carried away as it champions the euro "outs" since most of the others are committed to joining the single currency. But EU diplomats believe "ever closer union" and the euro "ins and outs" issues can be sorted.
However, the Commission saw as "highly problematic" Mr Cameron's plan to deny EU migrants in-work benefits for four years. Central and Eastern European countries, who already complain they are "second class" EU members, see this as direct discrimination and thus illegal under EU freedom of movement rules.
Yet Brussels will welcome Mr Cameron's offer to look at "different ways" to achieve this objective. That could mean everyone, including British people, waiting longer before earning such benefits. The downside is that it would be seen as another attack on the young by a government already accused of skewing state handouts towards the old.
There would be more goodwill in Europe towards Mr Cameron if he had taken a more EU-friendly stance on the Greek bailout and the refugee crisis.
But on balance most EU countries will take their lead from Germany and try to keep Britain in their club. The last thing EU leaders needs is another crisis that would play into the hands of Europhobic populists in their own countries. In the end, that may turn out to be Mr Cameron's trump card.
Join our new commenting forum
Join thought-provoking conversations, follow other Independent readers and see their replies