EU referendum: Where is Labour's clear and principled response to Boris Johnson?
Imagine how effective a Labour leader who was committed to UK membership of the EU could be in exploiting Tory divisions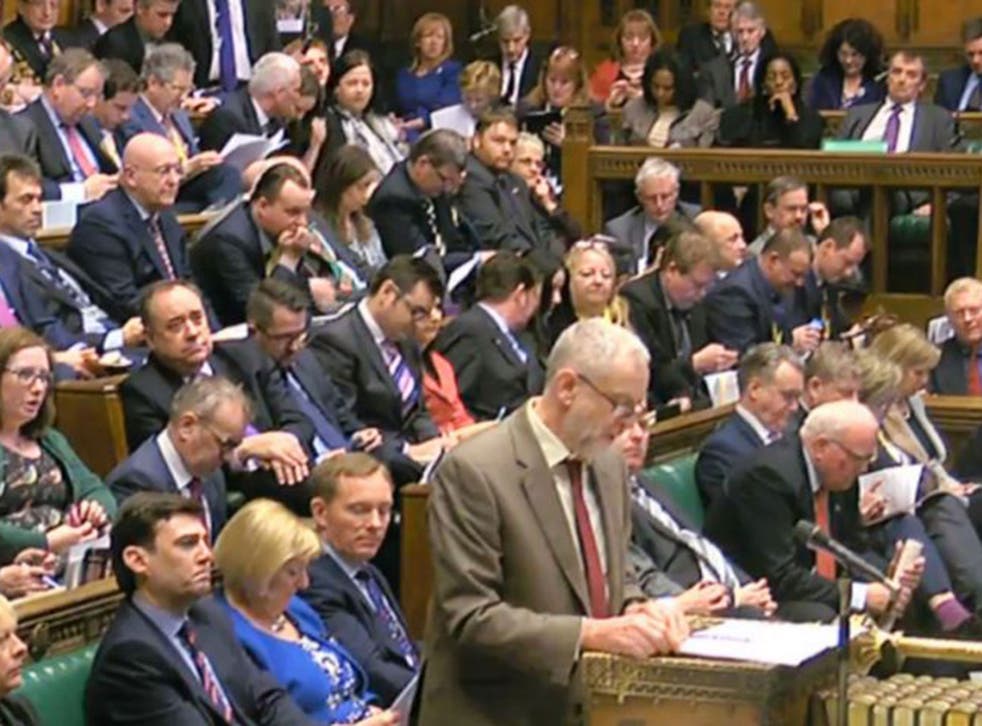 What do you mean, you hadn't noticed Labour's clear and principled response to Boris Johnson? With the Government party split down the middle on the Europe question, it has been a united Labour that has been making the most persuasive arguments for In. Hasn't it?
Only nine of Labour's 230 MPs are EU Outers, so nothing could really stop the leader of the opposition from making a clear and ringing case for Britain's European future. Could it?
Well, Alan Johnson has been very good. The veteran ex-minister and figurehead for the "Labour In" campaign has been making the plain person's practical case for not shutting Britain out of the single market. Not exactly bread and butter, but jobs and prices and expressed in the sort of language everyone can understand. Jeremy Corbyn has not been quite so effective. His response to the Prime Minister's statement consisted of reading out a speech with the intonation of someone who had no idea of the meaning of the words.
Now, there could be a sophisticated argument for Corbyn's unenthusiasm. The British people are unenthusiastic about the EU, it is said. They suspect that it is an elite project that operates against their interests. There is a streak of Corbynism that well reflects the scepticism of the British people about an EU run for big business.
If so, Corbyn has to explain how he would control such global corporations' interests, without using the words Transatlantic Trade and Investment Partnership. Then he has to show that he understands how voters feel about migration. When he criticised Cameron's deal because it was "taking away benefits from workers and children", he failed to align the Labour Party with people's scepticism.
If you want people in tune with the doubtful mood of the British people to make a persuasive case for Britain staying in the EU, look no further than William Hague, Boris Johnson's rival columnist in the Telegraph, who yesterday warned against unleashing "Europe's seething nationalisms and tensions". Leaving the EU would "undoubtedly weaken it, and the ultimate consequences of that are unknowable".
The sophisticated pro-EU thing for the Labour Party to do would be to praise Cameron to the skies. Has Corbyn learned nothing from the fall of Tony Blair? Blair was tortured and embarrassed by a younger David Cameron, who delighted in supporting the Labour Prime Minister's schools policy and urging him to go further. Labour support for its leader drained away like water in dry sand.
Imagine how effective a Labour leader who was genuinely committed to Britain's membership of the EU could be in exploiting Conservative divisions. Labour MPs glimpsed the possibilities yesterday, as they enjoyed the Prime Minister's evident discomfort with his back to the barracking from his own side. Only for Corbyn to let them down with a response that immediately united Tory MPs against him.
Alan Johnson then gave them a brief taste of how things might have been, as he quoted Iain Duncan Smith being rude about the European Arrest Warrant and invited the PM to ask the Home Secretary to brief the Work and Pensions Secretary on all the reasons the UK is more secure in the EU.
Johnson has been so good that someone on Twitter had a plan to "get Alan Johnson to campaign endlessly for the Stay side and then quietly make him Labour leader without telling him. He'll never notice".
What an excellent idea.
Join our new commenting forum
Join thought-provoking conversations, follow other Independent readers and see their replies