Even Corbyn's critics admit he has done well in the Port Talbot steel crisis
The question now is whether Labour can build on this success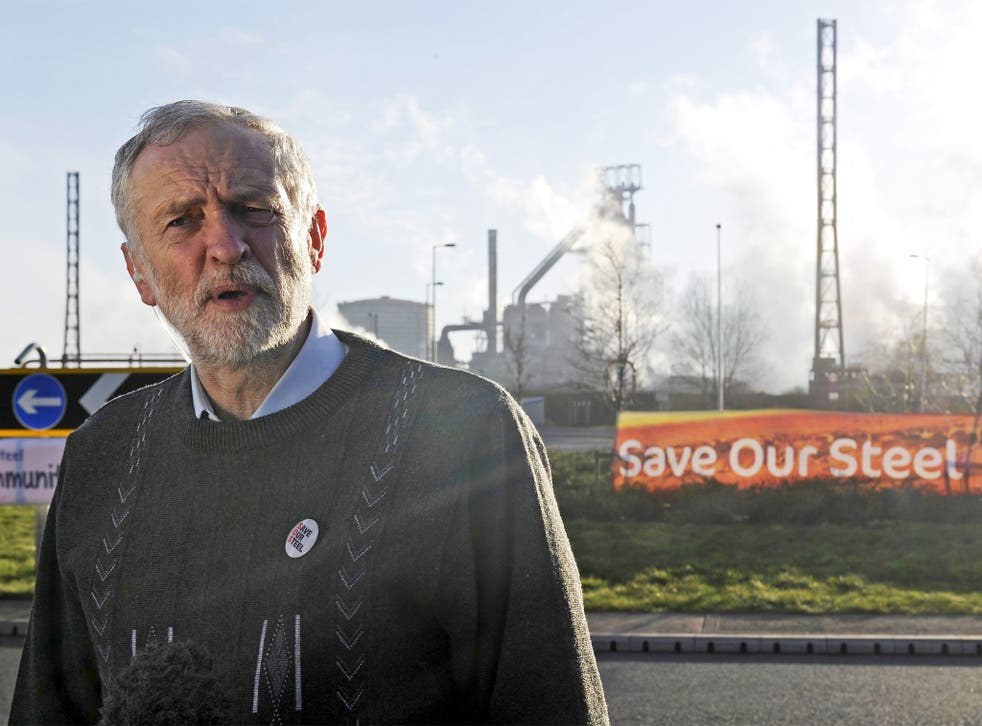 Jeremy Corbyn was staying on the south Devon coast when the news broke on Tuesday night that Tata was preparing to pull the plug on its entire British steelmaking operation. The Labour leader's Easter break with his wife, Laura, came to an abrupt end and the next day he headed to the less picturesque setting of Port Talbot to demand that the Government step in to save the steel industry.
At the same time, he launched a petition urging the early recall of Parliament. It attracted two signatures every second, smartly tapping into the rise of "clicktivism" as an instant way of rallying support for a cause. Within 24 hours, more than 100,000 people had backed his call for MPs to come back as soon as possible to discuss the fate of British steel.
His speedy and decisive reaction to the crisis was in sharp contrast both to earlier public relations disasters under his leadership and to the slow-footed response of ministers. While Corbyn was appearing on television bulletins with Port Talbot's threatened plant in the background, the Business Secretary, Sajid Javid, was giving hurried interviews in Sydney after being ordered to return home by the Prime Minister. Even then, he managed to miss the last flight to Britain, adding to the impression of disarray gripping Government.
By following his instincts, Corbyn has proved he can operate effectively within a media environment his allies believe is hostile to him. "We've made headlines where there was a vacuum within the Government," one ally said. Even one of his staunchest internal Labour critics conceded: "I wouldn't say Corbyn has been brilliant, but he has done alright. I suppose we should all be grateful for that."
The Labour leader has also made the political weather by pressing for state intervention in the steel industry, putting nationalisation on the agenda only for ministers to disagree publicly over whether this was a viable option.
UK news in pictures

Show all 50
This is tricky territory for Corbyn and his shadow Chancellor, John McDonnell, because a generation of senior Labour figures has grown up viewing nationalisation – which they refer to as the "N-word" – as a concept which has had its day. Angela Eagle, the shadow Business Secretary, was cautious at first on the subject but hardened her language to argue that steel's "strategic assets" should be "kept for the nation". Port Talbot's Labour MP Stephen Kinnock, who has won plaudits for his spirited campaign to save the town's steelworks, has called for "a set of temporary financial support interventions" until a buyer is identified for Tata.
One Blairite MP said: "Corbyn would probably nationalise the industry forever. I don't think that's right, but we should look at a way of finding bridge funding to stop it closing until a buyer is found."
However, the Labour leadership is relaxed about wading into this territory. Corbyn has not wavered in his commitment to the principle of state intervention during his 33 years in Parliament, bitterly condemning Tony Blair's move to ditch Labour's Clause 4 commitment to mass nationalisation.
His supporters argue that the voters are now behind him on the emotive issue. They suggest that Ed Miliband's manifesto promise to increase public control over the rail network was among his most popular policies and maintain that a similar stance on steel could also strike a popular chord. That view was reinforced by a Sky News survey yesterday which found 66 per cent support for nationalising the Port Talbot works.
In the world after the financial crash, increasing numbers of senior Labour figures believe there is wide resonance in the argument that a country which spent more than £100bn bailing out the banks can afford one-hundredth of that to save the steel industry. This is a great moment of opportunity for Mr Corbyn. He now faces the test of whether he squanders it against a Government which appears out of touch on the fate of steel.

Join our new commenting forum
Join thought-provoking conversations, follow other Independent readers and see their replies