The Francis Factor: Why worshippers are returning to Catholic churches
Former altar boy John Walsh explains just what it is the lapsed are returning to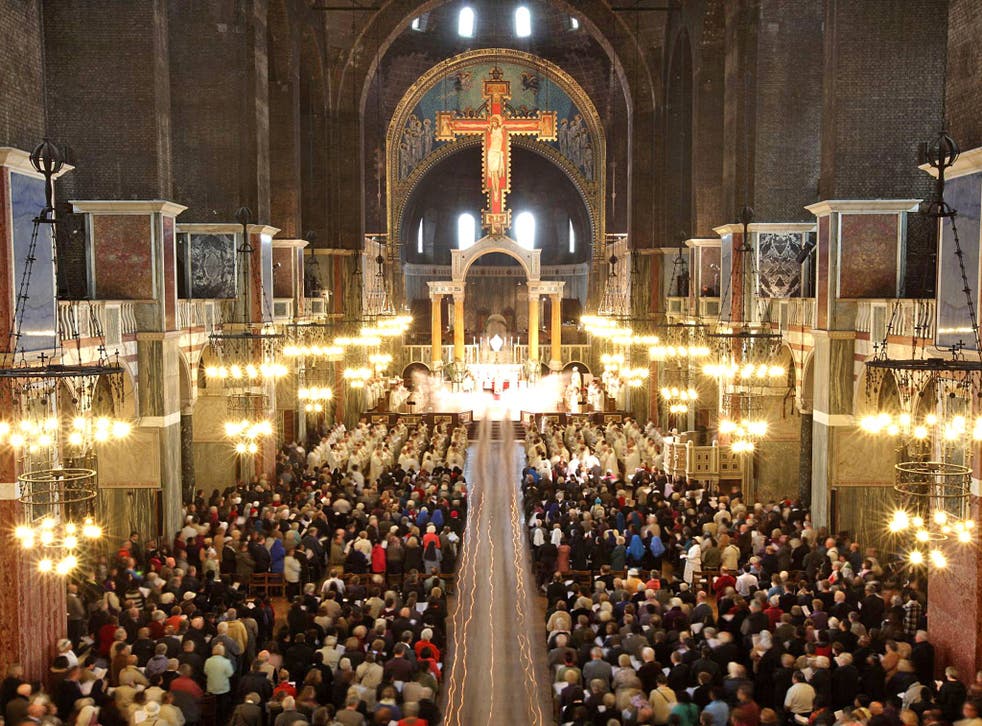 It's 11.40am on a Sunday in 1965 and, in St Vincent de Paul's Church, Battersea, just off the howling Dante-esque orbit of the South Circular Road, a ritual blessing is taking place.
A congregation of Catholics has been sitting, heads bowed, after participating in Holy Communion. Each worshipper has just had a circlet of unleavened bread placed delicately on his or her tongue by the priest. Each one, while feeling the holy wafer melt against the roof of the mouth, has been meditating on transubstantiation – the symbolic turning of the bread into the Body of Christ. Each believer should be pondering the mysterious "communion" by which an ordinary mortal comes to ingest the body of God-made-human inside himself.
Many of the congregation will not, of course, be pondering any such thing. They will be thinking about who is coming to lunch, or about the result of the Spurs-Arsenal match the night before, or the chances of seeing their beloved before the working week starts again…
But suddenly they are roused from their thoughts by an apparition on the altar. A lanky youth in a black cassock (a floor-length, multi-buttoned robe) and cotta (a rather girly white surplice with broderie-anglaise trim) stands coolly regarding them. He holds a long quartet of chains, which lead down to a thurible, or censer, a precious silver object from which incense is streaming. The youth runs his right hand down the chains and gathers up the head of the thurible. He nods curtly at the congregation. The congregation nods obediently back. The youth lifts the censer high in the air and flaps it – one, two, three times – at the people below him, in a gesture of blessing. They nod again, as though in thanks, although none asks out loud what it is that makes this spotty oik, in his black frock and lace pinny, a person important enough to bless them.
On the altar, the youth (it is, you may have guessed, your humble scribe) feels a surge of triumph. Because, to him, he is not on an altar but a stage; these people are not a congregation but an audience; this is not a thurible but a microphone stand; and I am not John, a weedy, 11-year-old schoolboy, I am Mick Jagger fronting the Rolling Stones, performing "It's All Over Now" to an ecstatic multitude.
The intellectual side of the Catholic religion – its balancing of personal conscience and doctrinal edict, its endless prosecution of sin and bestowing of redemption, its baroque eschatology – wasn't what appealed to me as a pre-pubertal kid. It was the sense of power that came off the priests, and the feeling of dominance you briefly felt you shared with them on stage. Being in the crowd – being a sinner, being described as a dumb sheep in a massive flock, the subject of endless lectures and nagging – was no fun. But being part of the show was a blast.
I signed up as an altar server at my Jesuit prep school simply because my best friend was one, but I throve on the importance it gave me: if I didn't ring the bell at the crucial moment, I felt, the Mass just couldn't continue. Later, at St Vincent's, I served Mass at weddings and funerals, graduated to Sung Mass, then High Mass, my trusty thurible spilling clouds of pleasingly Satanic smoke. I rose up the hierarchy of servers to become MC. This didn't mean I was the mascara-ed grotesque announcing the acts at the Kit-Kat Klub in Cabaret; my role was to stand beside the priest at the altar, turning the pages of the ornately illustrated Bible, and to find pots of holy ointments such as chrism, when he had to anoint someone. In my personal vaudeville show, I'd moved on from being a pop star; I was now the trusted, slightly sinister consiglieri of the Mister Big in the gold chasuble. I was the go-to guy you needed to approach, if you wanted to get the ear of the king, the dictator, the Pope.
At the level of belief, rather than performance, things didn't going so well as I hit my teenage years. It wasn't a sudden revelation about Darwin that made my faith lapse, or being ordered to refrain from having sex because it was a sin, or a rejection of my parents' unquestioning devotion to Rome. It was a gradual disinclination to be told that I was wrong all the time, when I felt I probably wasn't, and a distrust of ritual that my family had used to bolster any flagging belief in a Supreme Being in Heaven or a benevolent dictator in Rome.
But that was all long before Pope Francis I, the man on the front cover of this month's edition of Rolling Stone magazine, looking less like a rock god and more like a man of God. The man of God, in fact. Pope Francis is in his papal whites and his zucchetto, or skull cap, waving and smiling. Mick Jagger he isn't. But since he was elected last year, a large number of lapsed Catholics (and there is a large number of them – in America alone there are now 20 million) must have gazed at his honest countenance, his sparkling brown eyes and potato-y double chin, and asked, "Is this someone who could bring me back to the fold?"
A recent study, in Italy's Centre for the Study of New Religions, showed that of 250 priests interviewed, more than half reported a "significant rise" in attendance at their churches since the Pope was elected. "If we project these figures nationally," the centre's head explained, "we're talking hundreds of thousands of people who are returning to the Church." The Archbishop of Florence told the press: "So many are returning to the sacraments, in some cases after decades." And in the UK? A small-scale poll of 22 cathedrals revealed that 65 per cent of Catholic celebrants of Mass had noticed a rise in numbers. But what have they returned for? It's not a question that people ask Catholics much. Pope Francis is doing everything in his power to make the Catholic Church seem less objectionable. He has startled world opinion by not condemning homosexuality, by his readiness to investigate the famously secretive Vatican Bank, by his attacks on free-market capitalism. But what is it that draws new worshippers to the Catholic religion or calls back the lapsed to the faith of their fathers?
1) Obedience
Catholics love being told what to do. They thrive on negative commandments and prohibition. The Church is, traditionally, all about chastisement and retribution, the punishing of sin and the prosecution of false values and impure thoughts. They take the Ten Commandments and elaborate each one into hundreds of sub-sets of guilt and sin, and demand that adherents obey their strictures.
Catholic children learn from their parents that, when you enumerate your sins at Confession, you must start with "I was disobedient to my parents on three occasions", or a similarly dismal self-accusation. Many Catholics thrive on this hardline dirigisme: "The more hardline a Pope is," one lifelong Catholic said to me, "the more I like it." It has advantages. My mother, a fervently Catholic Irish nurse, told me she was never at a loss about which course of action to take in a crisis. She just had to apply to the Church for advice, and do exactly what they told her. (My father had a similarly pragmatic approach: "Keep the faith," he used to tell me, darkly, "or you'll never have a day's luck." He claimed he'd never have got through his medicine finals without a medal bearing the image of the Little Infant Jesus of Prague secreted beneath the exam paper.) Pope Francis's regime promises to be less about doctrinal bullying and more about pastoral open-mindedness.
2) Ritual
The Catholic Church thrives on rubric, ceremony, rites of passage, the heightening of experience, the solemnising of key moments of life. Central to its procedures are the seven sacraments – Baptism, Confirmation, Confession, Communion, Marriage, Holy Orders, Extreme Unction (anointing the dead or the mortally sick). Church rubric assures Catholics that partaking in any of them will bring an injection of Divine Grace, a kind of mystic, life-giving fuel that keeps the spiritual engine topped up. Some sacraments, by their nature, can be experienced only once; others, such as confessing your sins to a priest and "communing" with, or sharing, the Eucharist – consuming the bread and wine, supposedly transformed into the body and blood of Christ – are regular occurrences. It's an appealing process of self-cleansing: you examine your conscience, you confess your sins, you say you're sorry, you receive absolution from the priest, you do your penance (by saying prayers) and you emerge washed clean of sin and able to take Holy Communion, knowing that, if you died right then, you'd go straight to Heaven.
The essentially cannibalistic nature of the Communion ("Take this, all of you and eat of it, for this is my body") struck many of us Papist children as bizarre and slightly horrifying – just as we found the concept of God as "the Holy Ghost" unappealingly suggestive of spooky revenants in sheets and chains – but it's a potent throwback to ancient pre-Christian tribal rituals. So is the family recital of the Rosary, a form of mantra-chanting in which the participants count on glass beads on a string, at the end of which is a metal crucifix that (at least in my childhood) usually contained a relic of the True Cross, or some hard-to-identify bit of human tissue. The savage, earthy atavism of Catholic ritual exercises a strong pull on the faithful.
3) Personnel
You're never alone with Catholicism. You're always surrounded by an invisible army of saints, a hierarchy of angels, a quartet of evangelists (Matthew, Mark, Luke and John, the ones who wrote the Gospels in the New Testament) who, your parents tell you, sit around your bedside to watch over your sleeping form, a slightly weird cabal of saintly, journalistic babysitters – and your own personal guardian angel, who accompanies you everywhere. In addition, Catholics worship the Virgin Mary, mother of Jesus, also known as Our Lady. She can't, by herself, rid you of sin but she may (if you're lucky) "intercede" with the Lord on your behalf, like a demure maternal fixer. She may not have power, but she may see you right with the senior management.
4) Hardware
The Catholic Church has often been criticised as the "bells and smells" religion. There's an epic, flamboyant, no-holds-barred, rock-opera quality to Catholic worship that attracts the lonely, the camp and the lover of spectacle. From the incense at high Mass to the Stations of the Cross, with their grotesquely Gothic, 14-part tableaux of torture and crucifixion, there are a lot of props in this Church, a vast array of chalices, robes, tabernacles, holy water, votive candles, Sanctus bells, patens, pyxes and podexes. A memory from childhood was the procession around the church of a priest holding a monstrance, the alarmingly named gold vessel of spikes and sunburst opulence in which the divine Host was displayed in a metal clip. You weren't supposed to look at it – but once I did, and was convinced I saw a divine radiance within its metal folds...
5) Salvation
The Catholic starts by giving children a horrible villain, Satan, who is always trying to get you (for me it was never about cloven hooves and spindly claws – I knew the Devil would be The Man with the Staring Eyes, like Hans Christian Andersen's Snow Queen, only worse, and male) and a loving God who will protect you. Then they tell you about a place of abysmal horror where you don't want to go – Hell – and its counterpart, Heaven, where all is convivium and cloudy bliss. When you're older, they throw at you the idea of Eternity, which you'll spend with your parents and best friends and a multitude of angels, or, alternatively, with demons, thieves and murderers and just awful people, suffering alongside them for ever. This is potent stuff for the awakening conscience of the young.
The Church has gradually refined its notions of Hell and Heaven into more nuanced, metaphysical terminologies, but its message is still about being saved. And the pastoral message now being so skilfully advanced by Pope Francis is that the poor and the advantaged are all in it together – that we all need to be redeemed from sin, and brought to understand that we have to deserve redemption from Hell, rather than expect it.
There, in reductive, lapsed-Catholic terms, is what Catholics believe, or are encouraged to believe. It's the world they inhabit when they sign up to, or return to, its tenets. It is a package that attracts with its promise of being enveloped by holiness and personal self-awareness, but repels by its demand that adherents spend their lives feeling constantly in the wrong. Pope Francis has shifted the papal message from affirmations of doctrinal rigour to affirmations of simple humanity towards the poor and dispossessed. He has accomplished astonishing steps forward in 11 months, simply by behaving more like Jesus Christ than any Pope in living memory. Whether he can persuade umpteen millions to sign up once again to the old religion, with its incense, its saints and bizarre, Gothic mythology, and still find a place for it in the modern world, remains to be seen.
Join our new commenting forum
Join thought-provoking conversations, follow other Independent readers and see their replies