The floods have revealed the imbecility of Osborne's economic strategy
Can any good come out of such a sodden fiasco? Perhaps it will, finally, make people wake up to the economic idiocy of the Chancellor's new chosen fiscal mandate, which demands that governments run absolute budget surpluses - making no allowances for capital expenditure.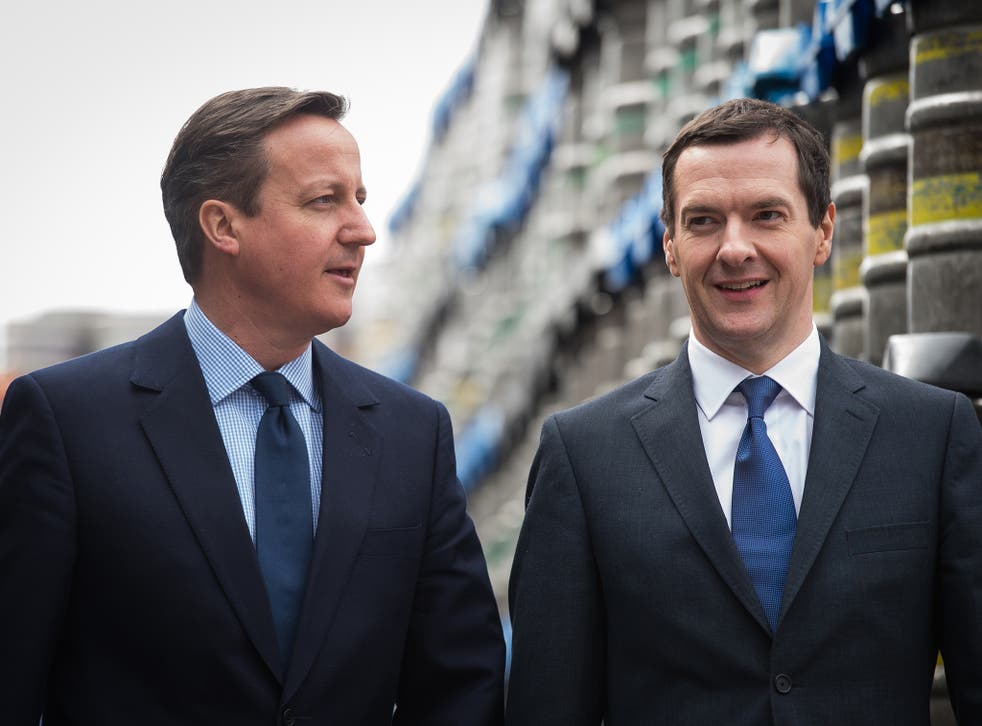 George Osborne used to lambast Labour for its supposedly terrible failure to "fix the roof while the sun was shining". If the Chancellor ever attempts to deploy that rhetorical line again, he deserves to be laughed to scorn.
Upon entering the Treasury in 2010, Mr Osborne saw fit to slash the state's annual budget for spending on the nation's flood defences, as part of his ill-advised quest to wipe out the Government's deficit as soon as possible.
According to the Department for Environment's own published figures, the state's annual spend on flood and coastal erosion defences dropped sharply from £670m in 2010-11 to £573m in 2011-12. After adjusting for inflation, that was a 15 per cent cut in a single year.
There would still, of course, have been severe rain over this Christmas if these massive cuts had not been made. There would still have been flooding and damage. But it is overwhelmingly likely that the floods would have been less severe and costly if the Chancellor had not cut the prevention budget so drastically.
So, please, let's hear no more lectures from Mr Osborne about the fiscal imperative of "fixing the roof". If water damage is the danger, this "austerity" Chancellor has been the primary threat.
Across the North, families are trying to dry out their sodden living rooms. Hundreds of businesses will have to buy in new inventory to replace the stock that has been ruined by the inundation. The total costs of the flooding in the past fortnight have been estimated by the accountancy firm KPMG at £5bn.
Ministers are drowning, not waving, as they attempt to deflect the charge that their flood defence cuts were a classic false economy. Earlier this week the floods minister Rory Stewart tried to shift the blame for the suffering in his Cumbrian constituency to the weather. "Rivers here which haven't flooded in this way for 75 years are 15ft up," he told ITV. "I'm afraid that is the fundamental problem here. We are spending an enormous amount of money on flood defences. In the end, what is beating us is this relentless rain."
For that to be a remotely credible excuse, it would have to be the case that ministers had received no warnings in recent years of an increased flood risk. But unfortunately for Mr Stewart, there were many. In a 2004 report, Sir David King, the previous government's chief scientific adviser, said global warming meant "we must either invest more in sustainable approaches to flood and coastal management or learn to live with increased flooding".
That was followed by the 2008 Pitt Review. This was commissioned by ministers in the wake of the 2007 floods, which had been described as the biggest civil emergency in British history. Sir Michael Pitt concluded that much more needed to be done to bolster Britain's flood defences. "The impact of climate change means that the probability of events on a similar scale happening in future is increasing," he argued. And Sir Michael also stressed that additional money needed to be spent: "We believe it is sensible for the Government to plan on the basis of above- inflation settlements in future government spending rounds". That was why Labour had put flood defence spending on a rising real-terms trend.
The Chancellor's cuts in 2011-12 were doubly damaging because they broke with that trend. Even after an emergency injection of investment following the floods in the winter of 2013 – when David Cameron famously promised flooded communities that "money is no object" in alleviating their suffering – annual flood defence spending has not caught up. As Simon Wren-Lewis of Oxford University has pointed out, it remains below where it would have been if the trajectory of spending under Labour had been maintained.
Can any good come out of such a sodden fiasco? Perhaps it will, finally, make people wake up to the economic imbecility of the Chancellor's new chosen fiscal mandate, which demands that governments run permanent budget surpluses in normal times. The monumental folly of this target is that it does not carve out government capital expenditure from the rest of public spending. This means that public spending is defined to include things like investment in flood defences – an investment that pays for itself many times over in the reduction of future economic damage. So, under this rule, a future government might again feel pressure to slash flood prevention spending to achieve a near-term budget surplus.
It's important to note that the economic benefits of this kind of capital spending can be found in official figures. The Environment Agency itself estimates that (in present value terms) £25bn needs to be spent on investment in flood defences over the next century, but that this investment will deliver total economic benefits worth £125bn. That's a benefit-to-cost ratio of five to one. No politician with a working brain should be turning such investments down.
But are ministers even now listening to their own scientific experts and advisers? As he waded through the flooded streets of York city centre last week, Mr Cameron insisted he was presiding over a "rising budget" for flood defences, talking of £2.3bn of expenditure over the coming years. Yet official figures, once again, show the true story. In real terms, the Government has pencilled in an 8 per cent fall in annual capital spending on flood defences by 2020-21. Presumably, it's to help hit the Chancellor's surplus target.
King Canute tried to keep the tides back by royal command. But he was being ironic to prove a point. Mr Cameron and his ministers appear to have convinced themselves that spin and bluster, rather than proper investment, really will be enough to stop the waters rising.
Join our new commenting forum
Join thought-provoking conversations, follow other Independent readers and see their replies