The great EU referendum debates: Cameron, Corbyn, Johnson and Farage
The Prime Minister is booked for a TV clash with Nigel Farage: our chief political commentator imagines what might happen in each of the four possible match-ups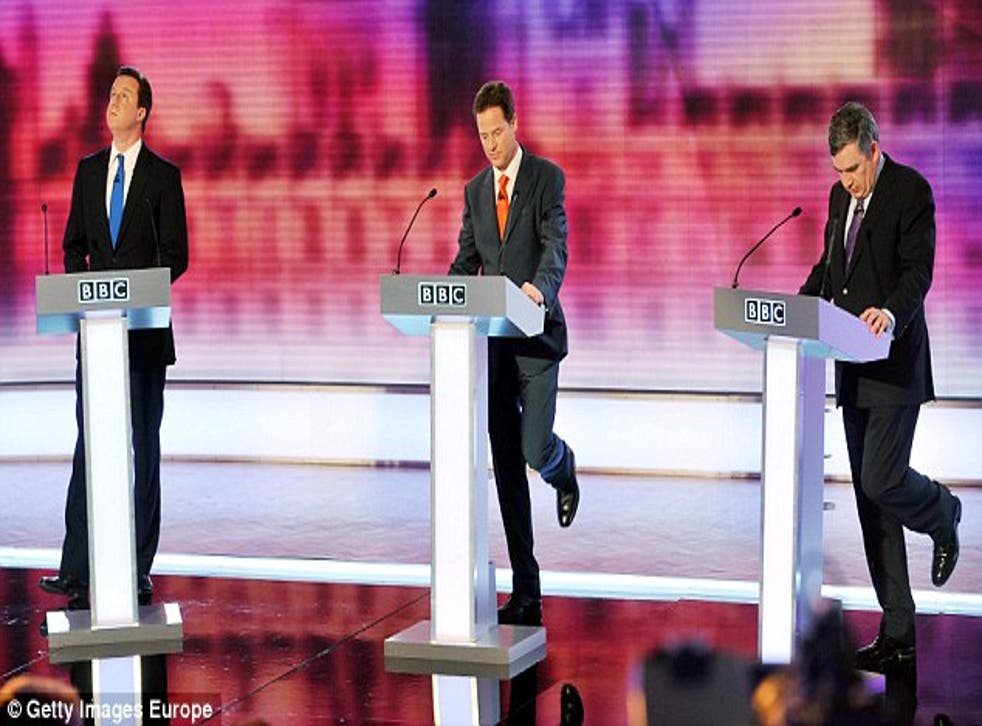 There are four big names in the EU referendum campaign, two on each side, which as any KS2 mathematician could tell you means six possible different head-to-head combinations, four of which pit an Inner against an Outer.
So far, the only pairing that has been confirmed is David Cameron versus Nigel Farage on ITV on 7 June, and that is not actually a face-to-face confrontation: Cameron will go first, followed by Farage.* Several other events, including the BBC's at Wembley Arena on 21 June, two days before the referendum, have yet to confirm speakers.
Here is what might happen in the four possible two-way debates.
How the debate might go: if the two were to face each other (as opposed to the interviews-in-sequence format planned by ITV), Farage might be over-confident, after he trounced Nick Clegg in two Europe debates in 2014. Cameron, still bruised by having his own over-confidence knocked out of him in the 2010 leader debates that seemed to cost him a majority in that election, would be humble and well-prepared.
Best Cameron line: "I know I said your party was a bunch of fruitcakes, loonies and closet racists, but I wouldn't apply any of those to you. Not at all."
Best Farage line: "You're just making stuff up: £4,300 worse off per family, plague of boils, water turned into blood, thunder storms of hail and fire."
How the debate might go: this would be the big one, the real Prime Minister's Questions, the incumbent against the alternative prime minister. Johnson is the man who would probably take over from Cameron if we voted to Leave. He would be responsible for negotiating the terms of our exit and the terms of our trade with a somewhat-diminished EU.
Best Cameron line: "The Queen told me she thought you were talking rubbish."
Best Johnson line: "There you go again, reducing it all to the microcosmographia of light bulb sizes."
How the debate might go: two years ago this would have been an unexpected novelty debate put on by a student union and televised by Channel 4 to fill a gap in its schedule. No doubt the two would engage in a prolier-than-thou competition to try to be more blue-collar than the other, as Corbyn tried to paint Ukip as a right-wing fringe group and Farage tried to push Ukip's claim to appeal to Labour's traditional supporters.
Best Corbyn line: "If we left the EU, you could be in government trying to sell off our schools."
Best Farage line: "Europe's TTIP free-trade deal is a conspiracy against trade unions and the NHS, everything the Labour Party used to stand for."
How the debate might go: the most dramatic confrontation in the Shakespearean sense, as the two antagonists argue for the position that the other secretly holds. Corbyn, a lifelong Eurosceptic, has conveniently come round to the EU as defender of British workers from the scourge of a Tory government, while Johnson, who told friends he had never been an Outer, decided for Brexit, which conveniently happened to be his most promising route to the Tory leadership.
Best Corbyn line: "I'm not interested in which school you went to – I just want to know how you learned to change your mind so easily."
Best Johnson line: "I don't think the British people are going to take advice from a clog-wearing Marxist-Leninist with a Che Guevara cap."
Montage of Corbyn and Farage via The Right Dishonourable; photo of Johnson and Corbyn: Jack Taylor/AFP/Getty.
*David Cameron and Michael Gove are booked to appear on Sky on consecutive days, 2 June and 3 June. Gove vies with Farage for second place on the Leave side, but Cameron is reluctant to debate fellow Conservatives.
Join our new commenting forum
Join thought-provoking conversations, follow other Independent readers and see their replies