Gwyneth Paltrow's Goop has done it again, asking us to buy stupid stuff at absurd prices for a made-up celebration
With Valentine's Day coming up, most businesses are looking to cash in on the gift-giving tradition, but Goop takes the biscuit when it comes to promoting empty consumerism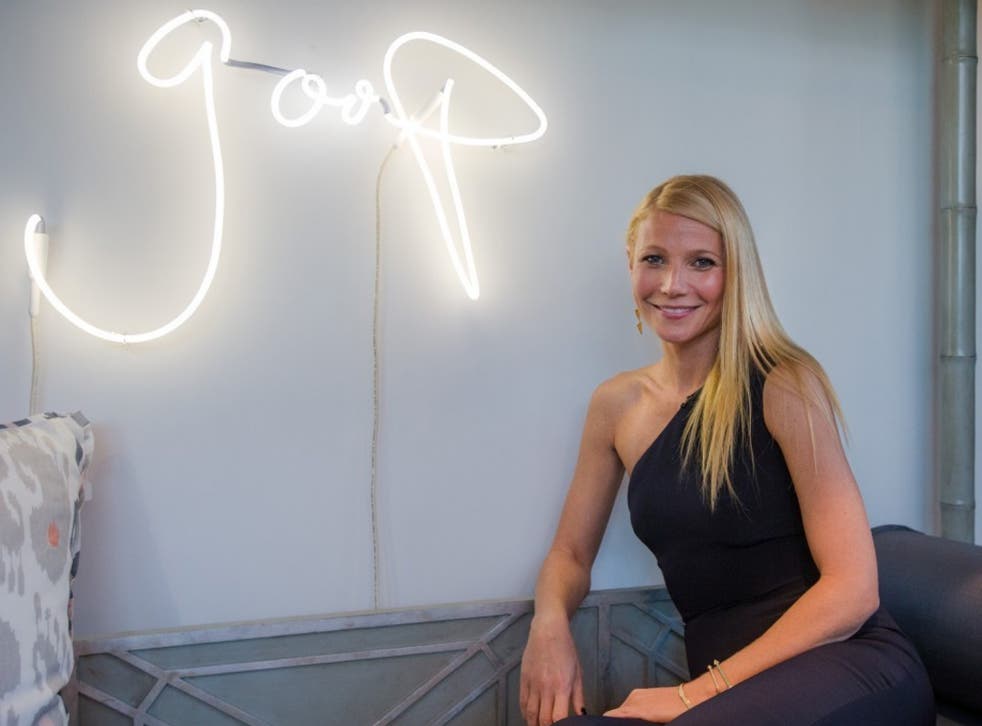 Once upon a time, when boy met girl and fell in love, they might have exchanged some small tokens of their affection. A love letter, perhaps. A daisy chain. A home-cooked meal to show that they cared. Not any more.
Gwyneth Paltrow's website Goop has come under fire (again, bless her) for its bizarre and frankly eye-watering Valentine's gift guide. Personally, I was immediately turned off by the image on the "for couples" section which shows a lit joss stick and candles alarmingly close to a "golden key two-piece set" of knickers and mask ("100% nylon"). Guys, please, remember that health and safety precautions can be sexy, too. After further research, though, I think that the gift guides "for guys" and "for women" are worse.
For him, a Tiffany & Co harmonica ($375/£300), because "Who wouldn't want to be serenaded with a sterling silver harmonica?" (Well, there must be some explanation for why Bob Dylan is such a hit with women.) Also, a book called How to Stay Alive in the Woods, which is slightly scary. For her, though, a copper ladle set ($200); fur oil ("for those who prefer to go au naturel in the bikini area"); and at $199.00, "a revolutionary device that makes working out your pelvic floor incredibly easy and surprisingly fun". Trust me, gentlemen, anyone buying that for his lady friend is going to have to learn how to stay alive in the woods sooner than he thinks.
Love Is Strange: The alternative Valentine's Day option
We can't blame Paltrow or Goop, though, for this inevitable consequence of competitive romance. The cute tradition of sending anonymous cards can only last so long when a huge industry exists to make money out of people's feelings of guilt.
I've always admired the Catalan romantic tradition of Sant Jordi's Day, when men give women roses, and women give men books. But while the rose angle goes back to the 15th century, the other theme was introduced by a wily Valencian bookseller in 1923. Similarly, the diamond engagement ring was uncommon until the 1930s, when a hugely successful advertising campaign by De Beers found a way to flog diamonds during the Depression. In the 1980s, they even invented a "tradition" about how much it should cost, with an advert that ran, "you can't look at Jane and tell me she's not worth two months' salary".
It's hard to blame restaurants, florists and jewellers for trying to boost trade during the bleak fag end of winter, but I do feel sorry for the punters. It's bad enough forcing your way onto the Tube on 14 February among the vast bunches of roses, but now we're expected to buy each other Moon Juice sex dust sachets, a Prada torch or a $112 oyster plate, too.
Festivals of love around the world

Show all 16
So when you're on your way to work this Valentine's Day and you see a woman on your bus with a pained expression, show some sympathy. It might not be because she didn't receive a Valentine's gift from her beloved this year; it might just be because she did, and it was diamanté love eggs.
Join our new commenting forum
Join thought-provoking conversations, follow other Independent readers and see their replies