Hillary Clinton is on track to beat Donald Trump – but it all depends on Bernie Sanders
Most polls show Clinton three or four points ahead, but the latest police killings at home, and terrorist incidents abroad can only strengthen Mr Trump's appeal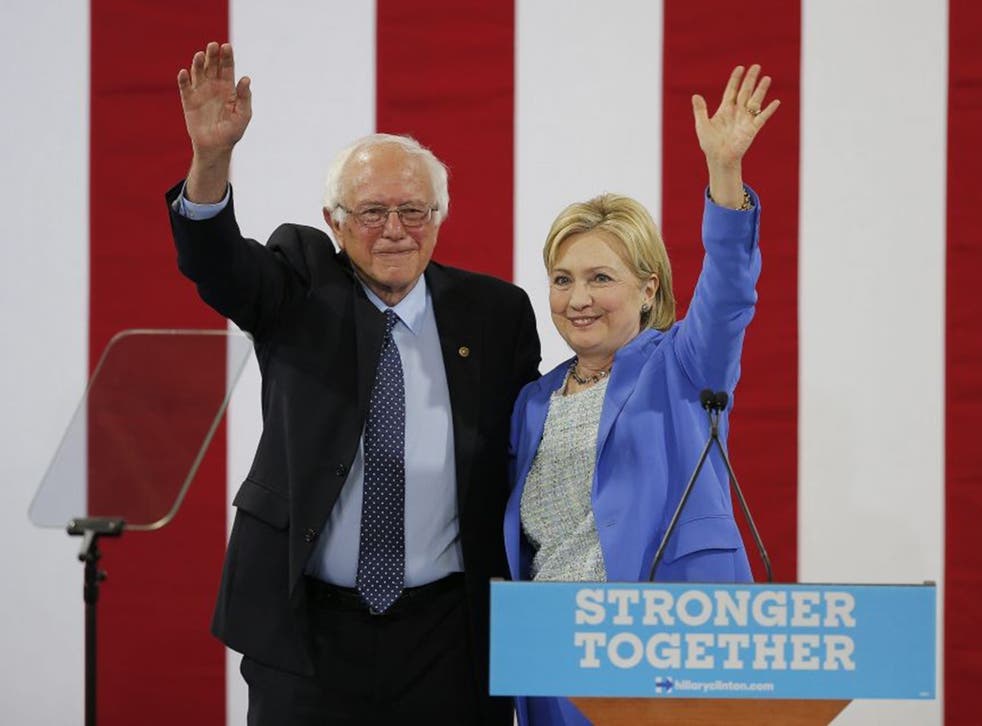 Farewell Cleveland – next stop Philadelphia. The Republican convention at least ended better than it began. Following three chaotic days notable for a plagiarism row, and the booing of Donald Trump's main primary rival after he failed to endorse him, the final night featured a list of speakers that had some coherence, and an on-message, albeit snarling speech from the "blue-collar billionaire".
If the Democrats can't do better in Philadelphia, they should be ashamed. But it's a pretty safe bet they'll clear that modest bar. Their convention will be better organised. Party unity will be much more evident, assuming that Bernie Sanders doesn't do a Ted Cruz in his speech on Monday night and goes all in for Hillary.
And there will be no boycott by party grandees, of the kind that all Trump's braggadocio couldn't hide in Cleveland. President Obama will appear in Philadelphia, so too will Vice President Joe Biden – and so too, obviously, will the potential next First Gentleman.
All of which, however, raises the question: why hasn't Hillary Clinton locked up this contest already? The indicators that usually decide presidential elections are heavily in her favour. She starts off with massive demographic advantages, thanks to a fast-growing Hispanic population and the relative dwindling of the white, male America that has been the bedrock of Republican support.
Watch Trump's RNC Acceptance Speech
As a result, Democrats start with a block of 18 states the party has won in all of the past six elections, alone worth 242 of the required 270 majority in the electoral college. She has the explicit backing of a popular president who will be a powerful campaign trail asset. (Who isn't already starting to feel pangs of nostalgia for the soon-to-be-over Obama presidency?)
Her opponent is the most polarising candidate in recent memory, temperamentally unfit for the presidency, whom a majority of Americans say they could never vote for. He's a political novice who has never sought elected office and has scant idea of the operation needed to run a national campaign. She, by contrast, is vastly experienced, perhaps the best qualified candidate to seek the White House in a quarter of a century. She has a much better organisation than Trump, and has raised considerably more money.
And yet she's still in a tight race. Most polls show Clinton three or four points ahead, but that slender advantage could vanish given the post-convention bounce that every nominee receives. The latest police killings at home, and terrorist incidents abroad can only strengthen Mr Trump's appeal as the law-and-order candidate, bearing out his grim worldview.
She's still the clear favourite to win – a nerdy study in The New York Times on Wednesday put the chance of a Clinton victory at 76 per cent – which was, of course, approximately the pre-vote likelihood Remain would win the Brexit referendum. Such figures can change quickly, as events in Britain testify.
At this stage of the 1992 campaign, the paper noted, Bill Clinton had only a 20 per cent chance of victory. After the withdrawal of the third-party candidate Ross Perot, and a highly successful Democratic convention, that figure jumped to 84 per cent within a month. His wife will be hoping for a similar scattering of stardust next week.
Her problems are not all self-inflicted. Whatever you think of him, her opponent is riding a national mood. As with the UK referendum, there's a "what the hell" component to Trump's support. Hillary Clinton, a fixture on the American political scene for 25 years, embodies the status quo, which by definition is boring.
She's cautious too, as shown by her pick of the moderate Tim Kaine as her running mate. Kaine is widely respected. As a senator from Virginia, he should ensure Clinton carries that important swing state. He was the safe and predictable choice – but an unexciting one. So, some voters feel, why not take a punt on a newcomer who breaks every rule of politics and, whatever else, will shake things up?
The letters signed by Donald Trump

Show all 5
Nonetheless, Hillary must largely blame herself for her lacklustre standing. I refer of course to those "damn emails" to which Bernie Sanders referred early in the Democratic primary fight. Americans were "sick and tired of hearing about them", Sanders said then. Unfortunately Americans are still hearing about them, most recently from the FBI who castigated her for "extreme carelessness" in using a private email server for official business.
If only Clinton had come clean about them when the subject first arose. Instead we've had 15 months of legalistic ducking and weaving. Americans are sick and tired less of the emails themselves than the constant evasions and prevarications. The affair will run on, with hearings scheduled on Capitol Hill into whether she lied to Congress. Most dangerously, it plays into the worst public perceptions of the Clintons: their eternal propensity to scandal, the obsessive secrecy, and their seeming assumption that the law somehow does not apply to them.
The convention offers Hillary her big chance to change things. She's been around too long, and public impressions are too entrenched, for her to reinvent herself. But after the "lock her up" excesses of Cleveland, a concerted counteroffensive against Trump is certain, featuring the likes of Elizabeth Warren and the most effective Trump-baiter of all, Barack Obama.
But Bernie Sanders will be key. In his acceptance speech, Trump made a pitch for the Vermont Senator's voters, arguing he was the outsider, anti-establishment candidate they had been denied by Clinton's victory in the primaries. And Trump needs them. To prevail in November, he must redraw the electoral map by winning some of those traditionally Democratic rust-belt states such as Pennsylvania and Michigan, the latter of which Sanders won in the primaries and which hasn't gone Republican since the 1980s. For this, he needs Sanders's supporters.
It's a tall order. Sanders has weighed into Trump as vehemently as anyone. But mix the emails with the possibility some Sanders supporters might jump ship is one reason why this election is a good deal closer than anyone would have thought, even three months ago.
Join our new commenting forum
Join thought-provoking conversations, follow other Independent readers and see their replies