Terminally ill homeless people are dying on our streets. They deserve dignity like the rest of us
In Britain in 2018, terminally ill homeless people have no legal rights to appropriate housing and most don't access the care and support they need in their last few days, weeks and months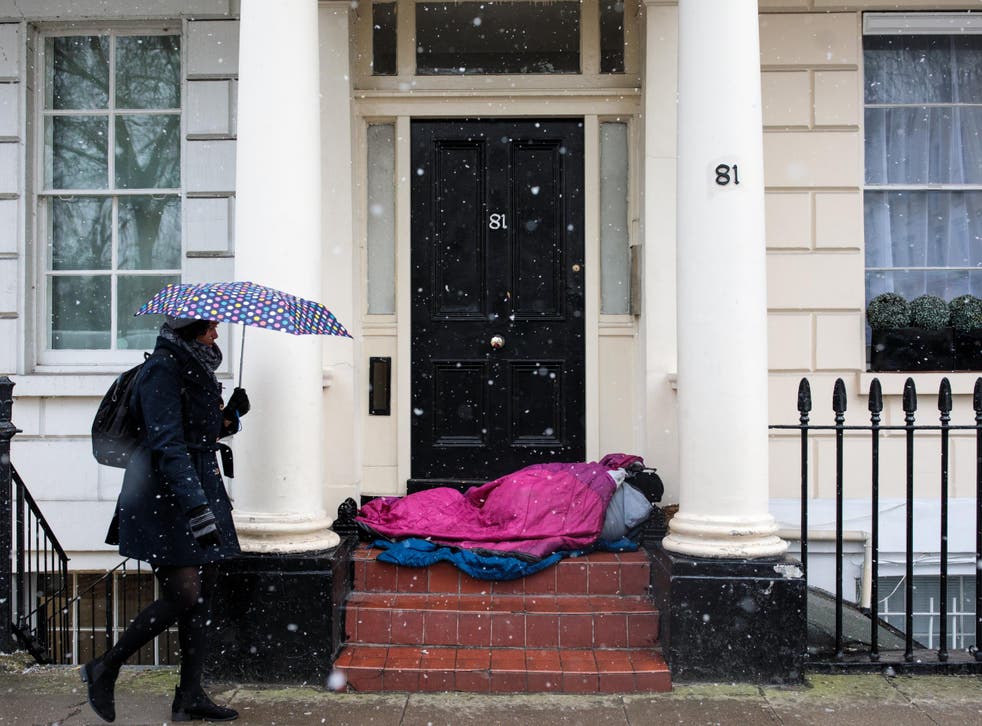 Not having a roof over your head at night must be frightening, cold, lonely and depressing. To be seriously ill as well must be beyond upsetting.
Yet homeless people are dying on Britain's streets – in our parks, in doorways or, the lucky ones, in ill-equipped hostels, sometimes in agony.
It is difficult to give precise figures on how many people are dying like this. But homelessness has undoubtedly increased in recent years, and frontline workers are reporting more deaths too.
UK news in pictures

Show all 50
We do know the average age at death of a homeless person is about 47 years; that homeless people attend A&E six times as often as people with a home; and that homeless people are admitted to hospital four times as often, and stay three times as long.
And yet in Britain in 2018, terminally ill homeless people have no legal rights to appropriate housing and most don't access the care and support they need in their last few days, weeks and months.
That's why today I'm publishing the full details of my proposed new law: Homelessness (End of Life Care).
Developed with the advice of amazing organisations like Pathway, St Mungo's, Hospice UK and Shelter, my campaign aims to provide the clearest possible legal framework for terminally ill homeless people. Without such clarity, they will continue to fall between the cracks of local housing and social service departments and the NHS.
Yet legislation alone never delivers. To achieve good end-of-life care for society's most marginalised people, we also need to reform services, with better integration and new types of accommodation, including specialist hospice hostels. We will need to train staff in the NHS, in homeless hostels and in hospices.
Although not perfect, legal change will act as a huge catalyst for action. My starting place is current housing law that states that somebody has no right to housing if they are "intentionally homeless". That is a cruel legal phrase because, in truth, very few people deliberately aim to be on the streets.
Royal wedding: Homeless people in Windsor say they are being subject to increased police surveillance in an attempt to sanitise the area
My proposed new law says that, in future, if a doctor diagnoses a homeless person with advanced ill health and certifies that they expect that person to die within the next 12 months, this "intentionality" test falls, and the person would have an automatic legal right to appropriate housing, along with a care package.
Implementing this law won't be easy. Homeless people sometimes face the most challenging health issues imaginable: a wide variety of mental health problems including drug and alcohol dependency, and severe respiratory conditions.
The homeless often lose trust in people: in the hospital doctors, who had no choice but to discharge them back on to the streets, and in the family members from whom they have become estranged. Their past use of the NHS can make it difficult to patch together a full medical history. They might have self-discharged from hospitals to feed an addiction, or because the institutional setting proved just too much for them.
But it is the complex nature of the health and social needs of many homeless people that demands we act. If we truly want to end health inequality, we have to start with end-of-life care for the homeless, who are currently experiencing the worst health of any group in Britain.
Three homeless people shared their feelings in a recent report: "Bad death is being lonely… no friends around you when you're passing away. Well, death is never really good, but at least it'd be better with friends around… you know, someone to hold your hand and whatever."
"I think when you're homeless and you're out on the street so long, you're surrounded by grief and death and a lot of stuff. It makes you cold. It makes you unfeeling towards people."
"End of life? What end of life are you talking about? I'm on the street and nobody cares about me."
We must remember those who society has left behind, and demand better for them.
Ed Davey is the Lib Dem MP for Kingston and Surbiton and the Lib Dem home affairs spokesperson
Join our new commenting forum
Join thought-provoking conversations, follow other Independent readers and see their replies