How can we trust David Cameron on Europe when he can't even say which way he'll vote?
Underneath this moment of triumph for the Conservatives lies a ticking timebomb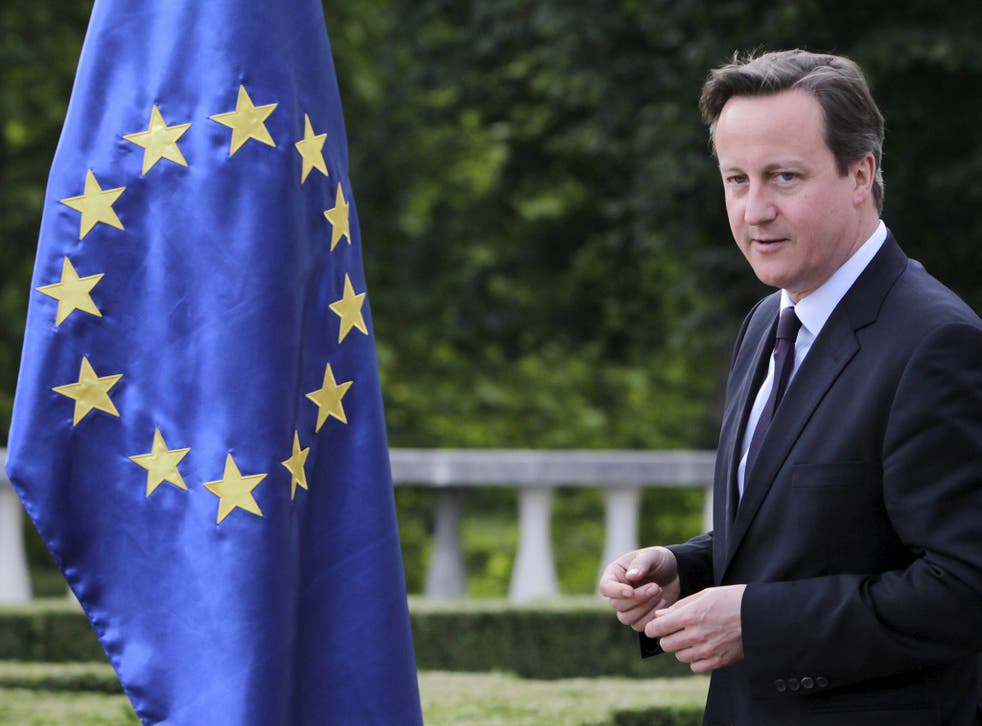 David Cameron will take to the stage in Manchester today as the first Tory leader to have won a parliamentary majority for 23 years. He will savour the moment, as election winners are entitled to. And yet he will try not to sound too cocky. The word will have gone out – no triumphalism. The message will be service, hard work, responsibility.
Yet underneath this moment of triumph for the Conservatives lies the ticking timebomb of the Europe referendum. The stakes are huge and the Prime Minister is not in control of the strategy he has embarked upon or, by definition, the outcome.
Remember, Mr Cameron did not want this referendum. He assumed the Tory leadership declaring that his party had to stop banging on about Europe. He whipped his MPs to vote against having a referendum in 2011. Then in the Bloomberg speech of 2013 he gave in and embarked on the current course of renegotiation followed by referendum.
On the renegotiation his problems are both sceptical partners on the EU and expectation management in his own party. There is nothing he can renegotiate that will satisfy large numbers of his MPs and party members. They are sticking with him at the moment but are desperate to be disappointed. They lay down demands they know will not be met in order to justify the stance of withdrawal that they wanted to adopt all along.
On the European side of all this the Prime Minister has been unclear with other member states about what he wants and in any case is asking for this after years of standing on the side lines while the EU grapples with both the ongoing Eurozone crisis and the more recent refugee crisis. Other member states want Britain to stay, but not at any price. He will come back with something, but precisely what remains unclear – and he cannot guarantee to get everything he wants, let alone meet the impossible demands of many in his party.
His domestic handling of this situation looks hugely complacent. Our future membership of the EU, access to the single market which is home to over 40 per cent of our exports and, potentially, the unity of the UK itself are all at stake. If this isn't concentrating the Prime Minister's mind and giving him some sleepless nights, it should.
Yet despite these stakes, business voices who are willing to speak out in favour of EU membership are told to keep quiet. Pro-EU voices are told that arguing to stay in is premature. All because we must wait for the Emperor to appear in the parade and marvel at his new clothes, no matter how little in fact he has achieved.
This is a fight for Britain's future and it demands strong, clear and consistent leadership. The choice is remain or leave. The word "maybe" is not on the ballot paper. The Prime Minister, in his heart, does not want to lead Britain out of the EU. He knows that would create unknown risks in terms of access to markets for our exporters, a loss in our ability to influence the rules under which our economy operates and a fundamental change in how the UK is viewed in the world. Yet the strategy he has set out and the deep vein of nationalism in his own party inhibits him from saying this.
And so we are left with a hugely important decision for the country with implications for our future for decades to come and the Prime Minister cannot even say how he will vote.
A deliberate British exit from the EU by design would be one thing - a conscious recommendation from the Prime Minister and the Government that we should leave. But Brexit by default – a drift towards exit because the Prime Minister didn't make the argument, didn't explain why this was so important for the country and an outcome he didn't want because he embarked on a strategy he could not control – even as he basks in his election victory that would be a monumental failure of leadership.
Pat McFadden is the shadow Minister for Europe
David Cameron's most awkward interviews
Join our new commenting forum
Join thought-provoking conversations, follow other Independent readers and see their replies