I'm crying bloody murder about the gore in 'Jekyll and Hyde'
The show's creator says it is 'good to scare children'. But this goes much too far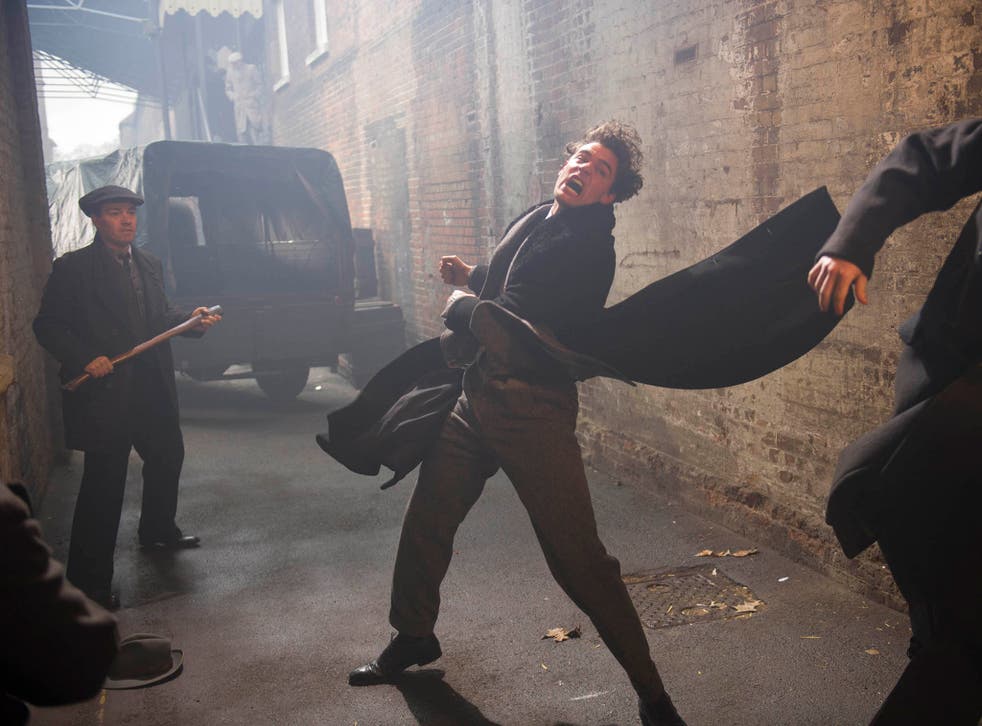 Last Saturday I took my five-year-old daughter to the cinema to see the film Minions. This movie has been given a U certificate but came with the warning that it contains "mild comic violence". As the opening credits rolled, I imagined this would mean the sort of animated bash-em-up that my generation saw in Tom & Jerry. Nothing too scary or gory. Nothing really violent, I thought.
But in parenthood I think I have become too old, too square, or perhaps too used to Disney fairy-tale animation because in almost every scene, it seemed to me, someone was being clomped over the head, squashed by a car or blown up.
We stayed for the duration, as it was just about OK. I tried not to wince as my daughter laughed at yet another character being punched in the face. With animation, the dividing line between fiction and reality is clear to a child. With live action films and television, it is not clear at all, particularly to younger children.
This is why the new ITV series Jekyll and Hyde, which shows vivid scenes of murder and horror, has attracted so many complaints. More than 500 people have reported the programme to Ofcom because its opening episode was broadcast at 6.30pm, so far away from the 9pm watershed that a five-year-old with a remote control could easily stumble across it while her parents were running the bath.
Before the first programme, there was a warning that the series "includes some violence and scenes that younger children may find scary". Jekyll and Hyde is aimed at pre-teens and teenagers, judging by the scheduling and the presence of monsters. Yet in fact, it has been reported that to watch it again on ITV Player a viewer needs to be over 18, which is somewhat confusing.
Charlie Higson, Jekyll and Hyde's creator, has defended the show saying that "kids love all that stuff". He told The Guardian: "There's enough fantasy element to it. We don't do squirting blood, torn-off limbs. But kids know what they can deal with. I've always maintained it is good to scare children." Higson certainly knows his audience – he is the creator of the Young James Bond novels and a series of zombie books for young adults.
I watched the first episode and it is well cast – with Tom Bateman in the title role and a star turn from Richard E Grant – as well as fast-paced and lavishly set, which you would expect with its £14m budget. But when Higson says it is "good to scare children", what does he mean?
Monsters and zombies are, as Higson says, key parts of any fantasy horror. He compares his show with Harry Potter and Indiana Jones, but those two film series were deep into fantasy territory, and Jekyll and Hyde is not. The opening scenes feature a man bludgeoned to death in the street (in Victorian England, but still horrifically realistic), a young girl run over by a car who is then saved by Dr Jekyll, yet not before he (in a moment of Mr Hyde madness) places his foot over the traumatised girl's neck – a scene that is not only upsetting because the victim is young, but could be all too easily copied by children. The second episode is reported to show a teenager lying on the floor with his head bleeding as he listens to his parents being murdered. Is this really fantasy? Whose fantasy is it?
I realise that films and programmes for teenagers are constantly pushing boundaries – you only have to watch a film classified as a 15, in which the British Board of Film Classification permits not only "strong violence" but "brief scenes of sexual violence", to be troubled as a parent. And, yes, there is an online world of sex, horror and violence that can be accessed by an unsupervised child. But we parents expect TV broadcasters to be our gatekeepers.
We know that ITV is sensitive about the watershed – earlier this month it even carried a warning about Downton Abbey after the 9pm threshold, when a genteel dinner turned into a bloodbath as a result of Lord Grantham's erupting ulcer. But on Jekyll and Hyde it is refusing to cave into the complaints.
Next Sunday the programme will be broadcast at the slightly later time of 7pm, but apparently that was always going to be the case. Perhaps the reason ITV won't back down is that it is so scared of sidelining its expensive new show, it would prefer to scare our children instead.
Join our new commenting forum
Join thought-provoking conversations, follow other Independent readers and see their replies