I've been mapping kindness across the country to tackle post-Brexit racism
The reasons for the rise in hate crime in the UK are complex, and we must take the time to understand them so we can move towards healing our society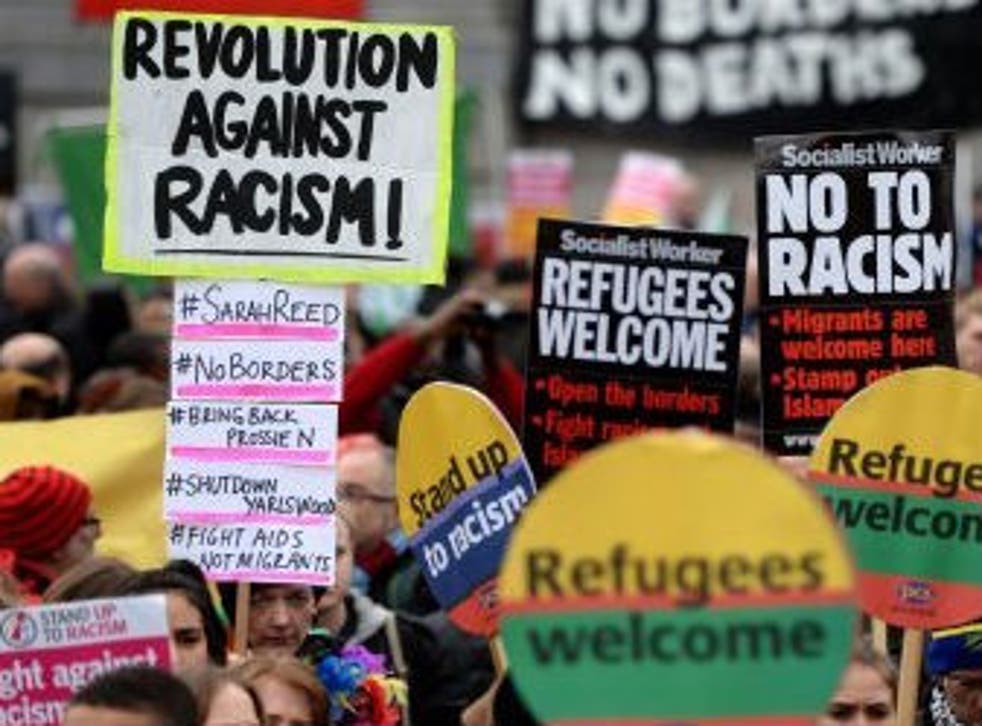 The Independent published a map on Friday pinpointing more than 500 racist incidents in recent weeks. From sightings of Swastika symbols, to the involvement of children in 14 per cent of incidents, this trend is as confusing as it is absolutely terrifying.
I have lived and worked in one other European country, and spent a lot of time in others visiting family and friends. It feels strange saying this now, but generally I have always taken pride in Britain's multiculturalism and our comparatively inclusive attitudes towards immigration and race.
If you've ever seen a group of twenty men walking in the centre of Berlin dressed like minstrels, spoken to my Greek father about the Middle East (I don't recommend it), or had a frustrating argument with an otherwise reasonable Dutch person about Zwarte Piet, you'll know what I mean.
I am not prepared to give up on my perception of the UK as a place where those things are, by and large, just not OK. And it turns out this isn't as hard as you might expect. Inspired by the recent rise in crowdfunding pages to support victims of hate crime, I have begun an interactive mapping exercise for social platform JustGiving. Its aim is to map all positive, community-led acts of kindness in response to the rise in racism and xenophobia in the UK.
German woman didn't leave her house for 3 days after Brexit in fear of being abused
It's hard not to smile (or cry, mood dependent) when looking through the stories added to the #KindUK map so far. From simple messages of love or bunches of flowers, to grander gestures such as the £30,000 raised for the Eastern European food shop in Norwich which fell victim to an arson attack, these acts of kindness must be given the attention they deserve. The map shows local communities mobilising against racism, people offering direct support to victims following hate crimes, and those reaching out to people they have never met.
A few examples of this would be Birmingham's Love Your Neighbour campaign, which resulted in 1,000 positive banners being ordered by businesses and schools, a bed and breakfast owner in Dorset offering free rooms for EU citizens this summer, the Mayor of London Sadiq Khan breaking his Ramadan fast in London alongside the Archbishop of Canterbury and Chief Rabbi and a graphic designer in Swindon setting up a non-profit movement aiming to post positive messages on billboards, bus stops, newspapers and social media.
Brexit racism and the fightback

Show all 9
In the face of the particularly dark and frightening news in recent weeks, this exercise may be more important than we realise. My colleague's mum wears a hijab and watches the news sometimes, and now won't go out without her husband. I want others who are feeling like this to know there is support and love for them out there – and a coordinated backlash against rising hate. The map's positive stories of solidarity, kindness and love are a step towards showing people in and outside the UK that they are safe here.
The reasons for the rise in hate crime in the UK are complex, and we must take the time to understand them so we can move towards healing our society. But in the meantime, spreading the word about positive and inclusive responses will make those at risk feel safer, and encourage others to stand up against hate too. It will also prove that it is the racists who are the real unwanted minority – not migrant and non-white members of our communities.
I don't think our country is doomed, and ultimately I don't think we are racist either. We just need to shout a bit louder about it.
You can view the map and find out how to contribute your story here.
Join our new commenting forum
Join thought-provoking conversations, follow other Independent readers and see their replies