If England gets a national anthem, Northern Ireland will be left singing the divisive God Save The Queen alone
Our new First Minister refused to contemplate Northern Ireland having its own anthem. She said changing it from God Save The Queen would "politicise" sport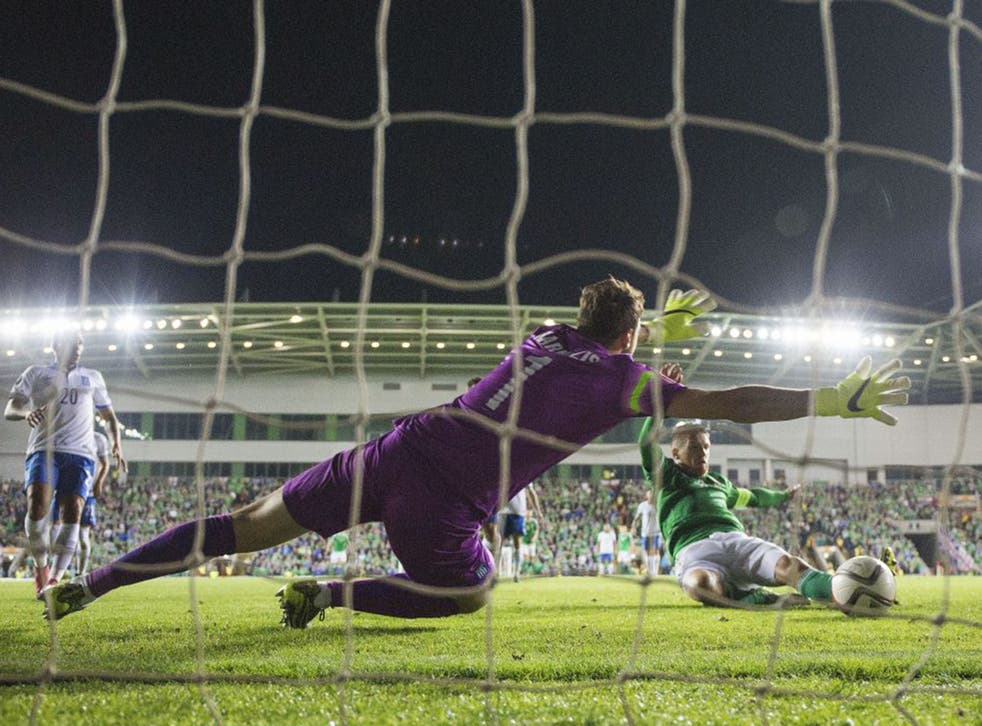 Parliament is preparing to pass legislation which will open the way to English sports teams adopting a new national anthem. This makes the Northern Ireland football team the only one within the UK singing God Save the Queen – the place where that song is, undoubtedly, the most divisive.
In other words, this very insular piece of English legislation could end up indirectly forcing Northern Ireland to confront the complex question of national identity. And it is vital that we jump at this opportunity.
Northern Ireland has no official flag apart from the Union flag. We have no official anthem apart from God Save the Queen. Despite Scotland and Wales both having their own and being no less a member of the UK for it, changing either plays into some Unionists' fears that "our Britishness" is being dismantled. These fears ironically are preventing us from galvanising our position as a separate Northern Ireland by frustrating attempts to make an inclusive flag and anthem.
However, with no reformist or progressive views emanating from our political class, it's hard not to feel pessimistic about change happening anytime soon.
Our new First Minister refused to contemplate Northern Ireland having its own anthem. Changing it from God Save The Queen would "politicise" sport, she said.
Now, for any person living here to not know how political God Save The Queen is in a country half made up of nationalists is outstanding. For such an utterance to come from our First Minister is entirely bizarre.
God Save the Queen understandably alienates nationalists. Even some Unionists like myself don't sing it. Personally I don't because I consider it England's anthem. I want our own, one that highlights and celebrates a very different culture, history and modern-day reality.
Don't expect Sinn Fein to be progressive on this point either. Still duty-bound to state that a United Ireland is just around the corner, the idea of creating a united Northern Irish identity may be deemed counter-productive. How can they find room in their ideology for both aims?
However, it may not rest with our politicians at all. In a display of supreme delegation, our politicians have said the issue rests with the nation's footballing body, the IFA. The courage it would take for the IFA to make movement on this without any political cover or backing would be immense. Yet if there was a wealth of loud, grassroots support, they could be confident enough to take such a progressive step.
I am tired of jealously watching Flower of Scotland and Land of our Fathers being belted out. Why can we not share in that glorious moment of catharsis that every other country enjoys; that is to sing together, despite all our differences, in devotion to the similarities that bind us, the land on which we stand, the adversity those before us on this same land withstood and overcame? That moment when we embrace one another in a lullabied lift of togetherness, where we can show a defiant display of pride to all those who believe we shouldn't have such pride within us, will be beautiful.
Why can Northern Ireland, this jumble of Irish and British passports, this cauldron of Ulster-Scots and Irish culture, not be signified by its own tune, its own words? No one is stripping our passport from us; it is merely a question of whether we have the creativity and vision to forge a national identity which is not divisive. I need only nod to Seamus Heaney, Van Morrison, Gary Lightbody and Michael Longley to highlight the fact that this tiny country is brimming with those necessary qualities.
When Northern Ireland beat England in Euro 2016's knockout stages this June, I don't want both sets of fans singing the same song as if we're the same place - we're not. Let's celebrate our differences. It's about time Northern Ireland was a mature enough place that our Catholic manager can sing an anthem as proudly as our Protestant top goal scorer.
Join our new commenting forum
Join thought-provoking conversations, follow other Independent readers and see their replies