Like it or loathe it, Ivanka Trump might just be her father's saving grace
While her father is known for his almost hypnotic ramblings, Ivanka, the former best friend of Hillary Clinton's daughter, is collected, focused and articulate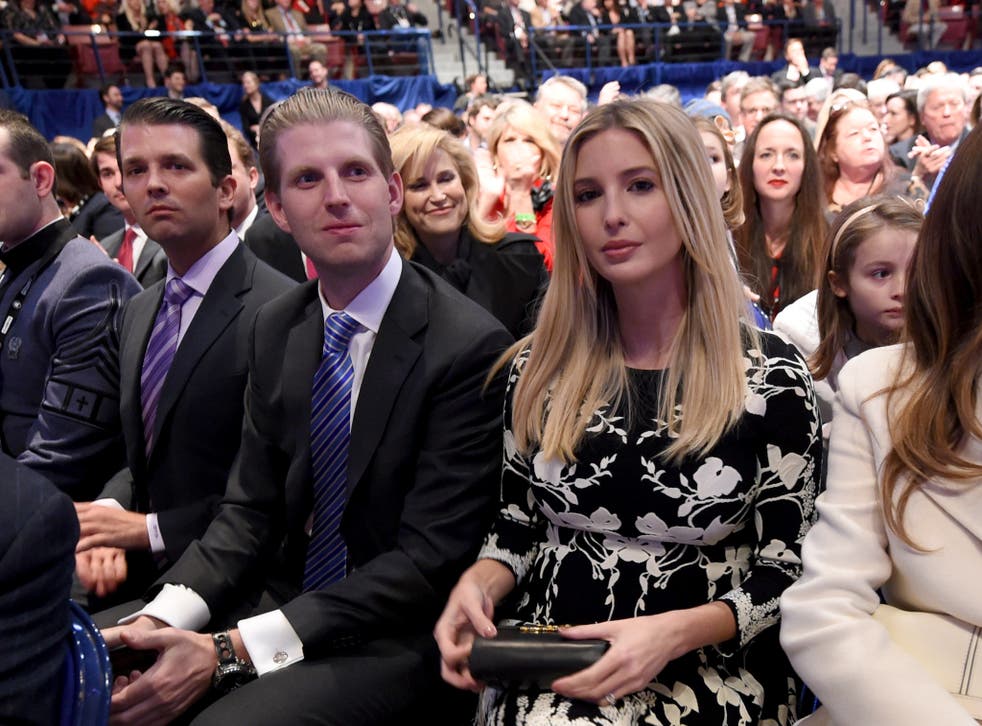 In most respects, Ivanka Trump embodies everything that most socialists would be wary of: wealth, power, inheritance.
Yet there is something incredibly alluring about the 34-year-old mother-of-three, who has arguably become one of the most, if not the most, important person within the Donald Trump campaign.
It would take the most hardened "left-winger" to not be moved by her apparent warmth and voice of reason, and all delivered with a white smile.
The daughter and Trump executive, who walked on stage just 10 days after giving birth to her third child to introduce her father at a New York rally, is almost like the Queen – she has never missed a step.
While members of her family are making inflammatory statements and plagiarising speeches – although Donald Jr's speech at the Republican convention got good reviews – her record remains unblemished.
While her father is known for his almost hypnotic ramblings, Ivanka, the former best friend of Hillary Clinton's daughter, is collected, focused and articulate.
And while her brothers seem to align more closely with their father's ideology, regularly re-tweeting supportive quotes and touting the same anti-immigrant, pro-isn't-America-great rhetoric, Ivanka neatly steps aside.
"He means what he says, and he says what he means," is a classic Ivanka statement. She manages to stay supportive of her family, yet does not pander to journalists' probing questions or engage in dirty Twitter spats.
Her father has low ratings among women voters. Ivanka skilfully navigates this area, too. She has repeatedly praised her father's promotion of women in the construction industry, adding that his criticism is never "gender specific". He might never have been there for family dinners but, she says, when she was 10 years old and in school, she used to call the Trump Organisation at recess and he would "always take her call".
Her constant state of elevation above us mere mortals also comes from the aspirational lifestyle that she so skillfully promotes on social media.
The top tips, motivational quotes and healthy recipes are expertly set up to make people try and fail to meditate at dawn, listen to an informational podcast and make a home-made blueberry smoothie all before a hard day in the office.
In a word, she seems perfect.
But "perfect" is never as it seems. Much like her social media profile, Ivanka is choosing to present only certain aspects of her life to the public.
While her father has been described by Ted Cruz and Bernie Sanders as a "pathological liar" and a "narcissist", his daughter could well be suffering from flat-out and absolute denial, perhaps the only way to protect herself and her family from the unstoppable force of insanity that would be her father as president.
Despite financial security, Ivanka will not have had it easy. Her mother, Ivana Trump, reportedly accused her father of rape in the 1990s – she recently disputed the claims – and was cheated on with Marla Maples. It was reportedly in 10-year-old Ivanka's bedroom that her father was accused of sexually assaulting his former business partner, Jill Harth, who has recently broken her two-decade silence to reveal she is sticking by those claims. Trump denied the allegations in both cases.
But his daughter's coping mechanisms will not save any of us. If Daddy is voted into the White House, even her pleading eyes will not stop Trump from abandoning Nato allies, building walls or deporting millions of Muslims.
The ultimate reason Americans may hate to love Ivanka is the most worrying of all.
She has emerged the poised, credible ballast of her father's campaign, and she might just be its saving grace.
Join our new commenting forum
Join thought-provoking conversations, follow other Independent readers and see their replies