Is it really naive to think we shouldn't be in bed with the Saudis?
Downing Street's announcement that it's cancelling a prison deal with Saidi Arabia is welcome, but I can't understand why it was signed in the first place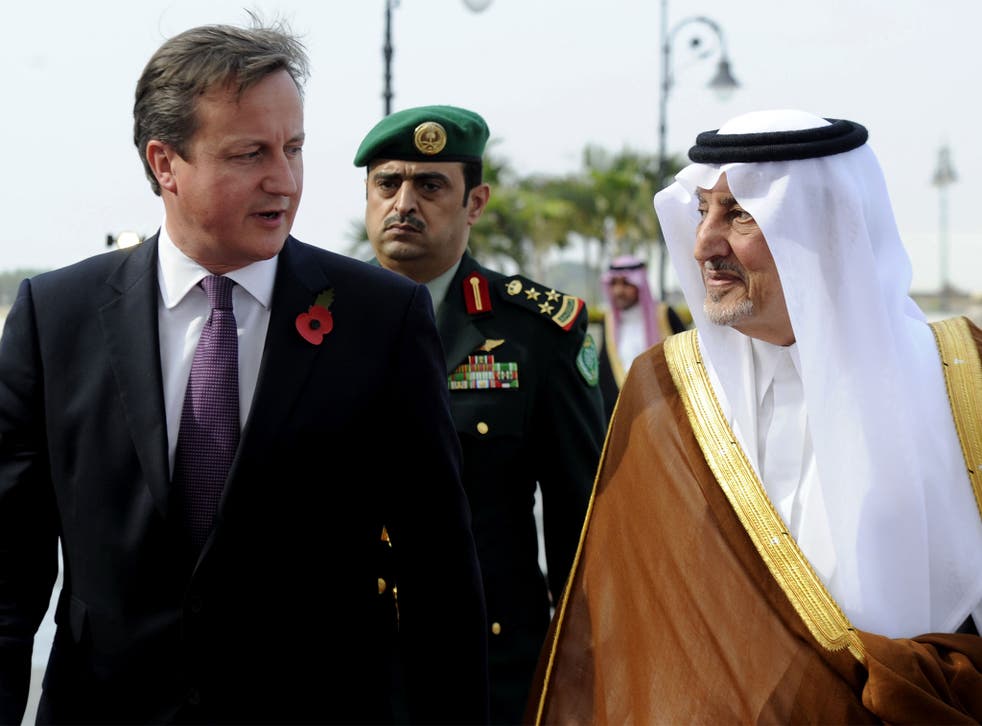 It is naive, apparently, to dare to question the government of Saudi Arabia, even though it is responsible for carrying out the same atrocities that the British Government rightly condemns Isis for, including beheadings and public floggings. This is reportedly the view of the Foreign Secretary, Philip Hammond, who, it is said, accused the Justice Secretary Michael Gove of naivety during a row over a £5.9m deal to provide British assistance to Saudi Arabia's prison system.
It seems that no matter how brutal this regime is, no matter how horrific the cases of those who have fallen foul of Saudi Arabia's interpretation of sharia law are – the young man facing crucifixion for taking part in a protest, the British grandfather in line for 350 lashes for possessing homemade wine – to complain is to somehow not understand how the world works.
In what sounds like a sick joke, the Ministry of Justice, under Gove's predecessor Chris Grayling, signed up to a deal to provide Saudi Arabia's penal system with "training-needs analysis", which I gather is management consultancy-speak for advising on gaps in training and knowledge of a workforce. It may not be quite the same as getting blood on our hands, but, perhaps, we could say it is equivalent to British officials handing out towels to clean up the mess?
This collusion with an oppressive regime is disgraceful and shames Britain. Downing Street's announcement that this deal will now be cancelled is welcome, but why was it ever signed in the first place? And would it have been dropped if there had been no public pressure – starting with Jeremy Corbyn, who raised it in his conference speech a fortnight ago – and the threat of a Cabinet split?
Because, let's be clear, the cancellation of this contract does not change Britain's relationship with Saudi Arabia, in which we are up to our necks. According to The Times, who reported on the Cabinet spat between Gove and Hammond, the Foreign Secretary is of the view that Britain would be seen as "untrustworthy" by the kingdom if we reneged on the deal. This is a chilling description which perfectly sums up the relationship between the two states: an alliance that is freighted with fear on our part and money on theirs. It is also one that is conducted mainly in secret.
Whenever a British Prime Minister – Cameron or his predecessors – visited Saudi Arabia or, for that matter, the UAE or Bahrain, the diary was shrouded in secrecy. There are no press conferences, walkabouts or interviews. Yet the links are embedded: British and Saudi companies have more than 200 joint ventures worth £13bn between them, while the defence firm BAE has a £4.4bn deal to supply 72 Typhoon jets to the Saudi air force. So while we can applaud the cancellation of the prisons contract, we should also assume that there are plenty more similar deals afoot.
Yet what is the Prime Minister doing to press for the release of Karl Andree, the 74-year-old British man – whose wife is stricken with Alzheimer's – who has served more than a year so far in a Saudi jail and still faces the prospect of 350 lashes for possessing six bottles of homemade wine?
It emerged recently, through leaked cables, that Britain and Saudi Arabia worked together to get each other's country a seat on the United Nations Human Rights Council, a body which, in another sick joke, the Islamic kingdom began chairing last month. The Prime Minister was asked about this in an interview with Channel 4 News last week. Jon Snow also asked him about the case of Ali Mohammed Baqir al-Nimr, who has been sentenced to beheading and crucifixion for allegedly taking part in an anti-government protest when he was 17.
Cameron insisted that he did not agree with Saudi Arabia on its punishments. But, in a sign of how deep-rooted is the fear that Britain's relationship with the kingdom might come undone, Cameron then said: "The reason we have the relationship is our own national security. There was one occasion since I've been Prime Minister where a bomb that would have potentially blown up over Britain was stopped because of intelligence we got from Saudi Arabia."
Of course we should be grateful that an ally can help prevent a deadly terrorist attack against Britain, but why must our safety, as Cameron's comment seems to suggest, be a condition of Saudi Arabia holding us in a bloody embrace? Or am I just being naive?
Join our new commenting forum
Join thought-provoking conversations, follow other Independent readers and see their replies